Appalachian State baseball (11-19, 5-3 SoCon) allowed the game-deciding run in the ninth inning to High Point University (19-13, 7-5 Big South) in a 6-5 loss in Boone on Tuesday night.
Senior third baseman Kyle Brandenburg hit an RBI double into deep center field off of App State's junior right-handed pitcher Taylor Thurber that gave the Panthers the late lead.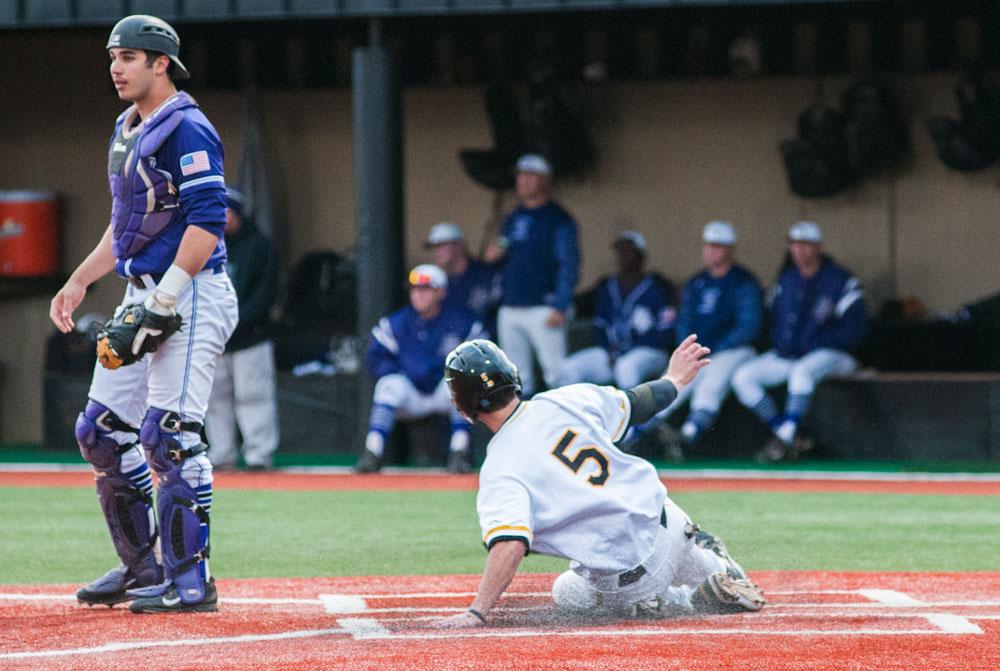 The game started out smoothly for the Mountaineers. Freshman right-handed pitcher Sean Mason, who started the game for App State, had an easy first inning in which he needed only seven pitches to retire all of High Point's batters.
The Mountaineers took an early 1-0 lead when it scored in the second inning when freshman designated hitter Matt Brill lofted a single into left field, scoring sophomore shortstop Dillon Dobson, who doubled to left field on the previous at bat.
Brill's single extended his team-high hitting streak to 12 games. During that stretch, Brill has compiled a .477 batting average.
The Panthers had its biggest inning of the game in the fourth when they scored four runs on four hits. All four of the runs were brought in without a ball leaving the infield.
High Point scored its fourth inning runs off of two infield singles, a fielder's choice and a hit batsman with the bases load.
Mason was pulled during the big Panther's inning and gave way to freshman left handed pitcher Dallas DeVrieze.
App State rallied to tie the game at four in the fifth inning. Senior catcher Josh Zumbrook walked with the bases loaded to score a run, and then freshman left fielder Tyler Stroup drilled a two-RBI single into right field.
The Mountaineers regained the lead in the sixth inning when junior second baseman Michael Pierson led off the inning with a double to center field before Brill added another RBI, singling Pierson home.
"We kept it close all game," Brill said. "Fortunately, we were able to come back and get into the game."
The Panthers tied the game at five when Brandenburg blasted a home run to left field in the seventh inning.
Brandenburg then produced the deciding run for High Point and the Mountaineers were unable to tie the game in its half of the ninth, falling at home for the second time this season.
"I thought we were OK, and we battled back a little bit," head coach Billy Jones said. "We had some chances to separate the game, and we didn't get it done."
Thurber suffered the loss for the Mountaineers, dropping his record to 0-4 on the season.
App State will play next in a three-game weekend series against conference rival The Citadel. The series starts Friday in Boone with the first pitch scheduled for 6:30 p.m.
"It's three games at home, and we need to take all three," Dobson said. "It's good to come back here and have a few games, and we need to take advantage of it."
Story: Cory Spiers, Sports Editor
Photo: Morgan Cook, Intern Photographer