Student artist paints homage to her culture through art exhibitions, commissions
A fifth-year studio art major has her own art business with designs emulating her experiences as a Black woman, as well as, personable stories and commissions.
Jelonnie Smith said she has always been a creator of art, but was finally able to officiate her artistry business in 2020 during the pandemic. She curated a website for her business jelonniesmith.com, which is currently under construction, obtained an LLC and started getting more supplies for her start-up. 
"It's definitely near and dear to my heart, because it's something I've always thought about doing and I've been doing art forever," Smith said. "So now that I actually have the chance to make something out of it and pursue it, it's going to be really interesting."
Smith said she was inspired by her mom's local business Eye Creations by Caj. Her mom has always been a big supporter of her art and with her being an entrepreneur, it gave Smith the encouragement to begin her own business.   
"Seeing her do it and having that support made me think, 'Why not?'" Smith said.
Smith is also inspired by the Black community and has alluded to historical stories in some of her paintings.  
"I love Black people, especially Black women," Smith said. "I am a Black woman, so it's a 'paint what you know' type thing."
Smith said the impact of her art resonated after she gave a presentation on her work and had a peer share that they were already following her art's Instagram @jelonniesmith_. Her classmate is a local in Watauga County and said she doesn't normally see a lot of Black representation and hasn't been previously introduced to art similar to Smith's. 
"America's not the best whenever it comes to speaking on behalf of Black faces and Black voices. So a lot of my stuff has to do with, like a ratio of Black history," Smith said. "Just giving some of the stories a different perspective."  
In December 2021, Smith did a mini-series for her studio seminar course about wrongful incarcerations in the past three centuries. The mini-series consists of a couple 30-by-40 paintings. 
One of the paintings shows a woman in an iron mask. It's about the story of Anastasia who was said to be the first Black person with blue eyes, this was the result of her mother being sexually assaulted by her slave owner. When word spread about the slave owner being the father, his wife became jealous of her beauty and forced her to wear the iron mask, only allowing it to be taken off when she ate. Despite her abuse and trauma she was still regarded as an incredibly kind person.
The second painting was inspired by the story in "Green Mile" and depicts George Stinney Jr., who was accused at the age of 13 of killing two girls. He went to jail two counties over from where his family was and the trial lasted at most 10 minutes. The court sentenced the teen to the electric chair and he became the youngest person to have that punishment in the 19th century. The case cleared up decades later, proving the boy wasn't physically capable of committing the crime being the size he was. 
"I can talk about it but I feel like a picture's worth a thousand words," Smith said. "So just me painting it, that's me getting it out." 
In August 2021,  the publication Shoutout Atlanta did an interview with Jelonnie and included a gallery of her works. The publication focuses their articles and interviews on entrepreneurs, small business owners and independent artists in efforts to spark conversation in the community and promote local businesses.  
"I really just want to jump on as many opportunities as possible, entering into shows and all that, just whatever comes my way really," Smith said.
She most recently had work displayed in NC State's African American Cultural Center that ran from August to October 2022. The art exhibition was "HerBlackHand: A Conversational Piece" by writer, author and spoken word artist Alexis Lawson. Lawson had invited Smith to display her work in the gallery. The exhibition was described by Lawson in the article published in NC State's paper the Technician as an exhibit that explores "the molding, shaping and refining of a Black woman, who is me – the true conversational piece" and was an opportunity to "create spaces and create platforms for Black artists to be showcased."
"She got artists from wherever she found them and she put their work with her writing," Smith said. "She's a really talented writer, by the way."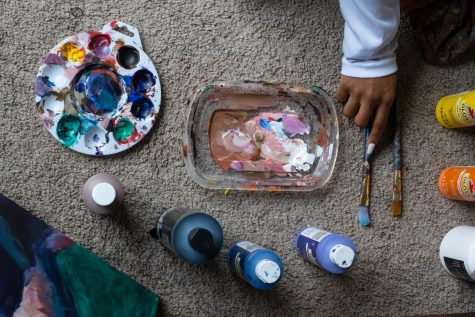 Smith's overall goal when forming her business was "to make people happy." She said there have been countless times she's brought people to tears from personable art commissions she fulfilled. 
"That's what makes it art. If it evokes emotion or gets a reaction out of you, that's what makes it good," Smith said. 
Tia Green is a customer of Smith and a long-time supporter of her art. Green said she has watched Smith's art grow through the years, having gone to her art shows in elementary school and supporting her private showings. 
"Most of her art pieces are relatable to my culture and I love that." Green said, "I love the realistic aspects, the realistic look. The message they send, the way she starts and it looks like a bunch of shapes and she ends up with an explainable masterpiece." 
Green said Smith's passion is felt through every piece and she will "forever support Jelonnie and her gift".
Smith said one of the most sentimental moments she experienced was after doing a commission as a present in December 2021. The client requested a painting for her husband of his brother that passed away when they were younger. The reference picture had her brother-in-law posing with their children and other family members. When Smith gifted the painting to her client she was in tears at the sight of her brother-in-law. 
There was another time where she gifted a client a huge graduation picture of herself which led to more tears of joy. 
"I just want to make people happy," Smith said. "If I can make one person smile then that's all that matters." 
Smith said she hopes to one day be her own boss and be supported by her art, while pursuing other passions on the side. 
She's currently immersing herself in works geared toward her future art career. She has begun to create works highlighting her individual life roles encouraging more intimate expression. 
"I started doing stuff about being the eldest daughter and kind of taking on like a surrogate parent role or feeling that way sometimes," Smith said. "Just dealing with being more in tune with my emotions and stuff like that." 
One piece exemplifying her expression through art is a piece Smith painted that she said was reminiscent of her doing her sister's hair. 
Smith's services include commissions and portraits. She's also previously designed a tattoo of a hand crossing fingers for her and her family. 
Smith said the majority of her work up until this point has been commissions. She said she's gotten commissions for work ranging from family to landscapes to decorative concepts reflecting personalities. 
Pricing of Smith's paintings depends on the size of canvas the customer wants and bases prices on a flat rate. Shipping is an additional fee. Commissions usually take a couple of weeks to complete depending on size. 
Greene said Smith is professional, approachable and very attentive to the needs of her customers. 
Smith's art has been shipped and traveled to different states including Kentucky, South Carolina and Florida. She's also gained traction where her dad lives in California and has had customers from the West Coast.  
Smith recently shipped paintings to Texas after receiving recognition from one of her social media platforms. 
She said one thing making her business unique is her own personality seeping into it. 
"I feel like the hard work and love, as cheesy as it sounds, that I put into everything is really unique in itself," Smith said.