Student Programs installs movie rental kiosk in student union
Appalachian State University's Student Programs recently put Student Government Association legislation into action by installing a movie rental kiosk in Plemmons Student Union.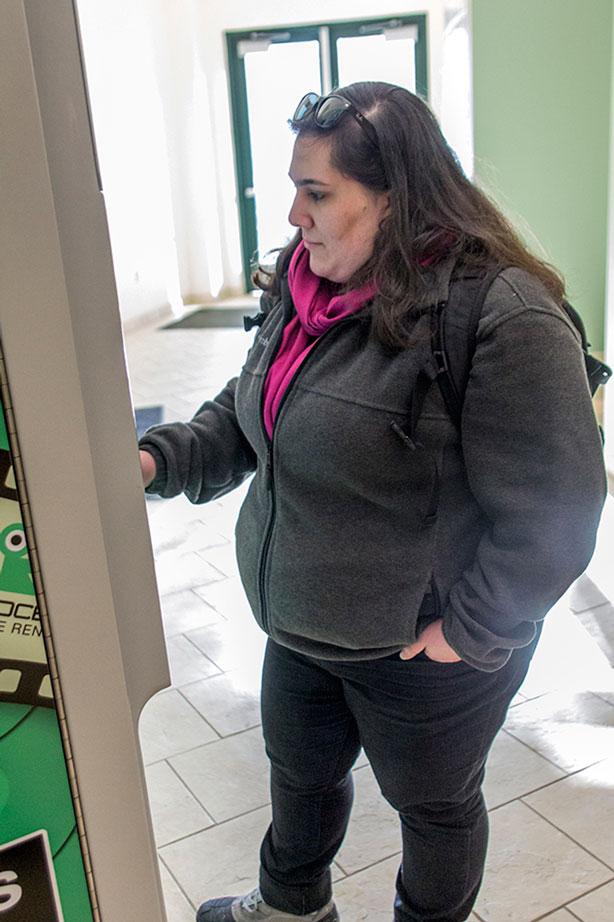 The movie kiosk Croc Box can be found at the end of the International Hallway toward the entrance of the bookstore in Plemmons Student Union.
Newly released movies can be rented for $1.99 per day with a credit card. After 60 days of being available, the price drops to $1.49 per day.
SGA President Dylan Russell helped to pass the legislation allowing the kiosk written by Senator Dave Dykes.
Russell said the idea was one that SGA had been discussing with Student Programs for a few years now.
"I think it's perfect for snowy days like we're having now," Russell said. "It's a great alternative form of entertainment and it's not costing the students anything to maintain."
Student Programs tried contacting larger movie rental companies initially, such as Red Box, but could not work out a contract. Jim Tarelli, the owner of the Croc Box company then contacted the university in early 2013, said Brad Vest, associate director for union operations in Appalachian's Department of Student Programs.
Vest and Tarelli have spent the past year working out contracts and payment methods.
Vest said that the Croc Box's operation will not cost the students anything, although the university does not plan on gaining revenue through it either. The movie rental fees will go to the company, aside from a small percentage used by the school to offset its operation and utilities costs.
"We're doing this as a service to provide entertainment for students," Vest said.
Tarelli said his original concept for Croc Box was to target college campuses.
In addition to Appalachian, Tarelli currently owns a box on Western Carolina University's campus and is pending a contract with UNC-Wilmington. He has also installed two boxes in Naples, Fla., and one in Charlotte independent from universities.
As of now, only standard DVD rentals are available. But Tarelli said he plans to offer select titles in Blu-Ray format starting in February and is trying to work out a way to offer some video game platforms as well.
Tarelli said another one of his goals for the future is to make payment possible through student accounts on AppCards.
"It's turning out to be more difficult than I originally thought," Tarelli said. "A different system needs to be integrated and it's a high cost [for the company and the University]."
Tarelli said one of Croc Box's best selling points is its promptness in offering newly released movies.
"We put in new releases every Thursday, but we receive them approximately 30 days before companies like Redbox due to their agreements with movie studios that we don't share," Tarelli said.
The box's capacity is 700 movies total, which cycle through when new releases come in.
The company offers a free mobile application as well as a weekly newsletter that can be received via email. The newsletter includes information on new releases, the week's top ten rentals and occasional promotions.
Movies can also be reserved online up to an hour ahead of time using the company's website, crocboxmovierentals.com.
"I hope it catches on and will provide entertainment to the students," Tarelli said.
Story: Laney Ruckstuhl, Intern News Reporter
Photo: Paul Heckert, Senior Photographer