Student pursues country music, finds inspiration in famous App State alumnus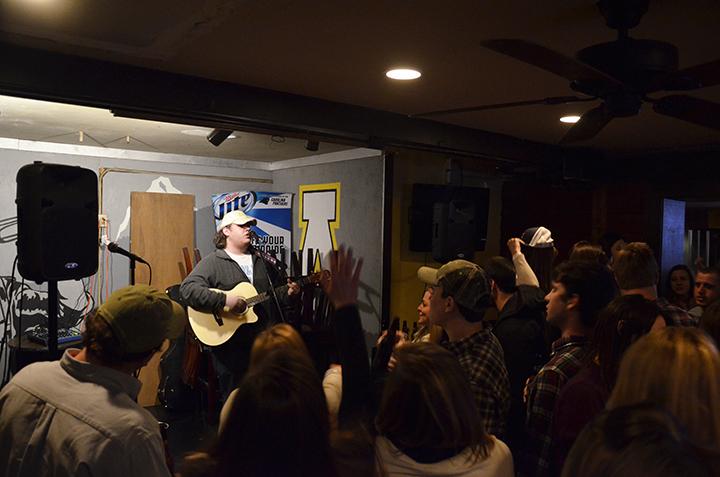 Appalachian State University senior and country singer Luke Combs performed at Klondike Bar on Saturday night – one of many shows he will play on the road to becoming a full-time musician.
Combs, originally from Asheville, started playing the guitar about a year and a half ago and began performing six months after that.
"I had my first show at Parthenon because I knew the owner," Combs said. "I had it at capacity the first night and it's been really smooth sailing from there on out."
Since then, Combs has played at several venues, including Town Tavern, Geno's, Showtime Saloon and Wild Wing Café in Asheville. He is spending his spring break in Nashville, Tenn., where he will have songwriting sessions with some local writers, and where he hopes to meet people who will help benefit his career.
Combs said he has been singing his entire life. He sang at Carnegie Hall in high school and made it to the first two rounds in "The Voice," a singing reality show on NBC.
Combs pursued country music largely because of his personal background.
"I grew up on it as a kid," he said. "And [I] really rediscovered it my freshman year here. I just started listening to the same stuff and researching the new stuff and I got hooked again. When I decided to play it, it just made sense to how I grew up and who I am."
His greatest musical inspiration is Eric Church, an Appalachian alumnus. Church is currently at the top of the charts for country music, and Combs hopes to someday meet him.
Combs plans to graduate from Appalachian in May and pursue a career in country music.
"Full time music for as long as I can survive," he said.
He plans on adding members to his solo act and forming a band that can travel together either to Nashville or around the North Carolina area.
So far, he has put out a short sample album with three original songs and plans on releasing a full CD by the end of the year.
Combs' next show is scheduled for Thursday at the Town Tavern at 10:30 p.m.
Story: CHELLA MCLELLAND, Intern A&E Reporter
Photo: MARK KENNA, Intern Photographer