SYC collects 40 units of blood in its first blood drive ever
A blood drive was hosted Monday by the Student Yosef Club, an organization that supports Appalachian State University's student athletes and aims to increase Mountaineer spirit.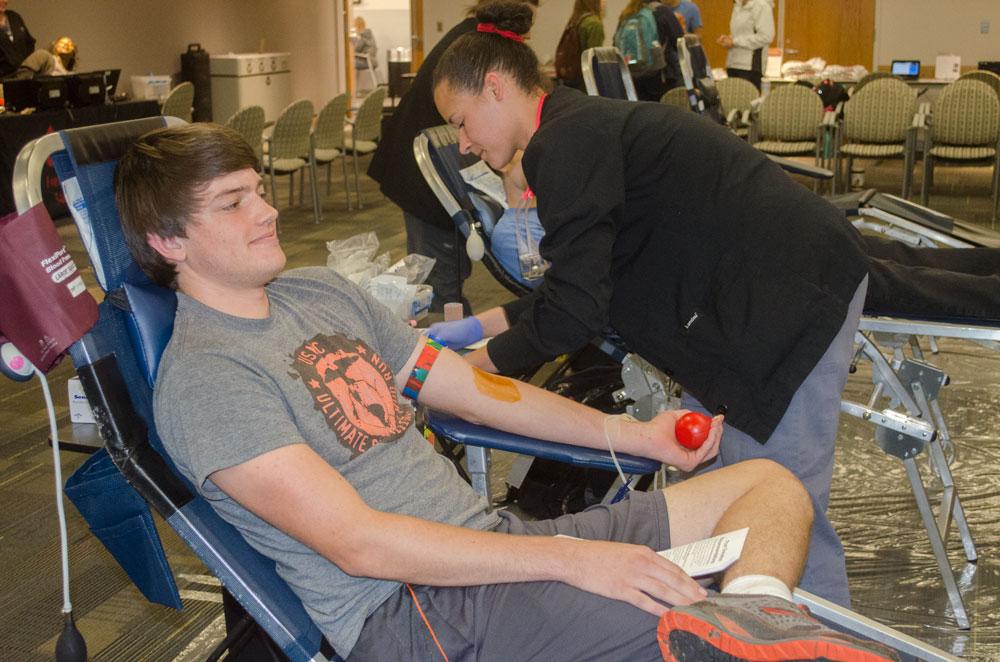 The event was from 10 a.m. to 3 p.m. in Linville Falls of Plemmons Student Union.
Kenneth Taylor, a team leader from the Community Blood Center of the Carolinas, said the 10 staff members ended up with 40 units of blood from about 50 blood drive participants.
"It's important to give blood because it's one of the few things we can't manufacture, we can't get it from another country," Taylor said. "We can only give this life saving blood from ourselves to other people to save their lives."
Ginny Thompson, the athletics development assistant for the Student Yosef Club, said this was the club's first blood drive, but it will not be its last.
"The Student Yosef Club decided to host this event in order to increase SYC memberships, as well as increase the impact the SYC has on campus life," Thompson said. "We would like to help with a cause much greater than our own."
Thompson planned the event along with Billy Singvongsay, an SYC intern and Matt Riley, the account executive of Appalachian IMG Sports Network.
Thompson said the goal set in mind for how many participants they would like to donate blood was 50.
"We were so humbled to see our goal reached by the students here at App," she said. "It is yet another example of how wonderful the Appalachian family is."
Nathan Koconis, a senior psychology major, said he heard about the blood drive and figured he might as well participate.
"It makes me feel good to go and give blood because it makes me feel like I did something worthwhile today," he said. "Having an unusual blood type, I know that if I give blood it means I can probably end up saving someone's life."
Koconis said he is either O+ or A/B+ and that within about a week the Community Blood Center of the Carolinas will inform of what type he has.
Lauren Sigmon, a junior elementary education major, said it was her third time giving blood.
"I don't see the point in not giving blood because it helps save people's lives, and if you have the time you might as well just go ahead, rather than waste your time doing something else," Sigmon said.
Thompson said although people donate blood for different reasons, the donations that are made are vital for helping others.
"Despite all our medical advances, there is no good man-made substitute for human blood, this is why donations are so vital," she said.
Story: Nicole Caporaso, News Reporter
Photo: Rachel Krauza, Senior Photographer