Students participate in MLK Challenge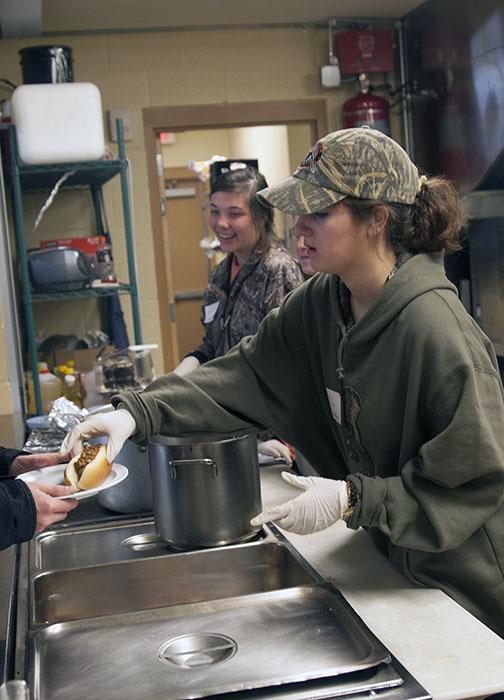 While students may have opted to sleep in on their day off, 237 students spent their Martin Luther King Jr. Day working with llamas, chopping wood for those without heat and planning a birthday party for senior citizens.
They did all of that while participating in Appalachian and the Community Together's 14th annual MLK Challenge day.
Students participated in a "challenging, day-long service project" to celebrate the holiday by "living out Dr. King's vision" of working side-by-side in the community, according to act.appstate.edu.
Students were put in groups and assigned random challenges that they had to complete by 4:30 p.m. the same day.
The groups made over $400 in cash and another $300 in gift cards and silent auctions to help fund each event by asking businesses for money.
Senior recreation management major Ava Whitehead said the MLK Challenge is one of her favorite big service events because "it's a chance for a lot of great people to interact, and it's people who don't necessarily come out to all of our events."
Students who didn't even know if they had a spot were waiting 15 minutes before the doors opened just to be on the waiting list, Whitehead, who worked at the event, said.
Sophomore communication disorder major Callie Strachan worked on putting the finishing touches on a Habitat for Humanity house.
Strachan said she was "glad we can all make a difference on a day so important to our community."
Shelter Coordinator for the Hospitality House Zach Ollis worked with a group of students who served lunch to guests, among other tasks.
Ollis said Martin Luther King Jr. Day is "one of those days people sit down and think about the impact one person can have."
Junior psychology major Joshua Carr said that the event was a chance for him to do that in his own way.
"I think [Martin Luther King Jr. Day] is a reminder of what one man with motivation can do," said Carr, a member of Alpha Phi Alpha – the same fraternity as Martin Luther King Jr.
Activities Director at Appalachian Brian Estates Nancy Dennett said having a group from the MLK Challenge plan the community's January birthday party is a way to celebrate the day with different generations to "hear what it was like."
Diane Price of The Farm at Mollies Branch put students to work in the garden and with her llamas.
Price said that she admires King's peace initiative and "having students come out and keep that dream alive is incredible
Story: STEPHANIE SANSOUCY, Senior News Reporter
Photo: Courtney Roskos, Staff Photographer