Students plunge into Duck Pond for Special Olympics
Light snow fell over shivering students as they huddled around Duck Pond in swim trunks, penguin suits and fairy wings for the 17th annual Polar Plunge at Appalachian State University on Thursday afternoon.
The plunge, which raised a total of $7,310, is the sole fundraising effort of the Watauga County's Special Olympics program. It provides all the funding needed to support the athletes for an entire year. Corporate sponsors from around the community contributed $3,850 of the total amount.
From 3 to 4 p.m., a DJ from WASU-FM played music from the Duck Pond gazebo and encouraged passersby to register for the jump. A sign next to the specially-installed jumping platform read, "WATER TEMP. 34°."
Freshman Markie Nickens, who happened upon the Plunge on her way to the Quinn Recreation Center, said she was perplexed by the commotion.
"It was snowy and cold, so at first I wondered why so many people were jumping into the pond," Nickens said.
According to figures collected by Keron Poteat, Special Olympics Coordinator for Watauga County Parks and Recreation, a total of 162 people plunged into Duck Pond – an increase from 120 participants in 2014.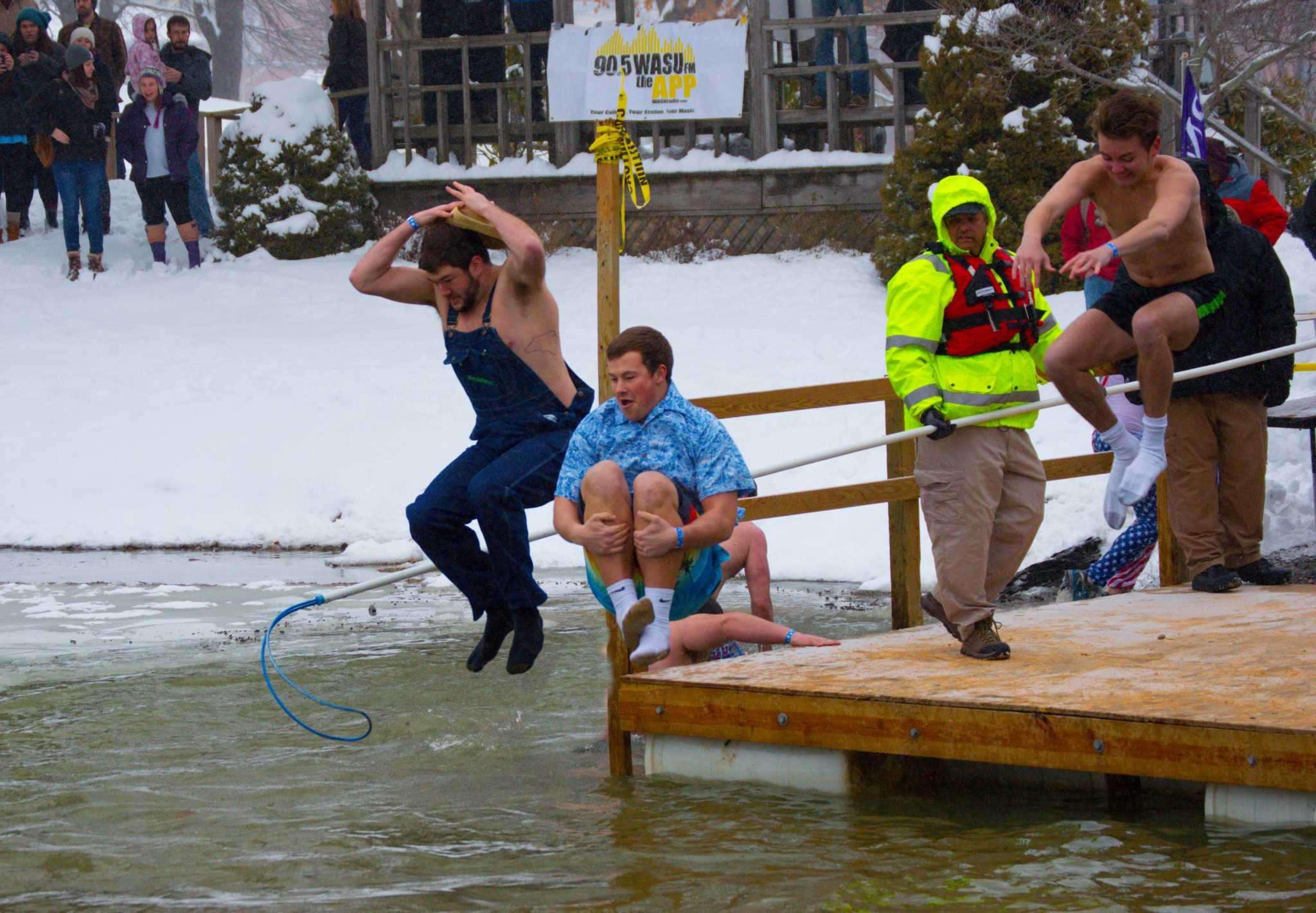 The top fundraising group was Appalachian's Reserve Officers' Training Corps, who handed Poteat an oversized check for $1,726 at the event. Contributions from plungers combined for $1,734 of the total funds raised.
Lawson Huggins, who dove into Duck Pond dressed as a penguin, won the male Most Extreme Costume prize while Gabby Khoury's angel outfit garnered her the title of Most Extreme Costume for females.
"The costumes were out of this world," said freshman market major and plunger Derek Hamilton. "I actually saw someone dressed up as an alien."
Hamilton said he plans to put together a more elaborate costume for next year's Plunge in order to better compete with the plungers who came to Duck Pond dressed in togas, Hawaiian shirts, overalls, bandana headbands and other peculiar articles of clothing.
A group from Appalachian's swim team participated in their Speedos, caps and goggles, while a shirtless student from Phi Gamma Delta jumped into the pond with his fraternity's flag flying on a long PVC pole. Appalachian's Young Life was also in attendance, as were members of various other clubs and organizations on-campus.
For students like freshman criminal justice major Casey McKaskel, knowing that the Polar Plunge benefits such a heartwarming cause is enough to make them brave the frigid water.
"I've got personal ties to the Special Olympics, so I'm out here supporting them," McKaskel said.
STORY: Luke Weir, Intern News Reporter