Students sell scarves to help others serve abroad
Junior social work majors Maddy Burns and Emma Reynolds have a passion for helping others, both at home and abroad.
After planning to travel to Africa in 2012, both women needed help with raising the money to get there. Reynolds wasn't pleased with traditional fundraising ideas and wanted to give supporters a product rather than just taking donations.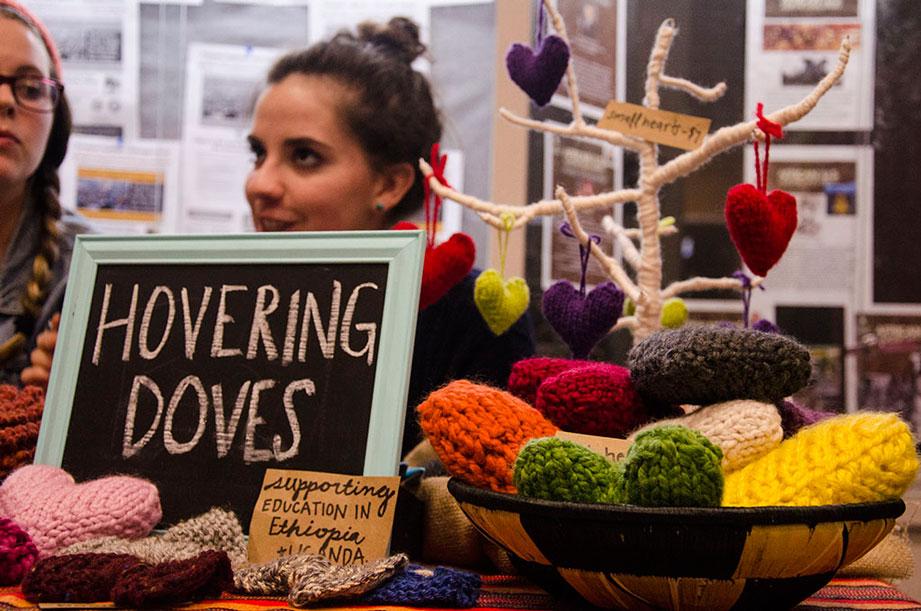 She said that after the two learned how to knit one winter, their business Hovering Doves was born.
Run only by the two students out of their shared bedroom in a house off-campus, Hovering Doves sells scarves to customers all over the nation through their website. The scarves range in price from $17 to $30.
Reynolds said since starting the business, the two have sold hundreds of scarves, sometimes knitting up to five a day.
"Scarves are a practical product that people in Boone want," Reynolds said. "There will always be a need for [them]."
After having the chance to help others in Africa, Burns and Reynolds wanted to give others the same opportunity. Burns said all proceeds from each scarf sale are donated to someone trying to go abroad for service work.
Last year, Hovering Doves helped sponsor sophomore social work major Meredith Rawls get to Africa. They raised about $1,500, which covered almost half of her expenses.
"Service is a way of life," Burns said. "Our trip to Africa was life-defining, and I think it's important to give other people that opportunity."
From January to February, Hovering Doves sponsored junior Natalie Gaviria, who plans to head to Chennai, India, this summer. They are hoping to cover the cost of her Visa and medical expenses, Burns said.
Burns also said that both girls hope to see their business grow sponsoring more humanitarian service trips and increasing the number of scarves they produce.
"We want to highlight the importance of serving in the community," Burns said. "We want to keep supporting people to go to places abroad and serve others but focus on Boone, as well."
Hovering Doves has sold scarves in Lucky Penny, craft shows around Boone and currently sells them through their website, hoveringdoves.com.
Story by Casey Suglia, Intern A&E Reporter
Photo by Kim Reynolds, Intern Photographer