Students gathered in the Blue Ridge Ballroom of Plemmons Student Union on Tuesday to participate in AppSpeaks' second annual TED Talks-inspired event, Panorama. Seven student speakers shared ideas, perspectives and personal stories in relation with social issues. 
The evening began with Kelly Bayha, a senior public relations major, who discussed women leaders in the career world.
"Society taught me to be the leader, I had to be the bitch," Bayha said.
Bayha encouraged the audience to drop the  stereotype of an assertive woman being a "bitch" and a man being a "boss" and embrace the idea that a woman can also be the boss, while also being kind and helping others.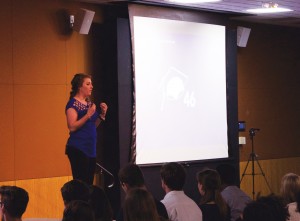 The next speaker was Chappy Cottrell, a senior sustainable development major with a concentration in fermentation science and finance. Cottrell discussed passion and its place in one's career.
He used himself as an example of focused passion: wine. Cottrell talked about his curiosity with wine – how it got from the vine to the bottle, as well as the hard work he put in to working at a vineyard and writing a wine blog in his spare time.
"Our passions are curiosities that grow over time," he said.
Curtis Varner, a senior advertising major, discussed the idea of deception. He used the example of former Appalachian student Anna Smith's death from earlier this school year to show his view on deception and crisis communication. 
Following this was Mary Claire Grube, a religious studies major, who talked about queer theology.
"I was curious about why the church reacts to the LGBT community in the way that it does and I was interested to see if there was a middle ground," she said.
"So many people lose God, lose faith and lose community over these issues," Grube said.
Next, Victor Moore, a senior graphic design major, spoke about the "Black Lives Matter" movement. 
Moore discussed racial profiling, describing Michael Brown and Trayvone Martin as black martyrs in what he believes is today's civil rights moment.
In order to be black on this campus, he said, one has to have thick skin. He used social media to show the racial stereotyping that happens in Boone.
"Our lives matter, our presence matters and our future matters," Moore said.
Jessi Lancaster, a senior apparel design major, then spoke about introversion in the workplace.
Lancaster encouraged employers to "let the introverts shine," and used peronal stories to make her point.
Nick Sands, a senior global studies major, ended the event by talking about making a home anywhere, and dedicated his presentation to his grandmother.
Sands explained that home can be established anywhere, from a building to a person. He said he hopes this encourages others to go out of their comfort zone and explore new places.
Natalie Gaviria, one of the co-founders of the event, said she wanted to create a space for students to share the ideas and passions they each had that often don't get expressed in a classroom.
"I felt that so many people on campus had amazing stories to share, but no universal space to come together and do so," Gaviria said.
This event was free and open to the public. The date for next year's Panorama will be set later in the year.
Story: Molly Flinchum, Intern A&E Reporter