An Appalachian State University sophomore religious studies major has organized a campaign that will send letters to the families of the victims and survivors of the recent shooting that occurred at Garissa University in Garissa, Kenya.
Keven White said he saw the need to show support after hearing about the shooting over Easter break and seeing little support and attention being shown to the victims.
The shooting was committed by al-Shabab militants at approximately 5:30 a.m. on April 2 and left nearly 150 people dead, including guards, police officers and the majority of the victims being college students, according to a report by CNN.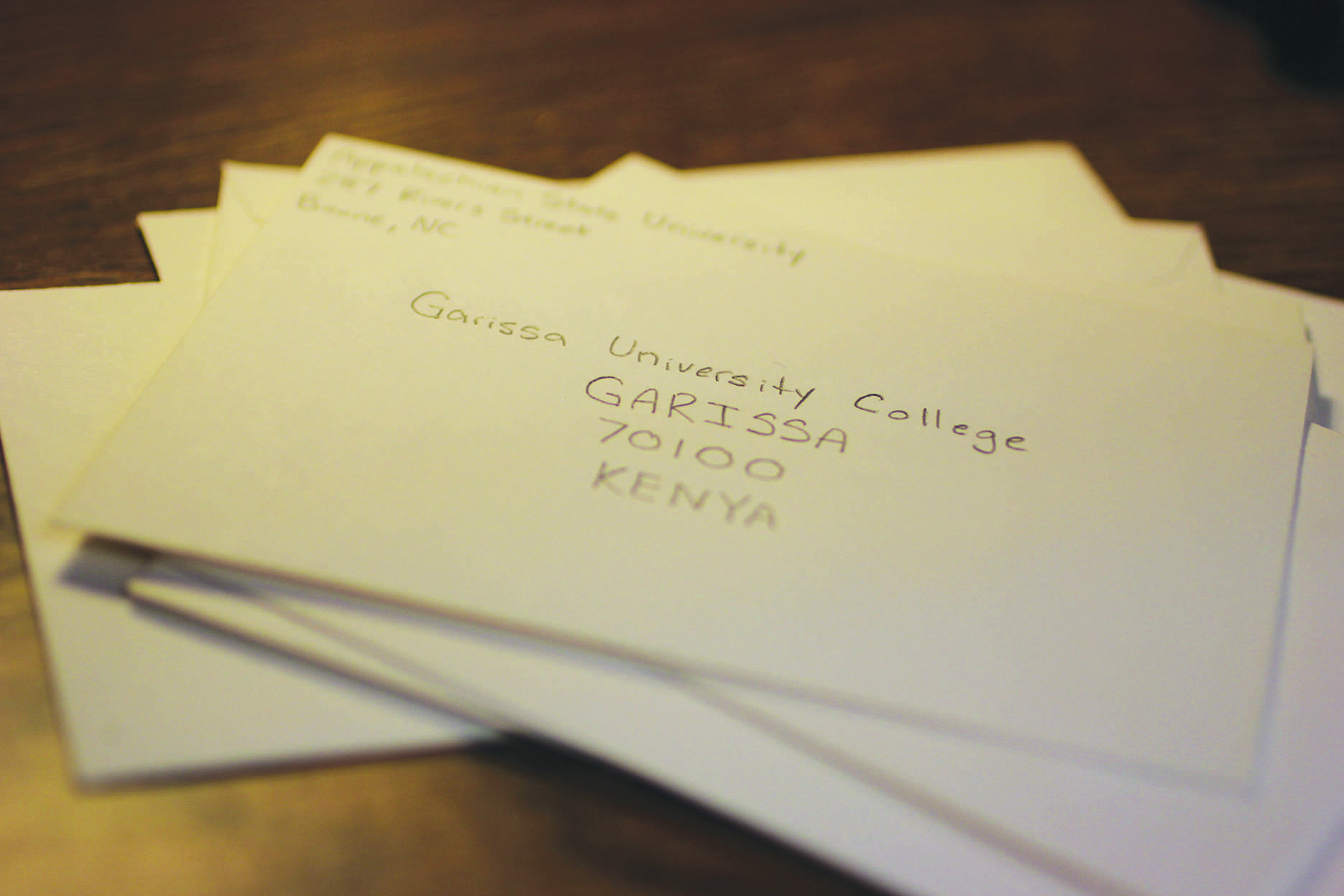 White soon reached out to friends and to his professor of African Thought, William Hutchins, who has a concentration in philosophy and religion.
Hutchins said he thought sending out letters instead of money would be a more personal gesture to show support and would break the stereotype of people giving money to "poor Africans."
"It goes along with 'don't pity us, sympathize with us,'" Hutchins said. "The letters are a form of respectful recognition. If something so horrible happened at [Appalachian], people wouldn't want to come back here and the letters can at least show support."
White also reached out to Michael Barton, senior sustainable development major and president of the Appalachian African Community, who grew up in Kenya and said the letters will help to bring some awareness to campus because too often things that happen in third world countries go unseen.
"A lot of times we just get focused on our lives, but there are young people around the world who are striving for similar things," Barton said. "I believe more connectedness is needed to break down social barriers, to show solidarity and to have a general sense of global awareness and togetherness."
The campaign has more than 100 likes on their Facebook page "App State for Garissa University," where there are constant updates of ways to get involved. There is also a Google Docs page available giving the names of the victims, facts about each of them and a link to the campaign's Twitter page.
"It's not just a number of people who died, there's names, there's stories, there's families and friends, [which] we have to remember that we all have as well and things that we can't let be forgotten," White said.
In support of the campaign, White has partnered with AAC to host a week of events that started April 18 and will run until April 24.
A letter writing station was provided April 18 at the AAC's annual fashion show and April 19 at the Greek Week's carnival. A final AAC-sponsored letter-writing station will be available at Relay For Life on Friday.
At press time, White was also working on providing a letter writing station at the Spring Fling and Pride event April 24, as well as having a memorial book for the victims in the International Hallway of Plemmons Student Union or at least a contact table throughout the week.
Stephanie Zee, coordinator of University Housing Residence Life, was also contacted to send an email to all the resident assistants in hope of spreading the word to students and encouraging them to get involved.
The logistics of shipping expenses are yet to be worked out, but White is working with the Living Learning Community Hall Council to have a letter writing night and then hopefully, University Housing will cover the shipping expenses. 
"It's definitely important for us to be aware and a lot more good can be done through community, especially when people come together for a common cause with a common goal," White said. "If a bunch of people come together to help [the Garissa] community, they're going to realize that people care about them and that's what we're looking for."
Story: Chamian Cruz, News Reporter