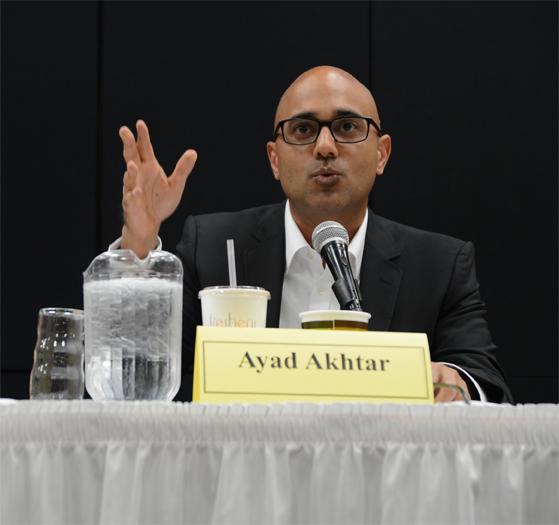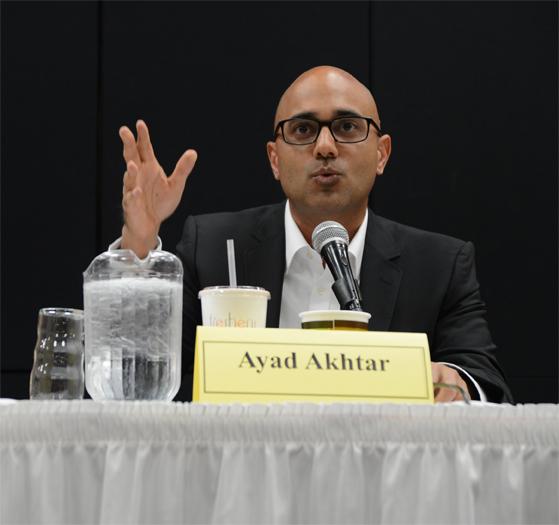 Author and Pulitzer Prize-winner Ayad Akhtar spoke Tuesday at Appalachian State University's annual Convocation and again as part of the Hughlene Bostian Frank Visiting Writers Series.
Akhtar, who wrote this year's summer reading selection "American Dervish," has penned two stage plays as well as worked in film and television.
Later that day, the author answered questions from a panel of faculty members and read excerpts from his novel at a book-signing event in the evening. At both events, the floor was opened to the audience for questions.
"I have found the folks I've met here to be very thoughtful, very soulful, open-hearted people," Akhtar said.
During the open forums, Akhtar was faced with similar questions about his perceived role as a Pakistani-American writer and about stereotypes of Muslim-Americans.
"Nobody says to Augusten Burroughs after 'Running With Scissors,' 'You're making Christians look bad'," Akhtar said. "It's a writer's job to make folks look human. I would suggest, perhaps arrogantly, that the book does that pretty well."
For one student, this was not a satisfactory answer.
"People tend to generalize," said Waqar Ahmed, an exchange student from Pakistan. "If anyone in America reads this book, people will think that this is what life in Pakistan is like. If people read that book, they will generalize it to 200 million people."
Ahmed expressed his concerns to Akhtar at the book-signing event. The author responded by reiterating that, having never lived in Pakistan himself, he writes from the perspective of a Pakistani-American – not a person living in Pakistan.
"I can only write about my experience," he said. "I can only write about what I saw. That's my responsibility as an artist."
Conversations about "American Dervish" continue after Ahktar's two-day visit to Boone. The book is a point of discussion in English classes, religious studies classes and first-year seminars as well as outside of the classroom in off-campus reading groups.
"We wanted a book that gets people talking," said Colin Ramsey, this year's director of the Visiting Writers Series. "We want people to have meaningful conversations. My goal is to get as many people reading it as possible."
During Convocation, he began his speech by reading some of the things students had posted about his novel on Twitter over the summer.
"Engaging the reader is very, very important to me," Akhtar said, after reading a series of tweets from the freshman class.
The bulk of Akhtar's keynote address was about the importance of finding and actively pursuing one's calling.
"I had a trust in me that I was doing what I needed to be doing," he said about writing the book. "Be open, be willing and know that taking your developments seriously can lead to rich rewards."
Akhtar has received numerous awards and accolades for his work, the most notable of which is the 2013 Pulitzer Prize for Drama for "Disgraced," a play about a heated dinner party thrown by a Muslim-American couple.
Story: EMMA SPECKMAN, A&E Reporter
Photo: OLIVIA WILKES, Staff Photographer