Summit Hall features warehouse look, newer aesthetic design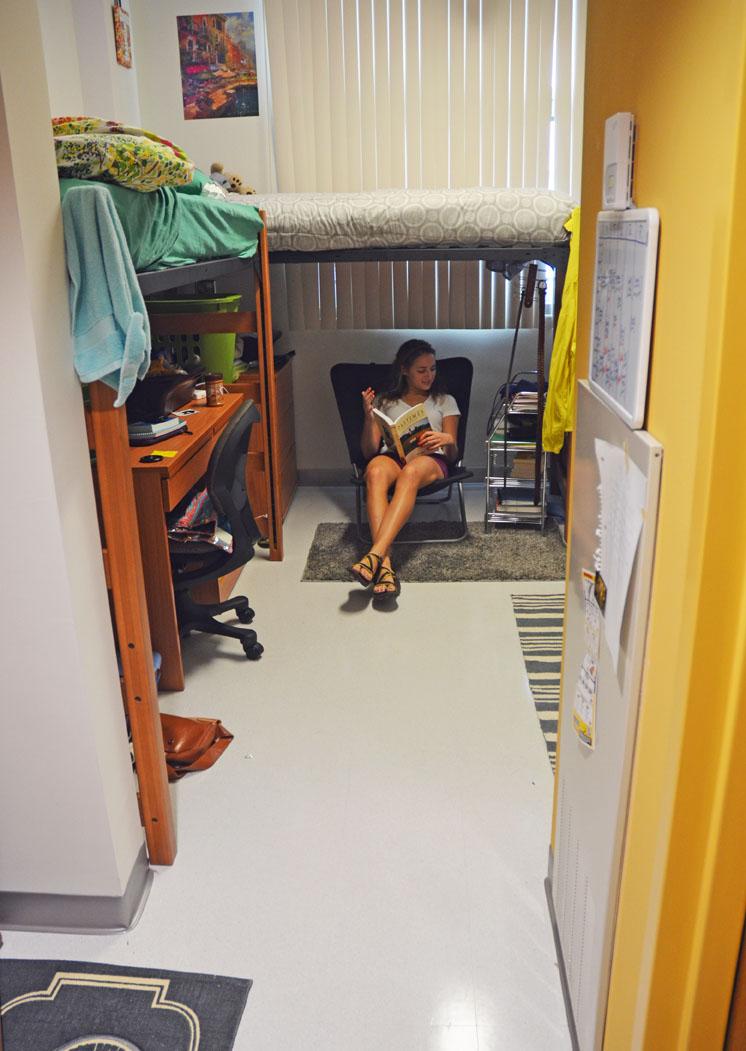 There's more to Summit Residence Hall than just its exceeded project budget and unofficial Leadership in Energy and Environmental Design certification.
It's different than every other residence hall on the university's campus.
"I walked in and started looking around and didn't feel like I was in a dorm," said Nathaniel Smith, president of Appalachian State University Chapter of the American Institute of Architecture Students.
Smith took his first tour of the 10-story dormitory Tuesday and said he was impressed with the main lobby right away.
"My first impression there, is just wow," he said. "It's very, very spacious. I love the material choices, especially the concrete on the side."
Summit Hall embodies a modern, warehouse style, showing exposed concrete and the wiring and pipes on the ceiling.
"The one thing I think is awesome again is that they don't have any dropped ceilings and that you actually see the cement and the concrete," he said. "The lobbies on each floor are extremely spacious. Once again, I don't feel like I'm in a dorm."
As president of the Appalachian chapter of AIAS and a senior building science major, Smith has an eye for architectural design and he said he likes what he sees.
"I think they did a neat job of making sure that all the wiring and piping are together, it's not spilled out," he said. "You can see the design detail."
One of Smith's favorite aspects of the new building was its view of campus and the stretch down Blowing Rock Road.
"I definitely don't think there's another building on campus that has a better view than that," he said. "You have to go all the way to Howard's Knob to see something like that. That's probably one of the coolest things about it."
In addition to being aesthetically appealing, University Architect Caroline Acquesta said the open lobbies, designed chiefly by Jeff Yelton at Perkins + Will in Charlotte, serve a bigger purpose.
"The design of residence halls is trending towards developing community," Acquesta said. "Inside, Summit provides for gathering space on each floor providing a central community space. The rooms are organized around this concept rather than in a separately closed-off lounge… encouraging the social interaction."
However, Smith said he did have some concerns about some of the lobby's interior's design – specifically, the wooden textures on the doors and panels against the exposed concrete.
"But it might grow on me if I was to continue to look at it a little more," Smith said.
Although the outside is still surrounded by construction for the addition to the Plemmons Student Union, Smith said the exterior's conception slightly sets it apart from other dorms.
"It's a little bit distracting to get a full view of the building," he said. "It's the overall aesthetic of the outside of the building, it's this typical Appalachian aesthetic for their buildings. Having a very large emphasis on the corner of the building adds a nice touch for the most part."
As far as a potential trend for new buildings and renovations on campus are concerned, Acquesta said University Architecture has to consider the building and the space around them.
"We definitely will continue to explore the best ways to integrate any new buildings or renovations in ways that inspire learning, including the open spaces," she said. "…As we develop the campus, we will honor our past and look for new ways to incorporate architectural character while providing excellent facilities for our visitors, students, faculty and staff."
Check out more photos of Summit Hall here.
Story: MICHAEL BRAGG, Senior A&E Reporter
Photo: MAGGIE COZENS, Photo Editor