The Appalachian State Mountaineers (5-2, 4-0 Sun Belt) were able to win a Sun Belt matchup against Coastal Carolina (1-6, 0-4) 37-29, giving everyone a reason to continue the celebration on family weekend in the High Country.
Mountaineers' senior quarterback Taylor Lamb opened the game picking apart the Coastal Carolina defense, leading to an opening drive touchdown from junior running back Jalin Moore.
Moore would eventually leave the game due to injuries in the first quarter, leaving only freshman running backs on the depth chart. Freshman running back Marcus Williams Jr. did not lose this opportunity as he scored two touchdowns and ran for 72 yards.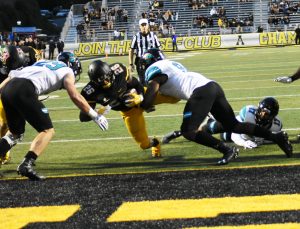 "The backup running backs played really well tonight," Lamb said. "They knew they were going to play tonight. We will see how they do going forward, but they are here for a reason so I am excited to see what they bring to the team."
Lamb had a record day, setting the all-time touchdown record, which included breaking the previous record of 74 set by former Mountaineers' quarterback legend Armanti Edwards.
"The record was in the back of my mind," Lamb said. "It was pretty neat to accomplish this record in front of the home crowd. It was something I was hoping would happen."
The Mountaineers have plenty of wide receivers that can step in and take over the game at any given time. It just so happened that freshman wide receiver Jalen Virgil stepped up and had a breakout game.
"It just played out that way getting Virgil involved, we have six wide-receivers that are healthy and can flat out play," head coach Scott Satterfield said. "We are just trying to plug the receivers in and out of spots that they have an opportunity to make plays and it just happened to be Virgil's game."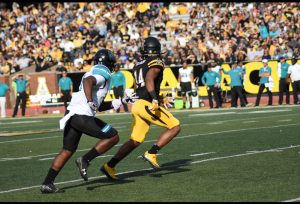 For the Mountaineers to have continued success, all six of the wide receivers will have to keep playing at the pace they are right now.
"Teams are going to play us in more man-to man defensively," Satterfield said. "We are going to get a lot of one-on-one matchups, and these guys are going to have to make plays for us because defensives load up the box and try and stop the run against us."
The Mountaineers looked like they were going to roll over Coastal in the beginning of the game, controlling Coastal's go-to triple-option attack, but in the second quarter the Mountaineers could not slow down Coastal's offense.
"Coastal was able to hit us with a couple big plays down the middle," Satterfield said. "They were able to run a pick route on us, and one of there faster guys No. 19 [Malcolm Williams] was able to make a move and take it to the end zone."
Mountaineers' sophomore defensive back Clifton Duck was coming off the side with a blitz when he saw the football sail over his head into the hands of Coastal's Williams.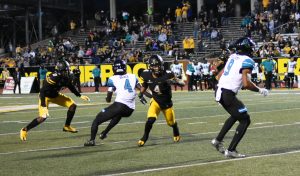 "That is a big part of a defensive strategy to be able to fill in roles off of a blitz," Duck said. "It was just some miscommunication problems that resulted in that play."
With Coastal's run-heavy offense, the Mountaineers forced four fumbles and were able to recover two of them. 
"Usually we do not get many fumbles on defense," junior defensive end Okon Godwin said. "I think last game was the first fumble we recovered in 18 games, when I got my fumble recovery I wanted to pick it up and try to score but we missed so many opportunities I decided to just fall on it."
The second half the Mountaineers were able to put the clamps down defensively and start to pull aways from the struggling Chanticleers.
"Coming into the game we game-planned a lot for the triple-option because that is what they are known for," Duck said. "At the start of the game they threw us off defensively and started to throw the ball more. We have great coaches who were able to make the adjustments at halftime and we were able to stop the throwing game."  
Sophomore kicker Michael Rubino again struggled, missing three field goals and keeping nine App State points off the board.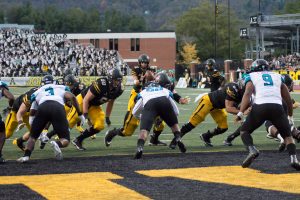 "Rubino struggled tonight," Satterfield said. "You have got to be able to make those, and in close games like this we left nine points on the board, if we hit those three field goals the scoreboard looks very different." 
For the Mountaineers going forward, one of the things they need to figure out to do is put a complete game together. 
"We talk about playing a complete game everyday in practice," Satterfield said. "The good thing is we are still undefeated in Sun Belt play when we haven't played our best, any game we are going to finally put a whole game together and really look good out there."
The Mountaineers will look to put this complete game together against UMass Oct. 28.
Story By: Michael Pigg, Sports Reporter
Photos By: Lindsay Vaughn, Senior Staff Photographer