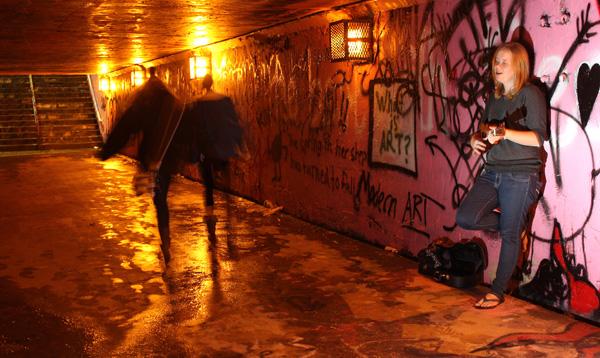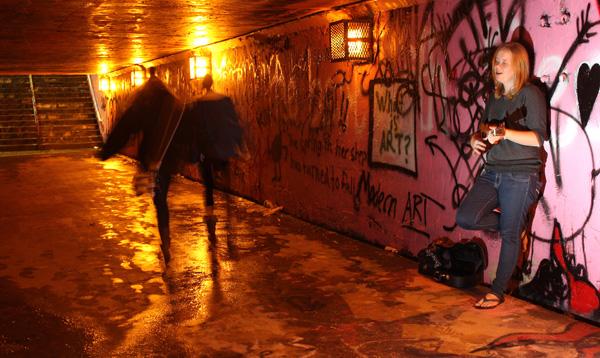 Paige Smith has earned the title of the girl who plays a ukulele in the free expression and has the fans, Facebook page and soon recorded tracks to back it up.
Smith is a sophomore technical photography major that taught herself how to play the ukulele only one year ago. Since then, she has grown as a musician by learning covers to her favorite bands.
"It really makes people happy," Smith said. "Sometimes I feel afraid when people are on their phones, but I've had a lot of people stop and say I sound good and smile. That is the biggest gratification."
Sophomore undeclared major Molly Gidley and fan of Smith made her a facebook page, titled "That chick who plays ukulele in the ASU tunnel," which was created the page Sept. 1, 2011.
"I like her voice and she can adapt her style to many different styles of music" Gidley said. "From covers of Radiohead's 'Creep' to 'Hallelujah' to her own songs, she gives music her original style and her great voice."
Smith started writing and recording her own songs recently. The songs have been posted on bandcamp.com, a website for artists to upload their music, but she has not made the link public because the recording quality wasn't ideal.
Until Smith is able to re-record, the tunnel is the primary place to hear her music.
Having an acoustic sound, Smith is drawn to inspiration from indie and folk bands like Bright Eyes, City in Colour, Bon Iver and Ingrid Michelson. Although she has become known on campus for playing the ukulele, she also knows how to play lesser known instruments – the glockenspiel and melodica.
The facebook page keeps everyone updated on when she is going to play next and what her next moves are in her music career. Once her original songs are re-recorded, the links will appear on "That chick who plays ukulele in the ASU tunnel."
Story: KALEY CAMPBELL, Intern A&E Reporter
Photo: PAUL HECKERT, Senior Photographer