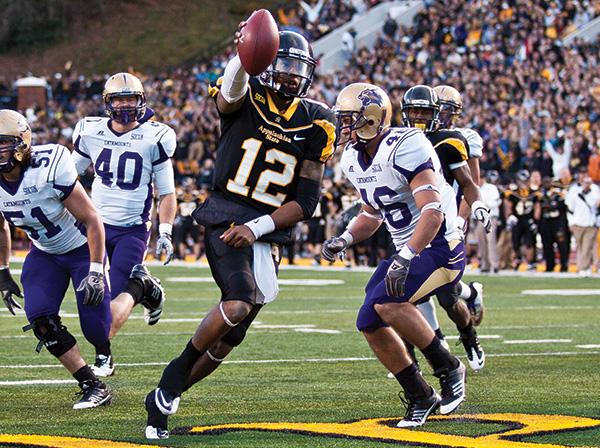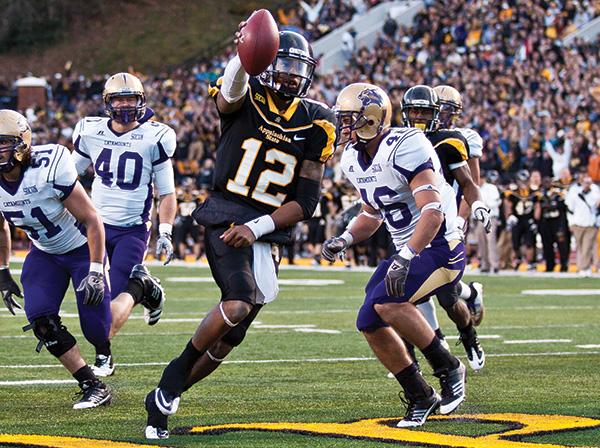 The Appalachian State football team prepares for Senior Night and its final bout in the Southern Conference against Western Carolina

This weekend's game between Appalachian State and Western Carolina will be the last between these two North Carolina mountain schools as Southern Conference rivals.
After Saturday's contest, App State will no longer be a part of the SoCon as the school prepares for a transition to the Sun Belt Conference.
App State (3-8, 3-4 SoCon) has just one more game on the schedule to finish out what has been mostly a disappointing final season as an FCS school.
A big goal for the team is to finish .500 in conference play and with a win over the rival Catamounts of Western, App State will do just that.
"I think it's the most important game we've played all year," senior wide receiver Tony Washington said. "It'll bring us back to .500 in conference within the SoCon, and ending the season off with two wins in a row and having that momentum is huge."
The two teams will face off in "The Battle for the Old Mountain Jug." The winner takes home an old moonshine jug painted with both schools' mascots, which has been the trophy since 1976.
"Always a big ballgame here at Western Carolina, playing your rivals for the Old Mountain Jug," Western Carolina head coach Mark Spier said. "These are two very similar North Carolina mountain schools, in the same conference. Being the last time and [Appalachian's] last game in the SoCon, it adds extra meaning to this game I believe for both sides."
Although the Catamounts sport a 2-9 record on the season, Appalachian State head coach Scott Satterfield is not dismissing Western Carolina as an easy win. WCU has struggled away from their home in Cullowhee, having lost 20 consecutive road games.
They have also dropped eight consecutive against App State, and have not won in Boone since 1984, according to catamountsports.com.
"Their record doesn't indicate exactly where they are right now, but they are headed in the right direction for sure," Satterfield said. "It's going to be a great football game here and it's the last game for our seniors, and the last game for us in the Southern Conference in the history of the program."
This Saturday's senior night will be an emotional night for many on the team, as most will be putting an end to their football careers and moving on.
"It's going to be tough for me because I love this program and I love this sport," senior wide receiver Andrew Peacock said. "Just for this to be my last game it's tough for me right now, emotionally, but I can't wait to experience this with a group of guys I love and can call family. I wouldn't want to go out any other way than with them."
After adding seven more receptions to his career total of 203 in a win against Wofford, Andrew Peacock now has the record for receptions as a Mountaineer. The senior bumped off current St. Louis Ram receiver
Brian Quick for sole ownership of the record.
"It's definitely an awesome thing to do," Peacock said. "Just to be named with Brian Quick and guys like that, those are guys I looked up to when I got here."
Peacock also became only the fifth player in Appalachian State history with 2,000 career receiving yards, according to appstatesports.com.
After tossing another 300-yard passing performance, redshirt sophomore quarterback Kameron Bryant knows getting a win for his seniors this Saturday at The Rock would mean a lot.
"It's a big time game for them, you know," Bryant said. "They're guys I've learned so much from. Just seeing their work ethic and how they carry themselves. So I am just excited to go and try to go and try to get a win for them and I know it's a big deal for those guys. It's a big emotional night for them, so we just want to make sure we send them out the right way."
Kickoff is scheduled for 3:30 p.m.
Story: NICK JOYNER, Senior Sports Reporter
Photo: ADAM JENNINGS, Photographer