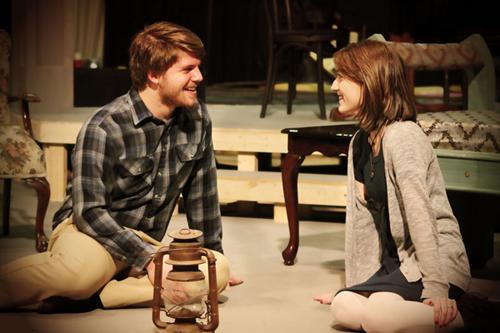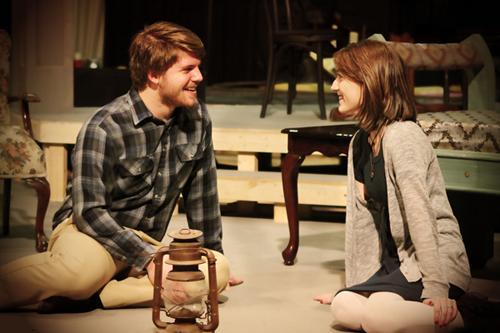 The Appalachian State Department of Theatre and Dance will present the re-imagined version of the Tennessee Williams classic "The Glass Menagerie" this week, featuring an all-student cast and technical designers.
The play is a semi-autobiographical work of Williams' life, and while this fact is traditionally shown through hyperrealism in set design and production, this particular rendition is taking a different turn.
"My idea was that instead of just presenting it as a memory play, the concept was that the audience should be able to see Tom in the process of writing it and also get to see it as if they were reading it," said Derek Gagnier, an associate professor in the Department of Theatre and Dance and director of the production. "When you remember things you know certain details but the rest is sort of fuzzy."
These concepts come into play in nearly every aspect of the show through the narrator writing down key events and the projection of key phrases as if they are being handwritten in a journal on the wall above the actors as they are mentioned in the play.
Most visibly, however, these concepts are furthered through the set as well as the costumes and light production of student designers.
The costumes are period-appropriate to the 1930s and incorporate elements of journal pages and prints with writing, all designed by Billie Pierce, a senior theatre arts major and costume designer for the show.
"The costume designer is responsible for the character from the skin out," Pierce said.
This is the second show she has designed costumes for.
"I had a lot more time with this one," Pierce said. "It was more 'what do you think' and 'how can you help with the production' more than being so rushed."
Each student designer works alongside a faculty member to assist their personal visions for the production.
"I never have had the authority to sit down with a director and talk as equals, which is something that's really great about being here in general," said Bruce Moore, a junior theatre arts major and lighting designer for the show. "Most other places you just do student stuff, small productions and you help out on large ones, but here you're fully immersed in the process, you are a member of the team – your design ideas are taken in, they're thought about and they're appreciated."
Moore's adviser for "The Glass Menagerie" is John Marty, an assistant professor in the theatre department and lighting designer for the show.
"They're not just facilitating our work or following our instructions, but they're going out with their own artistic ideas and trying to see where their specific ideas impact the production," Marty said. "It gives them unique opportunities to fail at a higher level, with a bit more at stake."
Gagnier said of all the productions he has done, this one is the closest to his idea of what he thought it could be.
"Everyone is on the same page, conceptually," Gagnier said.
Recent weather issues have forced the cast and crew to sacrifice valuable production time, leaving the volunteers to work overtime during the final week of rehearsals.
"We have some things to fix," Gagnier said. "I want people to stand at the end of it. If we don't get a standing ovation at the end of it with all those actors crying then we haven't done our job."
"The Glass Menagerie" shows in the Valborg Theatre Feb. 13-16 at 7:30 p.m. nightly, as well as at 2 p.m. for a matinee on Feb. 17. Tickets are $8 for students, $13 for faculty/staff and seniors and $15 for adults.
Story: LOVEY COOPER, Senior A&E Reporter