This week in history: Convocation Center is given a name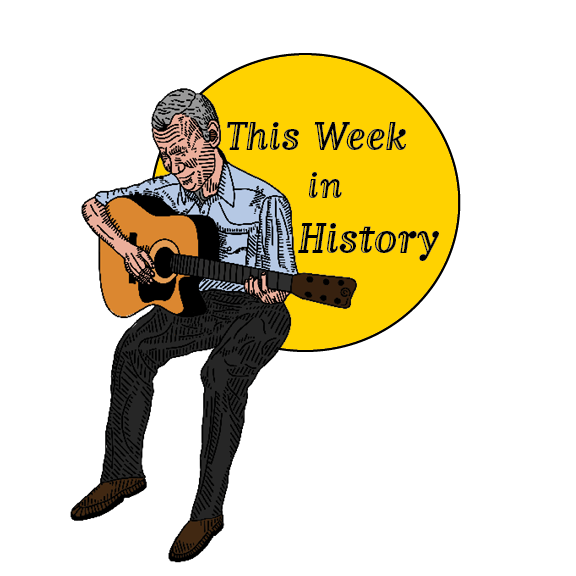 Madalyn Edwards curated this story by Katie Ward, in which The Appalachian published March 26, 1998.
In appreciation for a lifetime of hard work and dedication, the names of two members of the university community will accompany the convocation center as it rises to completion.
After a vote by the Board of Trustees last Friday, Chancellor Francis T. Borkowski announced that the center will be named the George M. Holmes Convocation Center, and the arena will be named the Seby Jones Arena.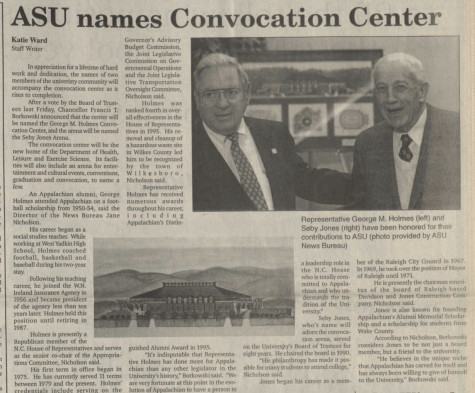 The convocation center will be the new home of the Department of Health, Leisure and Exercise Science. Its facilities will also include an arena for entertainment and cultural events, conventions, graduation and convocation, to name a few.
An Appalachian alumni, George Holmes attended Appalachian on a football scholarship from 1950-54, said the Director of the News Bureau Jane Nicholson.
His career began as a social studies teacher. While working at West Yadkin High School, Holmes coached football, basketball and baseball during his two-year stay.
Following his teaching career, he joined the W.N. Ireland Insurance Agency in 1956 and became president of the agency less than ten years later. Holmes held this position until retiring in 1987.
Holmes is presently a Republican member of the N.C. House of Representatives and serves as the senior co-chair of the Appropriations Committee, Nicholson said.
His first term in office began in 1975. He has currently served 11 terms between 1979 and the present. Holmes' credentials include serving on the Governor's Advisory Budget Commission, the Joint Legislative Commission on Governmental Operations and the Joint Legislative Transportation Oversight Committee, Nicholson said.
Holmes was ranked fourth in overall effectiveness in the House of Representatives in 1995. His removal and cleanup of a hazardous waste site in Wilkes County led him to be recognized by the town of Wilkesboro, Nicholson said.
Representative Holmes has received numerous awards throughout his career, including Appalachian's Distinguished Alumni Award in 1995.
"It's indisputable that Representative Holmes has done more for Appalachian than any other legislator in the University's history," Borkowski said. "We are very fortunate at this point in the evolution of Appalachian to have a person in a leadership role in the N.C. House who is totally committed to Appalachian and who understands the tradition of the University."
Seby Jones, who's name will adorn the convocation arena, served on the University's Board of Trustees for eight years. He chaired the board in 1990. "His philanthropy has made it possible for many students to attend college," Nicholson said.
Jones began his career as a member of the Raleigh City Council in 1967. In 1969, he took over the position of Mayor of Raleigh until 1971.
He is presently the chairman emeritus of the board of Raleigh-based Davidson and Jones Construction Company, Nicholson said.
Jones is also known for founding Appalachian's Alumni Memorial Scholarship and a scholarship for students from Wake County.
According to Nicholson, Borkowski considers Jones to be not just a board member, but a friend to the university.
"He believes in the unique niche that Appalachian has carved for itself and has always been willing to give of himself to the University," Borkowski said.