This week in history: New Chick-Fil-A, pizza vendor increase campus sales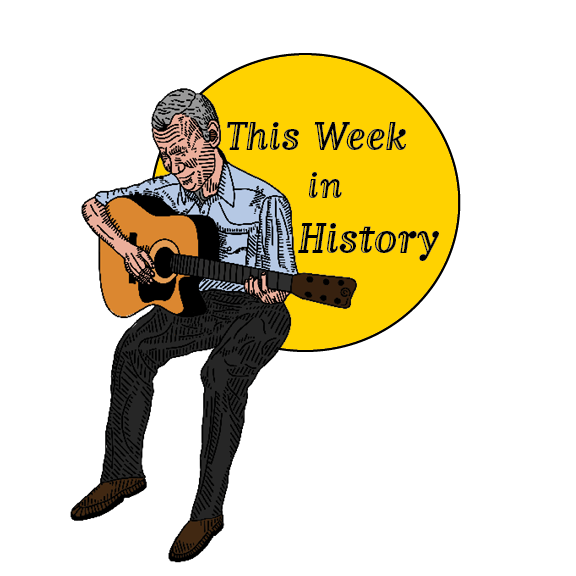 Kaitlyn Potochnik curated this story by  Sherrie Huffman which The Appalachian published Jan. 27, 1998.
Last semester, outside vendors Chick-Fil-A and Stone Willy's Pizza were opened on Appalachian State University's campus after approximately four years of deliberation on behalf of Food Services.
Most students and faculty are enjoying the variety of food that both locations offer, and the sales from the restaurants are well beyond the expectations of Food Services Director Ron Dubberly.
According to Dubberly, the decision to add Chick-Fil-A and Stone Willy's Pizza was a good one because both vendors have helped Food Services' sales.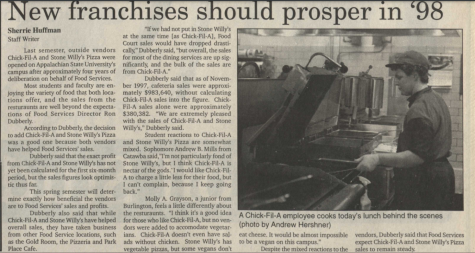 Dubberly said that the exact profit from Chick-Fil-A and Stone Willy's has not yet been calculated for the first six-month period, but the sales figures look optimistic thus far. 
This spring semester will determine exactly how beneficial the vendors are to Food Services' sales and profits. 
Dubberly also said that while Chick-Fil-A and Stone Willy's have helped overall sales, they have taken business from other Food Service locations, such as the Gold Room, the Pizzeria and Park Place Cafe. 
"If we had not put in Stone Willy's at the same time [as Chick-Fil-A], Food Court sales would have dropped drastically," Dubberly said, "but overall, the sales for most of the dining services are up significantly, and the bulk of the sales are from Chick-Fil-A." 
Dubberly said that as of November 1997, cafeteria sales were approximately $983,640, without calculating Chick-Fil-A sales into the figure. Chick-Fil-A sales alone were approximately $380,382. "We are extremely pleased with the sales of Chick-Fil-A and Stone Willy's," Dubberly said. 
Student reactions to Chick-Fil-A and Stone Willy's Pizza are somewhat mixed. Sophomore Andrew B. Mills from Catawba said, "I'm not particularly fond of Stone Willy's, but I think Chick-Fil-A is nectar of the gods. I would like Chick-FilA to charge a little less for their food, but I can't complain, because I keep going back."
Molly A. Grayson, a junior from Burlington, feels a little differently about the restaurants. "I think it's a good idea for those who like Chick-Fil-A, but no vendors were added to accommodate vegetarians. Chick-Fil-A doesn't even have salads without chicken. Stone Willy's has vegetable pizzas, but some vegans don't eat cheese. It would be almost impossible to be a vegan on this campus."
Despite the mixed reactions to the vendors, Dubberly said that Food Services expect Chick-Fil-A and Stone Willy's Pizza sales to remain steady.