The leaves have changed, the air is crisp and it's the long awaited season for pumpkin beers. With craft beer growing in popularity, there are countless new pumpkin beers to try every fall.
Benchmark Provisions, located in downtown Boone under Farmer's Hardware and across from Black Cat Burrito on Depot Street, carries more than 15 different pumpkin beers. These brews come from all over the country and range from $2-$11. Their percentages in alcohol range from 5.5 to 8.6 percent.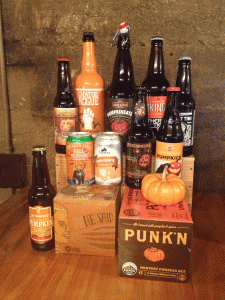 Chatoe Rouge Pumpkin Patch Ale is the only one of the 15 that uses their own grown pumpkins in their beer. The Catawba Valley King Don's Pumpkin Ale is brewed closest to Boone. The Big Boss Harvest Time and Cottonwood Pumpkin are both from North Carolina, as well.
Benchmark has put together fall seasonal mix packs that include six different fall seasonal beers for under $12. The packs give you pumpkin beers and other seasonal flavors, too.  For those of you who enjoy fall flavors but not so much pumpkin, Benchmark also carries about six other seasonal beers such as the Oktoberfest from Germany and also a variety of hard ciders.
Benchmark employee, Zack Chavez, told me that Benchmark received its first pumpkin beer sometime between late August and early September and that pumpkin beers have been selling very well. They have already gone through two different pumpkin kegs from their growler station.
Chavez said his favorite pumpkin beer is the Howe Sound Pumpkineater.
"It's flavorful without being overbearing," he said.
Co-owner Sam Parker recommends the Southern Tier Warlock.
"It's full-bodied, dark, with a hint of all-spice," which Parker prefers over the cinnamon, buttery spices of other pumpkin beers.
Parker said pumpkin beers should be "darker and chewier," like the gourd itself.
Story: Johanna Mohler, Contributor
Photo courtesy of Johanna Mohler