Tuition and fees proposed for 2013-14 budget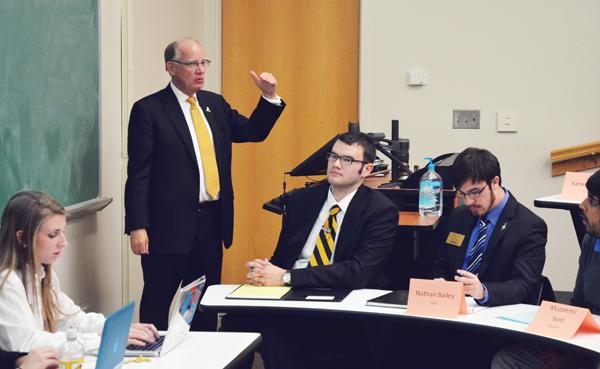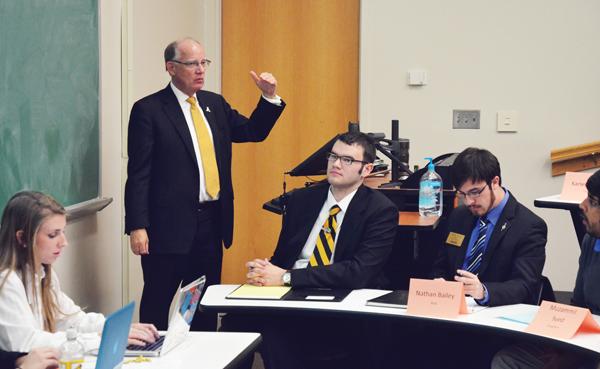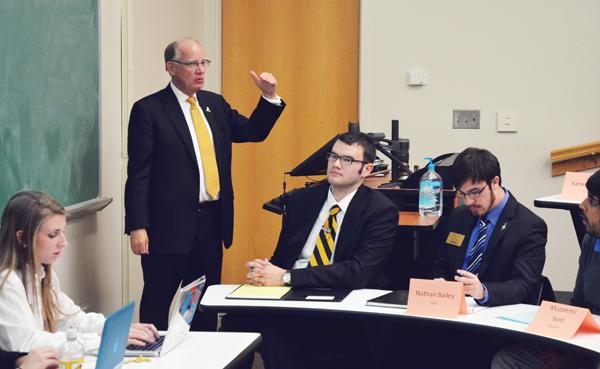 The Student Government Association heard a proposal Tuesday night for the 2013-14 budget, which would increase resident tuition the maximum-capped limit of 6.5 percent and non-resident tuition 2.5 percent.
Chancellor Kenneth Peacock reassured the students of the strength of their voice in the creation of the budget.
"What you say, and that input that has come through the committee means a lot," Peacock said. "Your opinion is important. I will do my best to get the proposal that comes from this campus implemented."
SGA President Jake Cox said he and his staff were in meetings discussing the budget for five weeks leading up to the presentation of the budget proposal to SGA. The committee met six times over that period with meetings lasting between one and two hours.
"There was one main thing that was added to the whole budget, and that was the three athletic adviser positions," Cox said.
The funding for the positions used to come from the state, and when the state cut it from their budget, the athletics department incurred the cost, Cox said. But now, the cost has been put on the students.
"I didn't feel that this was the time to add this," Cox said. "My main issue with this is that this money isn't being appropriated properly."
The reasoning for moving the cost of the advisors, who would act as academic advisors for student athletes, is that it would raise a "red flag" to auditors, Cox said.
There is a fear auditors would suspect cheating and foul play regarding student athlete grades, Cox said.
The biggest thing that did not make it into the current budget proposal is the 24/5 library, which would pay to keep Belk Library and Information Commons open for 24 hours Monday through Friday during the school year, Cox said.
The SGA proposal allocated 4 percent of the total budget for this service, totaling $165,000 out of an over $4 million budget.
"It would cost $120,000, from 2 to 7 [a.m.], just to run the utilities, and it would cost $45,000 for three security guards," Cox said.
"We felt this was justified. If students want it, why can't we ask for it, because this is all our money."
SGA Treasurer Nate Wright said he thought if the budget was proposed earlier, there would have been more success.
"I wasn't necessarily upset with the way that most of the money was allocated except for a small portion of it where I felt like it could've been redirected toward re-establishing the [24/5] library," Wright said.
Cox said the administration felt that too much money would be spent on the 24/5 library which would not serve enough students to make it justifiable.
"They didn't believe that there were enough students using the library at 3 a.m., at 4 a.m., at 5 a.m.," Cox said.
Cox said he presented data that showed there were constantly 30 to 40 students in the library at all hours, and that number increased to 50 to 60 during midterms and 80 to 100 students during finals.
"You're not going to see one student in there night after night at 4 a.m. doing homework," Cox said. "Those students that go there one night aren't going to be the same that are there another night. In my mind, that's a bigger benefit."
The budget accounts for money to re-establish 11 staff positions, which had been cut in previous years.
The budget will go to the Chancellor, who may revise it or present it as is to the Board of Trustees for approval in mid-December.
Story: JOSH FARMER, Senior Sports Reporter
Photo: MAGGIE COZENS, Photo Editor