Two-head running back duo: A look at App's running game
Two years ago against the Idaho Vandals is where junior running back Jalin Moore and senior running back Terrence Upshaw first took charge of the Mountaineer run game. Former running back Marcus Cox did not step on the field that game and with his graduation last year, it's finally time for Moore and Upshaw to take the reigns of the Mountaineer offense.
In 2016, Moore rushed for 1,402 yards on 237 carries, appearing on several preseason watch lists. A breakout season in 2016 brings higher expectations from Moore especially being the No. 1 back.
"It's overall a different feeling," Moore said. "Now I'm older, I know more. I'm wiser and I've got a bigger role for this team. All the things that Marcus did for this team, I have to fill those shoes and do more."
Running backs coach Stu Holt is not afraid of that at all.
"Jalin spent this offseason trying to become more of a complete player and now he's catching the ball really well out of the backfield," Holt said. "He's understanding pass protection better and he's being more patient of a runner."
Holt attributed much of that to playing with Cox last season as Cox helped him realize patience and see how the blocks are going to happen in front of him. As a whole, that has helped him make the correct decision more often.
Cox was also a well-known leader on and off the field for the Mountaineers and that has rubbed off on Moore too.
"Any time your guys that are major contributors are also leaders on and off the field, [it] strengthens your team and that is something he is striving to be more of a vocal leader than he has been in the past," Holt said.
Upshaw, the other piece to the puzzle, finds himself refreshed and refueled after a season of ineligibility.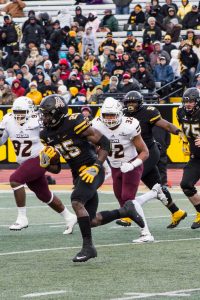 "It makes you appreciate everything more, so every time I get the ball I think this could be my last carry," Upshaw said. "That's motivated me to run harder."
Running hard is not something Upshaw hasn't implemented into his game before. He likes to think of himself as a "bruiser" and a run-through guy, which adds to the dynamic one-two punch of Moore and Upshaw.
"I bring more of a bang to the aspect of my game because I run physical," Upshaw said. "Jalin will come and just run right past you."
Holt plans to run Upshaw and Moore in a similar fashion to how Moore and Cox split time last season.
"Whoever's got the hot hand will typically stay in there and get a lot of opportunity," Holt said.
Toward the end of last season, Cox and Moore regularly found themselves on the field at the same time. However, Holt isn't sure if they're ready for that this early in the season.
Holt was also aware that Moore wanted to reach 2,000 rushing yards this season. Although he believes he is capable of a goal like that, at the end of the day that is not what matters.
"It doesn't matter if he gets a personal goal, it matters as a position room," Holt said. "What's paramount is whoever is in that slot is getting it done for us."
In order for the run game to go as planned, the offensive line will determine that and they have done an exceptional job these past few years.
"It's the O-line who's doing the hard work, we're just the ones who get the glory for it," Upshaw said.
Holt alluded to Moore being an explosive back with the ability to win one-on-one battles in the open field with opposing players. It's the O-line that comes in to help get those opportunities.
"What the offensive line does is they limit how many times we have to go against more than one guy," Holt said. "Our offensive line does a great job of covering up the front seven, getting us into the secondary at a fast rate where we're on top of those safeties where they've got to make a quick decision and most of the time we can win that battle."
Despite having exceptional running backs year in and out, it's the offensive line that makes any running back corps tick.
Story By: Matt Krombach, Intern Sports Reporter
Photos By: Halle Keighton and Lindsay Vaughn