Two Mountaineers drafted, three signed to NFL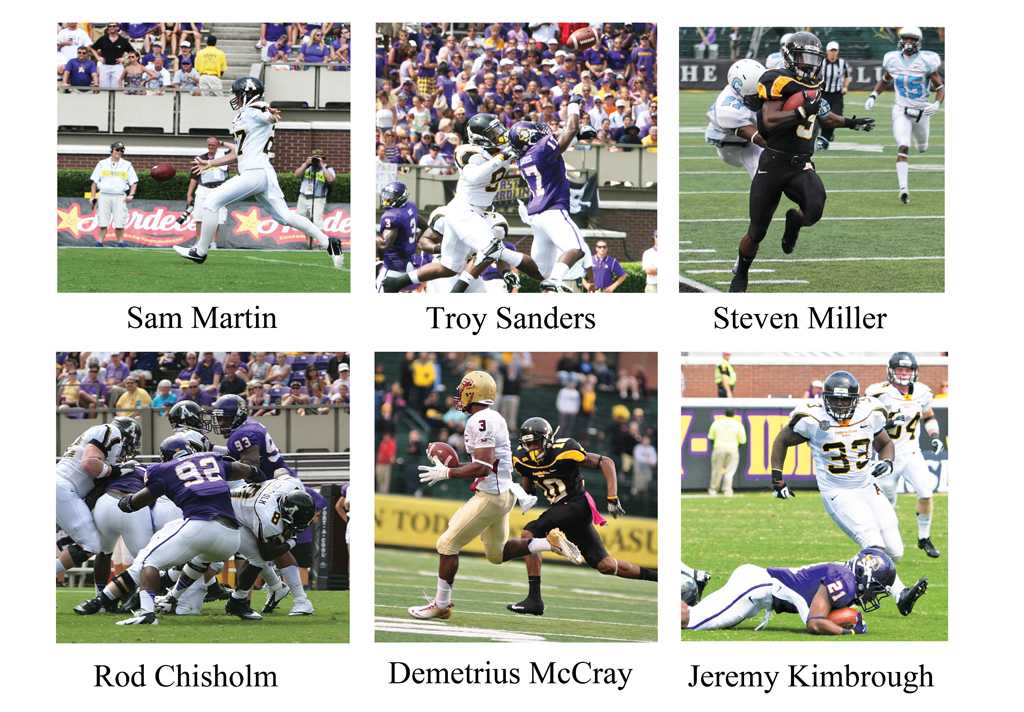 To reach the professional level of sports is a dream all athletes share.
To make it, they must go through multiple workouts and the dramatic National Football League Draft.
This year, the NFL took a record five players from the Appalachian State football team and has another attending a rookie camp.
Punter Sam Martin and defensive back Demetrius McCray were the 32nd pick of the fifth round and the fourth pick in the seventh round, respectively, in the NFL Draft at Rockefeller Center in New York City.
The Jacksonville Jaguars selected McCray, while Martin went to the Detroit Lions.
Jeremy Kimbrough (Washington Redskins), Steven Miller (Lions) and Troy Sanders (Atlanta Falcons) signed later with their respective teams.
Martin said that the feeling of being pro was "surreal" and he was just trying to take it in.
"I went into it thinking I had a chance from what I had heard from a lot of coaches, people I had spoken with and teams I had worked out with that I was going to get drafted," Martin said. "[They said] that there was a chance, but you never really know if everything is going to work out."
Martin, who was punter/place kicker for App State from 2009-12 and was named first-team All-America by The Associated Press in 2012, said he and Jeff Locke from UCLA were high recruits for kicking.
Minnesota selected Locke in the 22nd pick of the fifth round.
"I thought Minnesota was going to draft me, but it was good because it got him off the board and I was pretty sure that I was going to be the next punter," Martin said. "I knew Detroit was coming up at 165 [overall]. It was kind of a long shot, but I was watching my phone, hoping, and then it rang. It was a real good feeling – indescribable."
Running back Miller will be joining Martin in Detroit. He signed with them shortly after the Draft ended.
"On Friday, the Lions' special teams coach came to my pro day and Steven [Miller] caught my punts and did very well," Martin said. "I went up to Detroit for a visit and they asked me about Steven and I was like, 'that's a good sign.' I knew if Steven didn't get drafted, the Lions would be calling. It just worked out perfect."
Another player to sign after the draft was linebacker Kimbrough, who signed with the Redskins.
Kimbrough said he had watched the Redskins before and had an inkling it might be them.
"Before the draft, I was kind of getting this feeling that somehow, someway, I might end up in Washington," Kimbrough said. "I was watching all their tapes and stuff, just trying to get a feel for what they do defensively. Personally, I like London Fletcher. I watch his highlights and a lot of his tapes."
Aside from Fletcher, the Redskins are also home to one of the league's most prominent and young quarterbacks: Robert Griffin III.
"[It's] not at all [intimidating], they're just regular human beings," Kimbrough said. "You can't look at them and really be star-struck because they're your teammates. Maybe the first time I see him, I'll be like, 'wow, that's Robert Griffin III,' but after that they're just going to be regular people to me – we all play football."
Running back Rod Chisholm was invited to the Redskins' Rookie Camp, which will be held May 3-5, and, should Washington be impressed, could join Kimbrough as the Redskins' second player from App State.
If Chisholm makes it, he will bring the total Mountaineers who went to the NFL in one offseason up to six.
Kimbrough said he thought it was the "attitude and mindset" that helped so many of his class go professional.
"We came in together as just a hardworking class, a humble class," Kimbrough said. "We just really grew together and that same attitude and mindset never changed."
Martin thought it was because App State is a smaller school, they felt like they have something to prove.
"In my whole career, I can't imagine anyone working harder than we did," he said. "In one day, we had five guys and that's great. I don't know what the record is, but that has to be close. When it comes down to it, NFL teams know talent and that's what separates us, I think. Everyone's got a little bit of a chip on their shoulder."
Story: ANDREW CLAUSEN, Sports Editor
File Photos | The Appalachian