Two senior transfers shine
The road to their senior year has been different for App State track and field athletes Chris Anderson and Taylor Drummonds.
On the men's side, Anderson is in his fifth and final year of eligibility as a distance runner for the Mountaineers cross country and track and field team. Drummonds is in her final year as a pole-vaulter and hurdler for the women's track and field team.
Being a track and field athlete is sometimes the only similarity that a pole-vaulter and a distance runner can relate to. With multiple events that take place in track and field, there is one underlying similarity that Anderson and Drummonds have with each other: they're both seniors who transferred to App State.
"We actually don't have too many transfers," head track and field coach John Weaver said. "We try to have people who want to be here, work hard and fit with the program. It's not too different from any other sport, but with the individual aspect, it can be difficult to adjust as a transfer."
Now in their final season donning the black and gold, Anderson has solidified himself as one of the top runners on the men's team, recently running a personal record of 8:21.33 in the 3000 meter, and a 14:46.63 5K to place third at the Sun Belt Indoor Track and Field Championships.
Drummonds hit her personal record this indoor season in the pole-vault, jumping 13'1.5", and started off the outdoor season with a first place finish in the pole-vault, jumping 12'11.5".
For both Drummonds and Anderson, there were some roadblocks on the way. Originally from Florida, Drummonds moved to Boone and attended Watauga High School. She was a two-sport student-athlete, playing softball and competing in track and field.
Anderson's father was a professional runner, and he took part in the sport during his sophomore year of high school.
Despite feeling that she was a better softball player, Drummonds was recruited by East Carolina, and signed with the Pirates track and field team in 2013.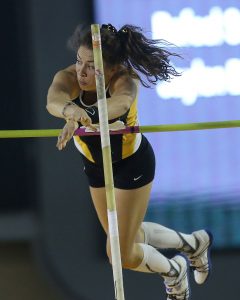 Drummonds found quick success at ECU, setting the program's school record for the outdoor pole vault as a sophomore and being named newcomer of the year as a freshman during the outdoor season.
"Everything was upgraded in college a little bit," Drummonds said. "In track, you practice everyday, have study hall and you are just working hard everyday, which can be a transition from high school."
Similarly, Anderson, who attended Westchester Day School, was recruited by UNC Charlotte in 2012, and decided to sign with the 49ers, even though his sister attended Appalachian State.
"I was a late bloomer as a runner, and in indoor track I was ranked 10th in nation in the 5K and got interest," Anderson said. "I chose UNCC and really enjoyed it. My sister went to App, and I wanted something different. Charlotte had the best opportunity at the time."
Just like Drummonds, Anderson quickly succeeded at the collegiate level, placing in the top five for the 49ers every cross country race, and posting multiple personal records throughout the cross country and track seasons.
"It was different. In high school I was a one-man team. I was five minutes faster than everyone on my team, and it was different to be able to train with guys who really competed with me," Anderson said. "I was the second man on the team my first year being at UNCC, and it was different having to adjust with people around me and not be solo."
After competing for two seasons, ECU's pole-vault team went through some troubles, at one point discussing cutting the team, and Drummonds felt it was best to transfer after being granted her release from the team.
Anderson was ready for a change of scenery after his first year, as he felt if his training changed, he had much more potential. Anderson decided to attend Clemson, but just a few weeks in his first semester, a new coach was hired, and decided Anderson wasn't a good fit for the team.
Both having to find a new college to compete at, App State became the choice for Drummonds and Anderson under Weaver and pole vault coach David Ward and cross country/distance coach Michael Curcio.
"Many people have different reasons for transferring," Weaver said. "It may be coaching, family money or anything really. We just want someone who wants to be here and has the right mindset to be here."
Drummonds was eligible to compete her first year at App, and Anderson went through an appeal process to compete immediately.
After a few years of looking to find their home, Anderson and Drummonds could now settle and just focus on school and competing.
"I felt that the first summer after I attended App, I lived up here in Boone, and that's when I really calmed down and was adjusting and getting back into a normal life again," Anderson said. "In the spring and fall, we had [Evan] Laratta, and then [Jacob] Spears who were transfers, and we have had a lot of transfers come in and succeed."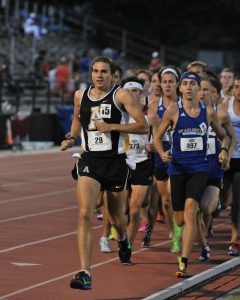 Not only did Anderson and Drummonds transfer for track and field, education became a key factor. With making it professionally being so difficult in track and field, one of the first things Weaver makes sure of is where his student-athletes are academically.
"The first thing I ask them is 'what is your major?'" Weaver said. "If they are wanting to major in something like engineering, I may not recommend coming here. If it's business, I say they can succeed academically. We want them to have the best opportunity they can, because if something were to happen, they need to have other options and feel prepared to graduate."
Drummonds found her passion in communications sciences and disorders, and found App has the perfect fit. Anderson wasn't sure on what he wanted to do, but App State presented him with the opportunity to find his passion in marketing.
"Don't go to a school just because you think it is the right fit," Anderson said. "You have to know the area, the weather, the coach, the team and if school has your major. I told people you can't just make the decision on running, and the best thing for me was finding my major. I didn't really have it, and now I know what I want to do."
Having the experience of attending another university, a sport like track and field can be difficult to adjust to with the individual aspect of the sport, but for Drummonds, she made sure her voice was heard immediately.
During the Sun Belt track and field indoor championships in 2016, Weaver told the team that they were sitting in second place, which would be the best in App State history. Drummonds, who experienced winning seasons at ECU, raised her hand and said 'Why don't we just go for first place?" The Mountaineers would do just that.
"Taylor makes sure our voices are heard, even as freshman, we were still important to the team," sophomore pole-vaulter Sofia San Miguel said. "Taylor is an incredible positive energy, and when she leaves, that is something we need to keep around."
Still needing to prove that she could fit in with a strong Mountaineer team, Drummonds proved her leadership skills early, and helped lead the Mountaineers to a conference championship her first year at App.
"When Taylor transferred in, we saw her take an immediate leadership role on our pole-vault team," San Miguel said. "She has helped me so much with getting my confidence back in a mental rut during my freshman year."
On the men's side, Anderson had a few other distance runner transfers in Laratta and Spears, and another fifth year senior in Andrew Vandenberg to help him with the transition. Drummonds has senior jumper Darlene Girardeau as another senior transfer on the team.
"I think our friendship started the first time I met him. He just seemed like a great guy," Vandenberg said. "I don't think it was really about coming together in the sense that we all had some meeting or anything. We got to know the transfers, and treated them the same way we treated each other."
Even though building a team culture is important, there is no denying track and field is an individual sport. After redshirting the outdoor season his junior year, the motivation was higher than ever for Anderson.
"It made me mentally stronger because Clemson basically told me I wasn't good enough at the time, and it made me want to beat them," Anderson said.
However, slumps are bound to happen, and one of the biggest changes for Anderson was transitioning from the Southern Conference to the Sun Belt his second season at App.
"We always want to talk to them when they go through a slump, but we really make sure when there are outside issues that are affecting them. You just can't focus on the little things," Weaver said. "The SoCon to Sun Belt change was a big thing that did affect some of the athletes. The competition was a lot different and the training in the week was different. So that was a time we had to really sit down with them and make sure they're okay."
The motivation to compete with stronger teams, and wanting to reach his full potential, Anderson set multiple personal records, and he became just one of the guys on the team.
"It's evident that Chris commits his time and energy to bettering himself and the team as a whole," Vandenberg said. "It has clearly paid off given his recent school record and third place finish at conference. I think the feeling of someone being 'new' disappears the moment that you begin to enjoy their company and are acquainted with them. With Chris, that process didn't take too long."
As one of five senior pole-vaulters, Drummonds has had to take on a leadership role, and has not failed.
"College is hard, life is tough, but good friends and teammates make it easier. Taylor has made it easy, and definitely more enjoyable," San Miguel said. "She will be missed so dearly, and I'm so grateful her collegiate journey intersected with mine."
With outdoor season being the final time Anderson and Drummonds can compete, the two may be on different sides of the track, but have both excelled as transfer student-athletes.
"Everyone knows each other, and there is no separation of what you do," Drummonds said. "There is just a family aspect, which I like."
Story By: Jason Huber, Sports Editor 
Courtesy Photos