'Ugly Instinct' explores the dark side of nature
Senior journalism major Kate Smith and junior studio art major Lindsey Willis open "Ugly Instinct," their first collaborative art show together as friends and creators, this Friday at Nth Degree Gallery located on King Street.
The body of work circles around the natural instincts to pray, to mate, to possess things and conquer them. In animals,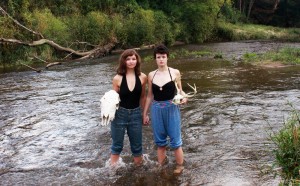 these are seen as almost beautiful, Smith explained.
"But when you take that instinct into yourself it can destroy you," Smith said. "I feel like it's so natural for us to want to do those things to other human beings, but that's almost like succumbing to a baser intuition."
Their combined work plays off of that "ugliness" with the visual themes of organic conflict – almost disturbing subject matter treated with peaceful, serene imagery. The hope is to shed some light on this essential conflict that cannot be removed from humanity and the role it plays in human relationships. For them, the drive to be selfish is the drive to survive, both artistically and as a person.
"It's the only reason we make art," Smith said. "But at the same time it's the reason why we have burned bridges in the past or hurt people in the past, or have regrets – it's the same exact instinct in both of us that does so many good things and so many bad things."
These underlying feelings came to fruition throughout the growth of the two artists' friendship, which began when they first met in a mosh pit at a metal show in February.
"She looked like she was in heaven," Willis said of Smith's crowdsurfing.
After a few chance encounters, Smith and Willis began gushing over each other's posted art on Facebook, before deciding to hang out on their own. When they did meet up, their conversations lasted for hours.
"There are those really overwhelming moments that you get when you're by yourself, and it's almost like nature or an animal or a person is so present that you almost feel claustrophobic," Smith said. "For me, a lot of those moments feel like the revelations where art comes from."
They connected on a level without judgment, something that Willis notes is hard to find in an artistic collaborator. When Willis' studio professor encouraged her to seek out a showing at the Nth, she wasn't confident in her own solo work, and instead reached out to Smith with the idea to collaborate in July.
Both realized they each had their own collections of bones and skulls, which they had accumulated on their own for fun and artistic purposes. The also realized they behaved very similarly in relationships, something that other friends hadn't been able to understand fully.
These two entirely separate things that brought them together now play out in "Ugly Instinct." The bones that brought them together will be featured in installation pieces at the gallery.
"I think we saw something similar in each other's art – there was the skull collection, but there was also something deeper," Smith said.
For the past few months, the two have been working daily on their own works and a single piece together, channeling their bad feelings into each other and their art, and coming out with something beautiful.
"We don't want anyone to give in to us, and we don't want to give in to each other," Smith said. "All good art and all good literature has some core tension, and our friendship kind of does too."
"Ugly Instinct" opens Friday at 7:30 p.m. in the Nth Degree Gallery.
Story: Lovey Cooper, A&E Reporter