Undefeated: Mountaineers continue their bowl dominance with victory in Dollar General Bowl
When Sportingnews.com released their 2017 bowl predictions, they picked Toledo to be victorious 41-34. According to Sportingnews.com, "Toledo quarterback Logan Woodside leads the Rockets to revenge in this one." They could not have been more wrong.
The Mountaineers (9-4, 7-1 Sun Belt) started out the game incredibly strong, allowing only 40 offensive yards from Toledo (11-3, 8-1 Mid-American Conference) and picking up 107 of their own. Running back Jalin Moore rushed for one of his three touchdowns on the day, and App State went up 7-0; they never looked back.
"I'm just extremely proud of our players and our staff for what they've been able to accomplish this season," head coach Scott Satterfield said. "We won the Sun Belt for the second time in a row, and then to be able to get to a bowl game like this, to play as well as we did tonight, was unbelievable."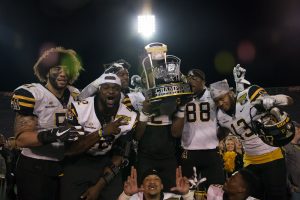 The final from Ladd-Peebles Stadium was 34-0, making App State the 2017 Dollar General Bowl champions and giving the Sun Belt their third straight victory in Mobile. Running back Jalin Moore was voted player of the game after scoring three of App State's four touchdowns.
Rushing and defense were the keys for the Mountaineers. Finishing the season 33rd in the Football Bowl Subdivision in points allowed per game (21.9), they played lights out against the Rockets, keeping them out of the scoring column and allowing only 146 offensive yards. The Toledo offense averaged 218 rushing yards per game this season, but managed only 22 yards and one yard per carry in the game. It is the first time since 2009 that Toledo has been shut out.
"I think we did a lot of different things coverage wise. Their quarterback obviously is really good, can throw the football. They have some outstanding receivers," Satterfield said. "We mixed it up in the different coverages and tried to give them some different looks."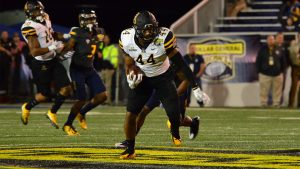 The secondary intercepted Toledo quarterback Logan Woodside three times, one each for sophomore defensive backs Desmond Franklin and Clifton Duck as well as  junior linebacker Anthony Flory. Redshirt freshman defensive back Kaiden Smith, who has mainly seen time on special teams this season, forced a key fumble on an App State kickoff that lead to a 23-yard field goal from Chandler Staton. The Mountaineer front seven had their way with the Rockets, sacking Woodside three times and picking up six tackles for a loss.
"It was definitely a big time play," Smith said. "I couldn't do anything without the other ten guys on the field. They always have my back. It was really a group effort. I'm just proud of the team we have."
Senior quarterback Taylor Lamb finished his career with a solid day, going 8-16 for 131 yards. But the real story on offense was the run game, with the Mountaineers combining for 327 yards on 53 carries and four touchdowns. Jalin Moore had his best game of the season, leading the team with 125 yards on 22 carries and scoring three times. Freshmen Daetrich Harrington and Marcus Williams also found the spotlight, combining for 140 yards while Moore was out with a slight injury.
"I just stressed on myself a lot. I just knew what was at stake. I just tried to play a perfect game for myself, for my boys," Moore said. "I've battled a lot of battles with these boys, and it just meant everything to me to send these boys out like that."
This is App State's third consecutive bowl victory in as many eligible years, their last one coming in 2016 in the Raycom Media Camellia Bowl, 31-28 against the same opponent. Thirty-four is the most points App State has ever scored in a bowl game.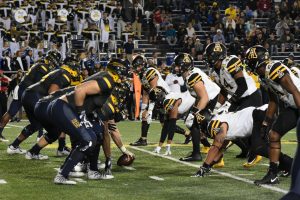 Several key seniors played their final game in black and gold in Mobile. Senior linebacker Eric Boggs was second on the team with five tackles and also had a half sack, while senior defensive back AJ Howard had three tackles, including one for a loss. Senior defensive lineman Caleb Fuller went out in style, with four tackles and one and a half sacks. A number of other seniors played, including senior linebacker Rashaad Townes, offensive lineman Beau Nunn and Colby Gossett and wide receivers Ike Lewis and TJ Watkins.
"As we transitioned into FBS back in 2013, these seniors were the ones that helped us do that," coach Satterfield said. "We didn't start off as good starting out, but they stayed the course and know they are going to be known as champions." 
Story By: Brooks Maynard, Sports Editor
Photos By: Lindsay Vaughn, Senior Photographer