Appalachian State's chapter of United Students Against Sweatshops (USAS) kicked off its campaign to put Alta Gracia brand clothing in the campus bookstore with a letter-drop at Chancellor Sheri Everts' office on Feb. 14.
Twenty-five students and faculty members marched from the Plemmons Student Union to the B.B. Dougherty Administration Building to deliver a letter written by USAS advocating for the presence of Alta Gracia in the university bookstore. 501 Appalachian students signed the letter in support of 25 percent of the bookstore's apparel being from Alta Gracia.  
According to their website, Alta Gracia is a living-wage clothing brand that produces clothing for universities from the Dominican Republic. Workers at Alta Gracia are paid three times the amount of minimum wage in the Dominican Republic.  Dominican Today reported that the 20 percent increase in April made the minimum wage 9,000 Dominican Pesos, or $185.29 per year.
Faculty sponsor of USAS Gregory Reck said Alta Gracia serves as a model for changing the culture of manufacturing conditions and is unique in that it allows workers to have a say in their conditions.
"The garment industry is a pretty exploitative industry globally," Reck said. "All kinds of abuses are there including non-payment of overtime, salaries are often $30-40 a month, there are often using underage workers and they're usually women or girls."
Because the Worker Rights Consortium, an organization that informs universities of companies that use sweatshop labor, recognizes Alta Gracia as a living-wage company, these issues will not be a concern with Alta Gracia as they may be with other clothing in the bookstore.
"It's difficult to know (if a company is using sweatshop labor) because the WRC, which we are affiliated with, doesn't go into action until they are informed of abuses," Reck said.
Senior global studies major Alaina Storch is an organizer for USAS and reignited the organization's role on campus in the spring semester of 2016. Storch said she thought the event went well and that she was pleased with the number of participants.
"We learn about these problems, and we become very concerned about it, but actually taking steps to action is very difficult," Storch said. "So seeing 30 or so students come out and support this is really awesome because it shows intention."
Storch also said she saw the action as an important way for student's voices to be heard.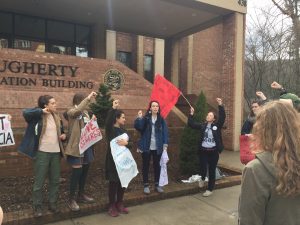 "I think student voices matter and students have a lot of power to put pressure on brands," Storch said. "With campaigns like this and small actions it's easy to feel like we're not being heard because it is such a small group of people, but when you look at collective efforts across the nation and internationally, that collective pressure scares brands into doing the right thing. It's not just App State, it's tons of schools across the nation. It's workers internationally that are standing in solidarity and resisting together."
Junior anthropology major Mackenzie Morgan is an organizer for USAS and said that she hopes that Everts will respond to the march and letter-drop actions by meeting with representatives of USAS, as requested in the letter.
"We want to work with her towards actually holding Appalachian accountable to our values of sustainability because it's often just used as a logo and as a brand," Morgan said. "We want to implement things that are actually holding us accountable to that claim of sustainability, and we think giving students an option to buy living-wage clothes is the way to do that."
When Everts was contacted for comment on the letter-drop, Chief Sustainability Officer Lee Ball responded on her behalf. Ball said in an email that the chancellor had formed a working group to develop solutions to issues related to apparel at Appalachian. The working group consists of representatives from the campus bookstore, university athletics, the Office of Sustainability, the Office of General Counsel and USAS. Ball also said that the group has scheduled a meeting with an Alta Gracia clothing buyer and the bookstore has committed to carrying Alta Gracia clothing in the fall of 2018.
Storch said in an email that she had not received any information about the working group or the commitment to Alta Gracia. Storch also said that it was still the hope of USAS to have 25 percent of the bookstore's apparel be from Alta Gracia.
Storch also said that the most important part of the presence of USAS on campus to be a demonstration of meaningful student voices on social issues that matter to them.
"Environmental sustainability is what App State was founded on, but when we bring up issues of social sustainability, they're often dismissed," Storch said. "I don't think it's a holistic approach to sustainability that this school takes, and when students try to bring these issues to light they're often dismissed as well."
Story by Nora Smith, Graphics Editor
Photos by Nora Smith, Graphics Editor