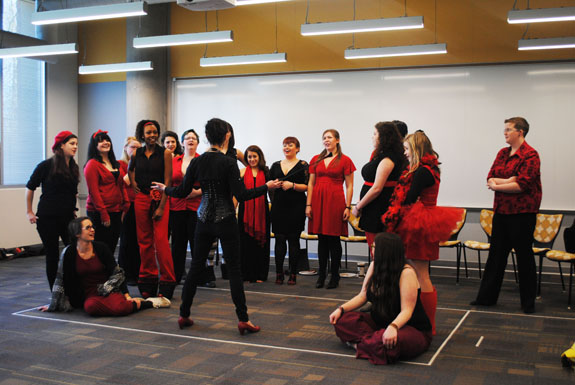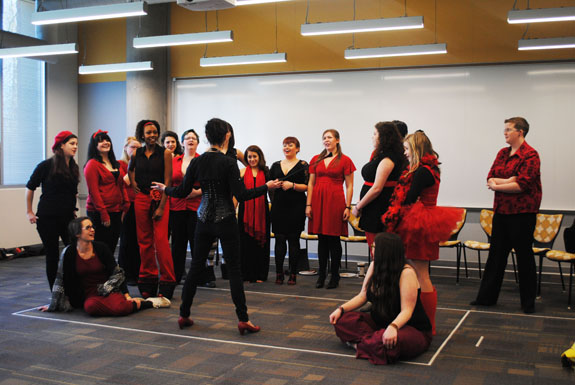 The ASU Women's Center has hosted an annual showing of "The Vagina Monologues" since 2002.
"The monologues discuss everything from sex and love to more weighty topics such as domestic violence, rape and genital mutilation," said Shelby Forsyth, a junior advertising major and director of this year's show. "While the show is meant to entertain, its larger focus is to educate people about the issues women face on a global level."
"The Vagina Monologues" was first written and performed off-Broadway in 1996 by playwright-activist Eve Ensler. Since 1998, "The Vagina Monologues" has been a part of the V-Day Campaign, an international nonprofit dedicated to ending violence toward women.
Every year, the number of monologues varies, but there are a few that are read for several years. For example, "My Angry Vagina," a rant about the injustices a vagina is subject to, including tampons, douches and the cold "steel duck" of a PAP smear device, has been performed nearly every year since the show's creation.
There are 13 monologues, 18 actresses and two narrators this year.
"Some of the monologues are group pieces, which is why there are more actresses than monologues," Forsyth said.
There is a special monologue delivered each year that touches on a current issue relating to women's health.
The spotlight piece this year is a video about the movement "ONE BILLION RISING," which fights back against rape and rape culture. The video is narrated by junior psychology major Nikita Hatmaker, Forsyth said.
"I can't even tell you the gratification I get, and I know others are going to get, from seeing this show on stage," Forsyth said. "The entire cast this year has really embodied the women that Eve Ensler originally interviewed for the 'Monologues.' I couldn't be more proud of them."
Over 250 guests are expected to attend, according to the event's Facebook page.
"This is my second year performing with 'The Vagina Monologues,'" said Georgia Bowen, an actress in the "Monologues" this year. "In fact, my entire life has been one long 'Vagina Monologue,' as I am a survivor of childhood abuse and marital domestic violence. Now a single mother of three children, I feel it is my duty to rise and break the chain of violence that plagues women worldwide."
Tickets for "The Vagina Monologues" are $7 in advance and $10 at the door. Show times are 7 p.m. Feb. 13-15 in the Blue Ridge Ballroom of Plemmons Student Union.
Story: EMMA SPECKMAN, Senior A&E Reporter
Photo: NICOLE DEBARTOLO, Intern Photographer