The annual performance of The Vagina Monologues will be held in the Blue Ridge Ballroom in Plemmons Student Union  Feb. 11-13.
The Vagina Monologues is a collection of monologues written in 1996 by writer Eve Ensler, after conducting a series of interviews with women around the globe. The Women's Center at Appalachian State University puts on the event every year, and donates 90 percent of the ticket proceeds to Opposing Abuse with Service Information and Shelter, or OASIS.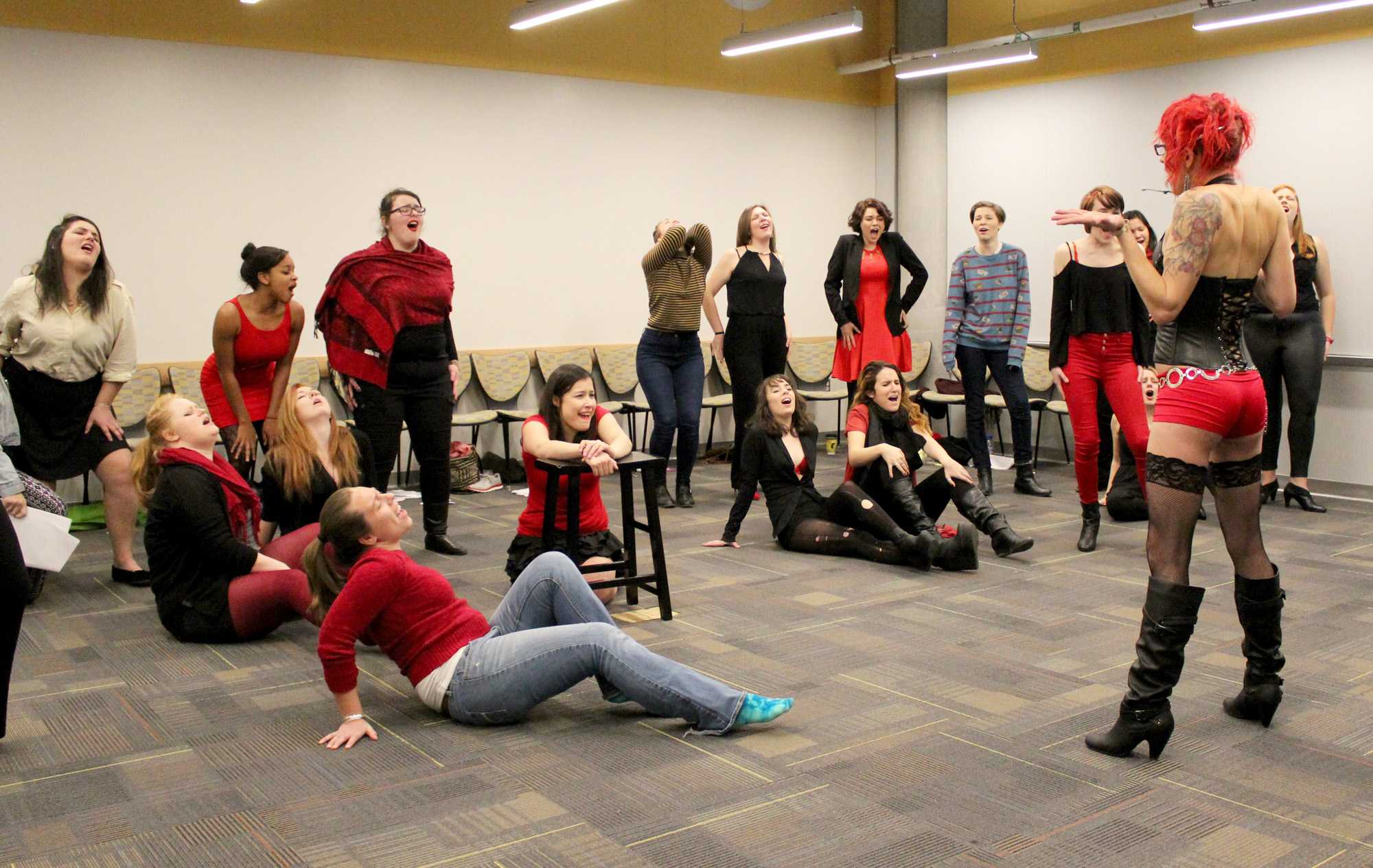 OASIS is a nonprofit located in Boone that focuses its efforts on ending domestic violence and sexual assault in Watauga County and surrounding counties.
First-time directors, sophomore geology major Audre Sylvester and junior theatre arts major Lauren Thefaine applied to work with the show back in November when there was a high demand for applicants to direct The Vagina Monologues.
Thefaine had no previous experience with the play. Sylvester played the part of a narrator when she was cast in the 2014 production.
"One of the great things of having [Thefaine] as a co-director is that she has never seen it before, so she has no idea what has already happened or the way people generally do things…[s]he has really new and fresh ideas," Sylvester said. "That's something that really translates into this show – it's really cool."
The monologues hosted auditions in November and started the rehearsal process at the beginning of the spring semester. Auditions were open to anyone who identified as a female; no previous acting experience was required. Out of the 60 or more women who auditioned, 23 were cast in the production.
"It's really interesting to have a cast of people from every walk of major or life, and you just come here for casting and they just show up and you know nothing about them," Thefaine said. "You just decide based upon how they present the monologue."
Despite being put on every year, the duo found some challenges in directing this year's monologues, as there is a set of rules given by Ensler on how to direct the show.
"Most of the rules are in place so you're not creating some lively theatrical piece," Thefaine said. "It is not a play – it's a movement. It is containing you in these rules so you're not making it something it's not."
Each year Ensler adds a new "spotlight monologue" to the set, which focuses on a hot topic from the year. This year's spotlight monologue focuses on revolution and change.
"'My Revolution Begins in the Body' focuses on revolution and is done by two great actresses from last year's production," Sylvester said. "It is such a strong powerful piece. It talks about revolting against this state of mind that we tend to have. It talks about demanding change and sacrifice and power and it's sort of a call to action to the audience to get them to understand."
Sylvester said the piece takes the whole message of the show and tells the audience to go and do something knowing what they know after viewing it. She said she also believes that the performance will bring women together.
"You see this group of women on stage and they're so obviously friends and they've so obviously worked hard together and they're so comfortable with where they are front and center of the audience's attention," Sylvester said. "It not only shows you that it's not a bad thing to have attention and get attention and demand attention but also that you can team up with other women, especially when we tend to see themselves at competition with each other at all times. This really takes that away. It shows you that you're not competing with women at all times; you can make friends, you can connect, you can unify and you can be this big amazing group and power."
Tickets for The Vagina Monologues are $12 at the information desk in Plemmons Student Union before the show and $15 cash only at the door. T-shirts, buttons and candies will be available for purchase at the show and at contact tables in the union this week.
Story: Casey Suglia, Intern A&E Reporter