Despite a 13-31 (5-18 Sun Belt Conference) record with nine games remaining in the regular season, two of App State baseball's veteran players have maintained impressive seasons at the plate.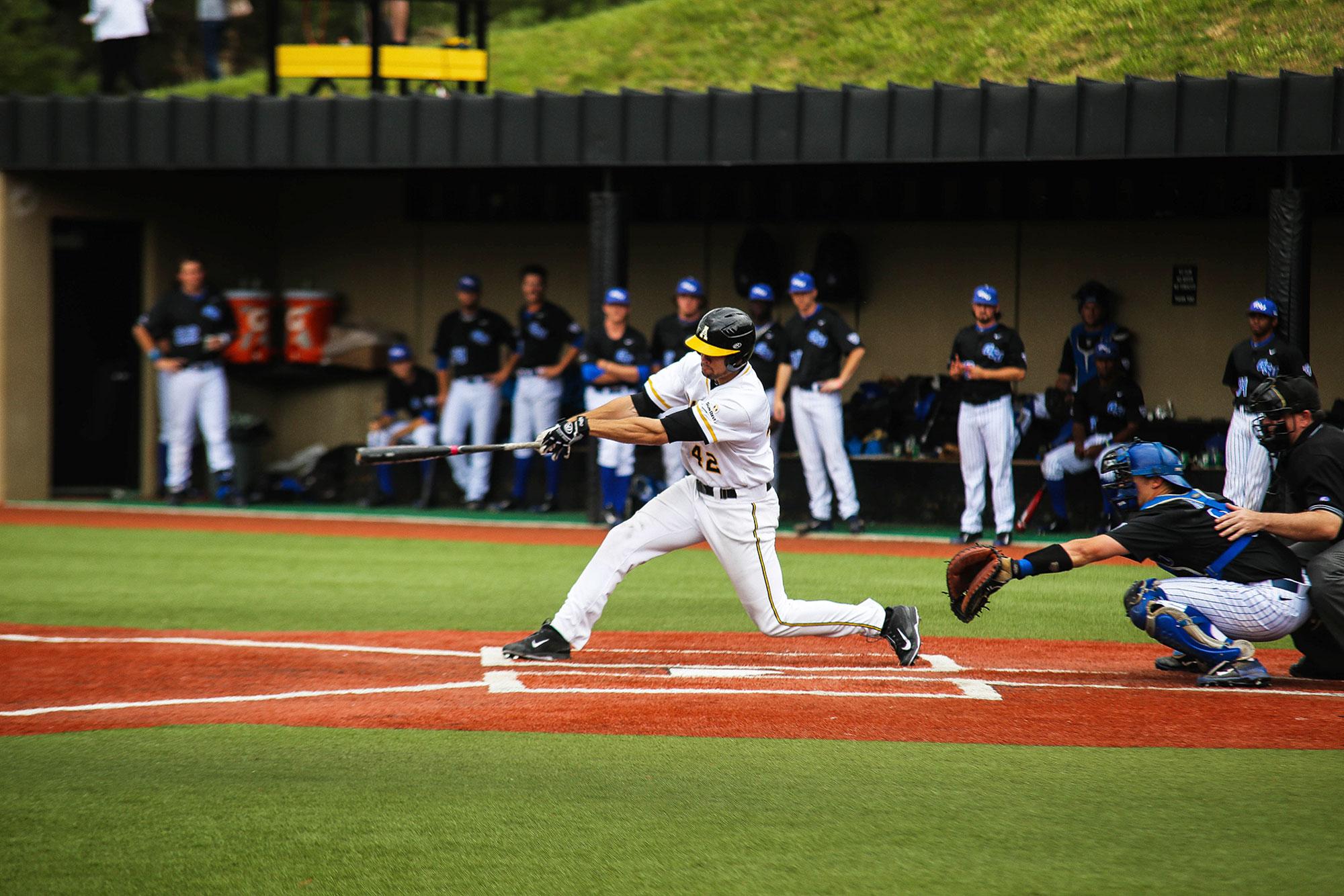 Senior infielder Michael Pierson and junior infielder Dillon Dobson, lead the Mountaineers in multiple offensive categories this year in addition to providing leadership to a roster that features 14 freshman; there are only 14 total upperclassmen on the team.
Pierson leads the Mountaineers in batting average (.338), games started (44), RBIs (35), walks (36), and on-base percentage (.470). Dobson is the team leader in hits (54), home runs (8), runs scored (36), slugging percentage (.547), and total bases (94).
With injuries throughout the season to other top players including junior centerfielder Jaylin Davis (season-ending surgery) and freshman first baseman Conner Leonard, Pierson and Dobson have consistently been paired back-to-back in the App State lineup or within one or two batters of one another.
"It's great," Pierson said of having Dobson in front of him in the lineup. "The last couple days I think I've had four or five RBIs with [Dobson] on base and it's just been [a] 2-3 punch that's working well."
Pierson's right – four of the five runs Dobson scored during a mid-April weekend series against Georgia State were Pierson's RBIs, a clearly effective formula at the plate.
App State faced Sun Belt-leader Georgia State (26-18, 13-6) at home earlier this month, losing 4-2 in a 12-inning series opener and 15-13 in game two before the series finale was cancelled due to rain. Dobson finished the two-game stretch 6-11 with two RBIs, one walk and five runs scored while Pierson 6-8 with five RBIs, three walks and three runs scored.
The rampages continued into last week; over the past eight games, including the Georgia State series, Dobson has hit .406 with seven RBIs, four walks and nine runs while Pierson has hit .370 with eight RBIs, eight walks and eight runs scored.
"We're older guys and a couple [of the] leaders on the team, so my job is to get on base and [Pierson will] do his thing and drive me in," Dobson said after a 15-13 loss on April 18. "The last couple days we've been pretty successful with that and just got to keep it up."
Mountaineers head coach Billy Jones credited the duo, as well as senior infielder Noah Holmes, for being players who always seem to put together good at-bats.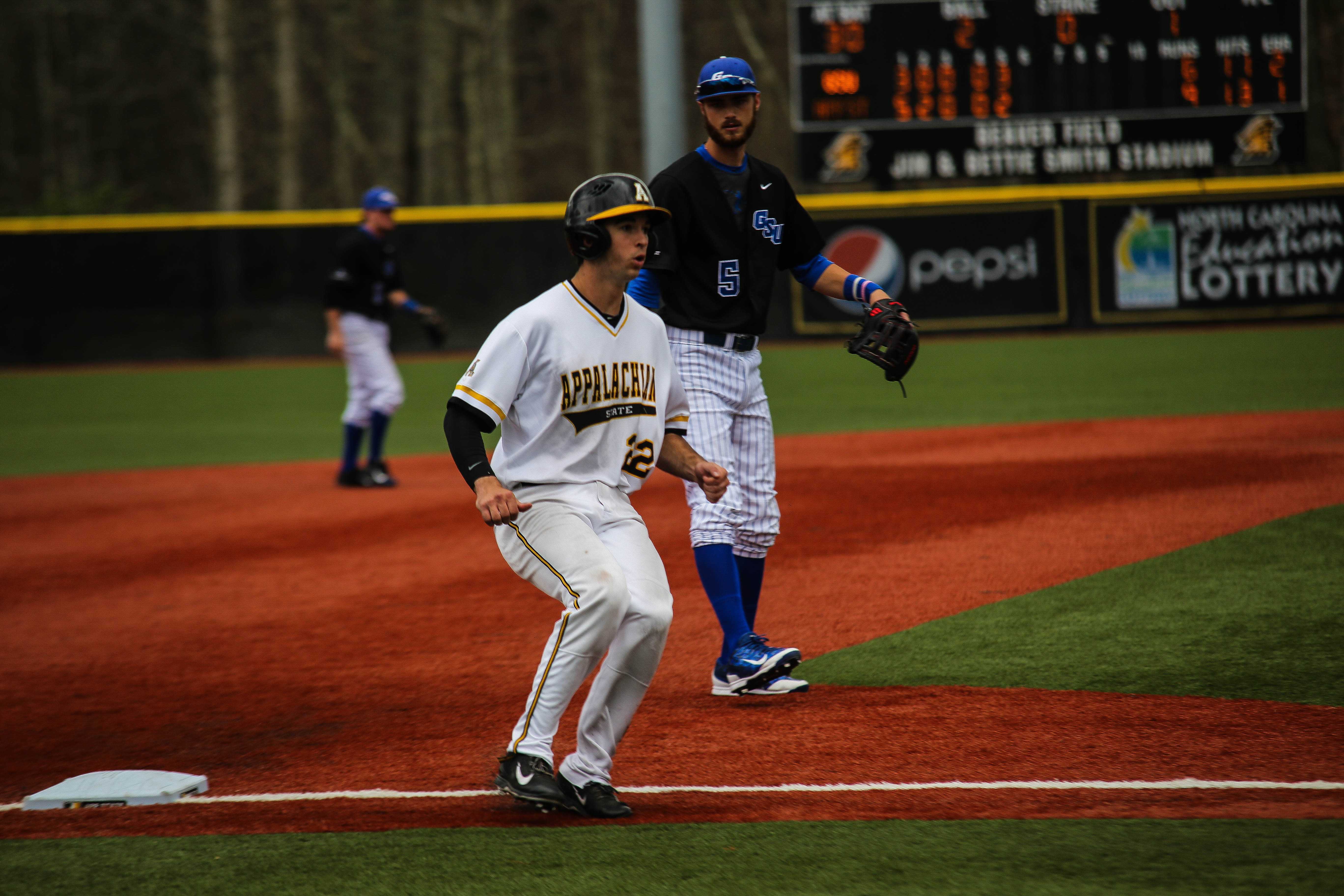 "When they're going good, they're as good as anybody," Jones said. "A lot of those guys are playing out of position and you don't hear them complain – they just go out there and try to be as good as they can possibly be."
Dobson, who has started 42 games total this year, has appeared 23 times at second base and 19 times at shortstop. Pierson has started all 44 games; 21 at third base, 19 at shortstop and four at second base.
Pierson, a native of Coral Springs, Florida and Dobson, a native Hamptonville, were both expected to have big seasons for the Mountaineers entering the spring.
Last spring, Pierson led App State in batting average (.343), on-base percentage (.425), runs (41), hits (69), doubles (16), total bases (108), and walks (26) en route to being recognized with first-team all-Southern Conference honors. Dobson also garnered first-team all-Southern Conference honors last season after leading the team in home runs (11), RBIs (39) and slugging percentage (.545).
The pair was named to 2015 preseason Sun Belt all-conference teams by College Sports Madness as well; Pierson a first-team infielder and Dobson a second-team infielder.
With nine games left in the regular season for App State, pressure is on to fight back into the eighth seed in the Sun Belt – the final spot eligible for the conference tournament. The Mountaineers will need a team effort, including consistent performances from Pierson and Dobson at the plate.
"Us being together in the lineup is going to help each other out," Dobson said, "and it definitely doesn't hurt to have a guy back there hitting .350 or whatever it is. Hopefully we can keep it up."
Story & Photos: Gerrit Van Genderen, Managing Editor