App State volleyball began their season in a similar fashion to what the team had experienced last season in dropping the fourth and fifth sets as they fell 3-2 to Missouri State in their regular season opener at home on Friday.
While the Mountaineers (0-1) lost the match due to struggles in the fourth and fifth set, the team is optimistic in the strong effort they showed in the first half of the match against a Missouri State (1-0) team that is coming off of an NCAA tournament berth and returning most of their key players.
"This is motivation for us to continue working harder," sophomore outside hitter Emma Longley said. "Eventually, when we do play a bigger opponent like that [Missouri State] then we can close it out and compete the entire time rather than dropping out the fourth set."
Starting off with a close score throughout the majority of the first set, Longley picked up where she left off last season on offense with five kills early on. Longley, who led the team last season with 363 kills finished the game with a team-high 18 kills. Three Mountaineers racked up double digit kills including Longley.
Halfway through the first set, momentum shifted towards the Mountaineers when they won their first challenge, something new to the collegiate volleyball game this season, forcing the Bears to call a timeout. App was unable to fully get back into the first set falling 25-23.
Coming out stronger in the second set, App was able to gain speed early on offensively and defensively. The Mountaineers defense shutout the Bears with a quick 5-0 run before taking a 22-17 lead. Four Mountaineers finished the game with double digit digs behind senior libero Oliver Loeffler's team-high 24. App State remained on top in the second set to tie the match up 1-1 with a 25-20 win.
"I think playing all these big schools is helping us prepare for regular season," freshman middle blocker Kara Spicer said. "I think that this is building our confidence so we can compete and play as hard as we can."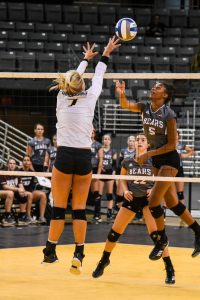 Heading into the third set, App State carried the sense of victory with a 25-22 win to take a 2-1 match lead. However, after not winning any matches in the fourth set last season, the Mountaineers began to slow down a bit despite jumping out to a set lead before head coach Matt Ginipro called a timeout.
"We got scared," Ginipro said. "That is why I called the timeout really early in the fourth set because I can just see that we got scared. Missouri State is the favorite to win that league and when they are down 2-1 they are going to fight. We started serving easier and we weren't focused. We were not playing like we did in the first three sets".
The set remained tied until the Bears went on a five-point run to finish off the fourth set 25-15 and send the game to a fifth set.
"I think for us the fourth set was really important because it was one more set we had to win and then we would have won the whole match," Spicer said. "I think that stressed us out and made us tense up."
Heading into the fifth set, App had the shadow of the 0-13 record in the fifth set of games from last season, and Ginipro believed it played a factor.
"I definitely think it was mindset," Ginipro said. "I think it was a couple of people thinking back to last year".
Ultimately, the Mountaineers fell 15-13 for their first loss of the season in a five sets. Falling in five sets is tough, but the Apps believe it's better earlier in the season rather than later.
"Going to five sets and not quite finishing is just motivation for exactly what we need this weekend," Longley said.  
App State travels to Wilmington tomorrow and begins the Springhill Suites Mayhill Invitational playing Davidson and UNCW on Saturday and Loyola Maryland on Sunday.
Story By: Grayson Rice, Intern Sports Reporter
Photos By: Halle Keighton, Photo Editor