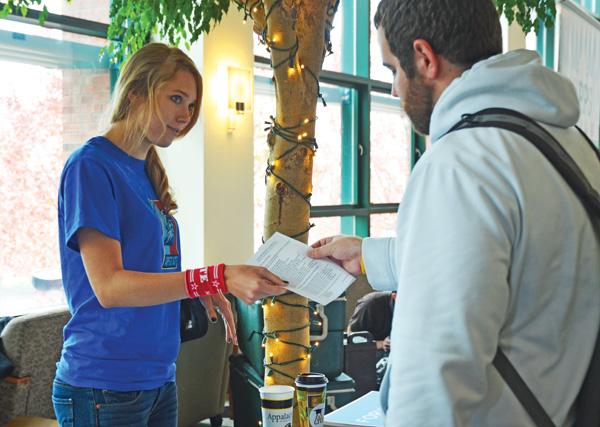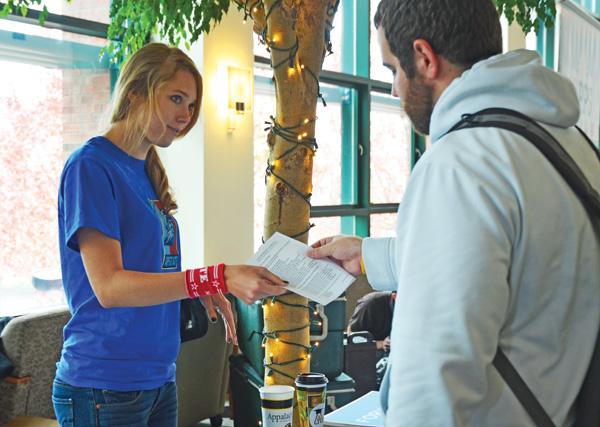 If the ubiquitous posters, contact tables, campaign signs and people with clipboards haven't persuaded you to vote yet, six groups on campus pulled together on Monday for one last shot.
The Student Government Association, Appalachian Popular Programming Society, College Democrats, College Republicans, WASU radio station and APPSpeaks collaborated to bring "Rock the Vote!" to the solarium Monday. The event was originally planned to be outdoors on Sanford Mall, but inclement weather conditions necessitated the change.
"I believe the turnout was good," Vice Chancellor of Student Development Cindy Wallace said. "A pretty fall day on Sanford Mall would have been much better, but that was not an option."
In her speech to the audience during the event, Wallace reiterated the importance of student involvement in the upcoming election.
"Voting is the cornerstone of our democracy and to be an engaged, informed voter is our responsibility. A democracy cannot survive and certainly will not flourish without an engaged informed citizenry," she said.
Representatives and members from each group involved collaborated and assumed specialized roles to help make the event run as smoothly as possible.
"We helped provide entertainment and did a lot of the advertising for it," APPS president Whitney Howard said. "We wanted to get people excited."
From 11 a.m. to 2 p.m., WASU set up a live broadcast from the solarium, provided music and gave away prizes.
"We got involved when Dylan Russell from SGA brought the idea to me. We all met for about a month to plan it," WASU station manager Lauren Brigman said. "As a radio station we have to be impartial. We were out there just trying to encourage people to vote."
One of the main goals of the event was to promote and encourage early voting on campus, which has been going on in the second floor of Plemmons Student Union since October 18 on every weekday from 10 a.m. to 5 p.m., and will continue until November 2.
"Our early voting site in the Union has been a great opportunity for the campus community. I voted there last week," Wallace said. "ASU students fought hard to secure that site on campus."
According to the involved groups, the event reached out to and informed eligible voters on campus.
"It was a huge success," Brigman said. "I'm sure people will start posting 'when's the next event?' [on Facebook] soon."
Story: EMMA SPECKMAN, Senior A&E Reporter
Photo: MAGGIE COZENS, Photo Editor