Walk-on senior gets a chance on field, makes 'great impact'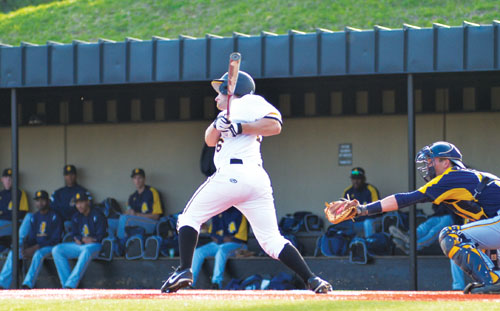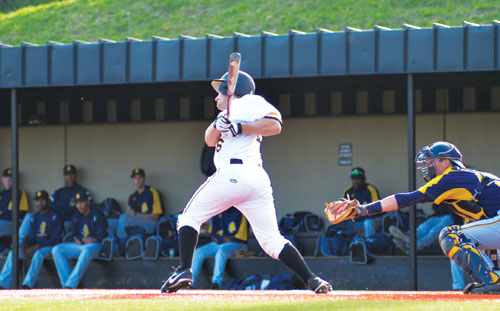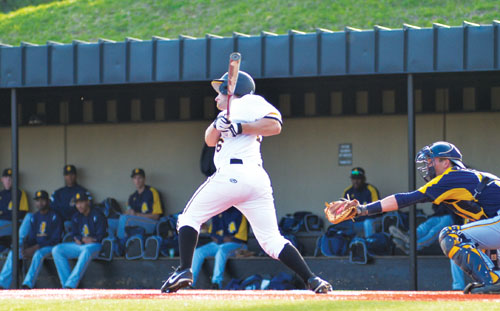 The sport of baseball requires skill and timing, but sometimes part of that timing means waiting on the bench.
For senior walk-on Gabe Dimock, the skill was there – he was just waiting for his time.
On March 31 in a game against Wofford, starting catcher Josh Zumbrook went down with an ankle injury in the fourth inning. That's when head coach Billy Jones called on Dimock to make his first career appearance.
"It's kind of one of those things where you're waiting all season to get your chance," Dimock said. "That's not really the way you want to do it, with an injury, but at the same time, I saw [Zumbrook] go down and it looked pretty bad, so in my head I was like, 'I have to be ready to go.'"
Dimock has now started in 12 games, is fourth on the team in batting average at .333 and fifth in on-base percentage (.389).
He said he was able to come in and play well because of the mental preparation throughout the season.
"It's just kind of the way you play your whole life," Dimock said. "Whether you have a scholarship or a walk-on, once you get on the field, everything is the same."
He was also named Southern Conference Student-Athlete of the Week on April 10 for his 3.84 grade-point average as an exercise science major.
Jones called him the "ultimate teammate."
"He is unselfish and a tremendous worker," Jones said. "His teammates love to see him succeed, as they know how much time and effort he has put in while knowing that it would not necessarily translate to playing time."
Dimock tried out for the team his freshman year but didn't make it. His sophomore and junior year, he made the fall teams. This year is his first full year.
"He has stepped in and made a great impact on our team and not wavered at all from the competition – only embraced it," Jones said. "He will be a success at whatever he chooses to do because he knows there are no shortcuts to success."
For Dimock, playing with the team is his favorite part of college athletics.
"I've been friends with them for the last three years and it's cool to actually play with those guys when I've been watching them," Dimock said.
On the rest of the season, he said their goal is simple: to win the SoCon.
"We just have to try to win every game and compete every day," Dimock said. "No matter who we're playing, what the score is or what time of year it is, we've got to play the same way all year."
A key for them this year was for the team to stay close.
"There's going to be downs during the season and it's important to stay close and not have a divided clubhouse," Dimock said. "The fact that we're tight helps a lot to stay consistent."
Story: ANDREW CLAUSEN, Sports Editor
Photo: ANEISY CARDO, Staff Photographer