From walk-on to starter, Melissa McMath has an incredible story
For redshirt sophomore Melissa McMath and the rest of the Appalachian State volleyball team, their squad is much more than a group of people that they simply play a sport with. The team is much closer than that.
"It really is a second family for me," McMath said.
They go through ups and downs with each other just like any family would.
One of these more special "ups" happened during the Mountaineers' final team meeting of the spring and would change McMath's life drastically. Head coach Matt Ginipro gathered his team as usual, and told them that they were going to do a team-building exercise.
"Our team chemistry this year is great. Every Monday during the spring, we would get together in a room and work on it," Ginipro said. "It's something we absolutely had to work on because it really is so important."
Players were told that everyone would get a piece of paper with an incomplete sentence on it, and they would have to finish the story. All of McMath's teammates received papers that announced that she would be receiving a scholarship that had just opened up. McMath's paper was a lot longer than just one line, so she had to read the whole thing before she got to the last line that informed her of the news.
"It was an 'oh my gosh' moment, I just wasn't expecting it at all," McMath said. "It was amazing."
By this time, all her teammates had figured out what was going on and were congratulating her on the big surprise. McMath's excitement and pure elation caused her to burst into tears of joy as different teammates congratulated and hugged her.
The special moment was captured on video and can be seen here.
Senior middle blocker and close friend of McMath, Cassidy Stephenson was sitting right beside McMath when everything went down and she remembers the moment vividly.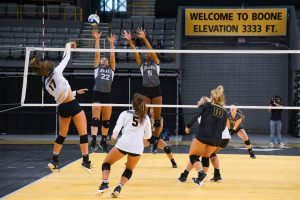 "It was such an amazing moment," Stephenson said. "We all just kind of looked over at her while she was still trying to figure out what was going on and we all just started cheering. It was awesome, best moment of my life."
For one teammate to be so excited for someone else's surprise shows just how close the team truly really is. The Mountaineers did everything they could to build up their team chemistry during the offseason.
"We spent five days in a lake house together as a family. All the kids were in one house so we were all together," Ginpro said. "We would practice in the morning and then spend the rest of the day together as a family, it really helped us out and got us a lot more tight-knit as a team."
McMath added, "Our team chemistry is amazing, it's much better than last year and it all started in the spring. We worked so hard to rebuild our culture"
And it is paying off. Through only 14 games this season, App State has already surpassed its win total of the entire 29 games in 2016.
"If you look at last year with the losing, the losing tight ones, the injuries that were completely out of our control and the fact that we didn't have that chemistry– when all of that is thrown in the pot, it's miserable," Ginipro said. "This year we just have a great group of girls. The players are surrounded by really, really good people every single day, so it makes that hard stuff a lot easier to deal with."
Aside from having a heartwarming story, when McMath steps onto the volleyball court, it's all business.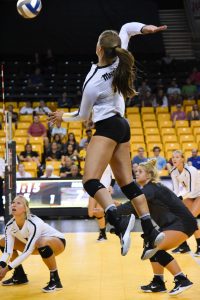 "Melissa is an absolute beast. She will get on a ball and hit somebody in the face and get us all super excited," Stephenson said of her teammates on-court abilities. "She's also a huge blocker which is great. She really brings a lot to the table."
McMath has proven that she is worthy of the scholarship. She currently leads the team in kills, attacks and is second in total points.
"When she was a junior in high school and she showed up at our camp, we just saw this long athlete that was pretty good, and she was just somebody that was a great kid, so we offered her the walk-on spot," Ginipro said. "When she got here, she took full advantage of the opportunity. She works her butt off in the gym, she's a beast in the weight room, she's what every coach across the country wants in all of their players. And now, she's got a scholarship and she's the starting outside hitter."  
Whether it is the emergence of players like McMath and freshman middle blocker Kara Spicer, just the fact that the team gets along better together this year, or a combination of everything, the future for the Mountaineer volleyball program looks bright.
Story By: Silas Albright, Intern Sports Reporter
Photos By: Sarah Billings, Intern Staff Photographer