Up and down weekend for women's basketball finishes in win
Game One against Louisiana: Thursday, February 23 at 7 p.m.
Appalachian State Women's basketball fell to Louisiana 68-58 on Thursday.
The Mountaineers (10-17, 5-11 Sun Belt) had a hard time finding buckets in the first two quarters, ending the first quarter shooting only two of 14 from the field. Though App State would close in late and show some life, ending the half on a 5-0 run, they still trailed 27-20 at half.
App State shot much better in the latter half, improving their shooting by over 20 percent, as they shot an even 50 percent in the second half. Lifted early by a 7-0 run early in the third, the Mountaineers seemed to be poised to take the lead.
Louisiana would never give up that lead though, making baskets in pivotal moments to extend their lead or just keep App away.
Three Ragin' Cajuns would end the game in double figures, Jaylyn Gordon with 19, Troi Swain with 15 points and seven rebounds and Simone Fields who had 11 points and seven rebounds.
Three Mountaineers scored 48 of App's 58 on the night. Madi Story led all scorers with 20 points and eight rebounds. She was followed by Joi Jones with 17 points, five rebounds, and five assists, and Q Murray, who added 11 points and five assists.
"It's always going to take a toll on your body, when you're playing a lot of minutes, but we have to work with what we can work with," senior guard Joi Jones said. "We cannot control the situation we're in now, but what we can control is what we're going to do about it and how we're going to be successful."
App State may miss the presence of Q Murray, along with Bria Carter, on Saturday because of a scuffle that broke out in the fourth quarter including punches thrown.
Both Carter and Murray were ejected on Thursday after a long break, that left both sides with two fewer bodies. App State will wait to hear from the Sun Belt on the judgment on the eligibility of the two players before Saturday. If they are suspended, App will dress six players for Saturday's game.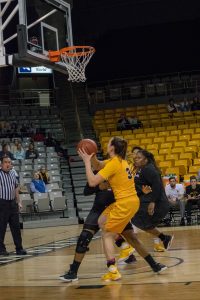 "We are who we are, and who we have, and we're just continuing to develop them," head coach Angel Elderkin said. "The message I just gave to Bayley (Plummer), 'you've worked every day this week on your game, and I know it's not showing up right now, but it's going to.' Armani Hampton, she played a lot of minutes tonight for us, and we've just got to keep developing them and keep continuing to get them better."
Both true freshman, Hampton and Plummer played many minutes on Thursday as the Mountaineers continue to work with what they have.
App takes on UL Monroe at home on Saturday at 1 p.m., before ending their season next Saturday at home against Coastal Carolina at 1 p.m.
Story By: Jay Boyd, Sports Reporter
Photos By: Lindsay Vaughn, Staff Photographer
Game Two against UL Monroe: Saturday, February 25 at 1 p.m.
The App State women's basketball team took down UL Monroe 79-61 in a major win, bouncing back after a tough loss on Thursday when two players were ejected.
The Mountaineers (11-17, 6-11 Sun Belt) had not seen the Warhawks (5-21, 2-14 Sun Belt) in a little over a year, defeating them 76-59 on Feb. 4, 2016, and nobody knew what to expect from the Mountaineers' guard rotation in the lead up to the conference clash.
Sophomore guard Q Murray and senior forward Bria Carter missed the game via suspension, while redshirt-sophomore Cydni Cole saw the floor for the first time since December after missing 14 games. Guard Katelyn Doub returned after missing Thursday's game with an injury to help give the Mountaineers some depth back.
Defense was the name of the game for the Mountaineers. The Warhawks suffered through multiple scoring droughts, including an over-three-minute gap to end the first quarter down 9-21. The Mountaineers excelled at staying away from fouls as well, giving up no free throws in the first half and 10 in the second.
Due to the lack of team depth for the game, it was imperative that the Mountaineers stayed out of foul trouble and were able to keep all of their players that they could. For senior forward Ashley Bassett-Smith, foul trouble was something she wanted no part of after fouling out on Thursday.
"Definitely in the back of our minds was keeping out of foul trouble, myself extremely included," Bassett-Smith said. "Making sure that we were smart, to have everyone playing hard, but not have everyone play scared."
Bassett-Smith certainly did not play scared, posting a team-high 19 points on 80 percent shooting and contributing seven rebounds to the Mountaineers' win.
Throughout the game, the Mountaineers dominated the boards, pulling down 49 rebounds to the Warhawks' 24. Leading the way was junior guard Madi Story, who had seven on defense and four on offense.
The Mountaineers also did a standout job of controlling the paint, outscoring the Warhawks 40-22 inside and scoring 29 second-chance points to the Warhawks' zero.
Head coach Angel Elderkin was proud of her team's effort on second-chance points and rebounding.
"Our team has done a great job this season on the offensive glass, but the first half was incredible," Elderkin said. "We missed 23 shots and we were able to get 15 of those rebounds."
On the day the program honored a special group of former coaches and players, including Madi Story's mother, Mitzi Story, it was the breakout performance from freshman Armani Hampton that was the big news post-game.
Hampton already had scored a career-high eight points at the end of the first half in her first career start, she would finish the game with 14.
While Hampton had the usual first-start jitters, she never showed through the game. According to her, it was just about getting into the rhythm of the game.
"I mean, I was nervous coming off the starting line," Hampton said. "But when I made the first shot my confidence went up."
The Mountaineers will play their final game of the regular season on March 4 against conference foes Coastal Carolina in a senior-day showdown.
Story By: Ian Taylor, Sports Reporter