Wide receivers stepping up in spring, providing leadership
As the next season approaches for the Appalachian State football team, the reality is that much of the core offense will return with one exception: the wide receiver position.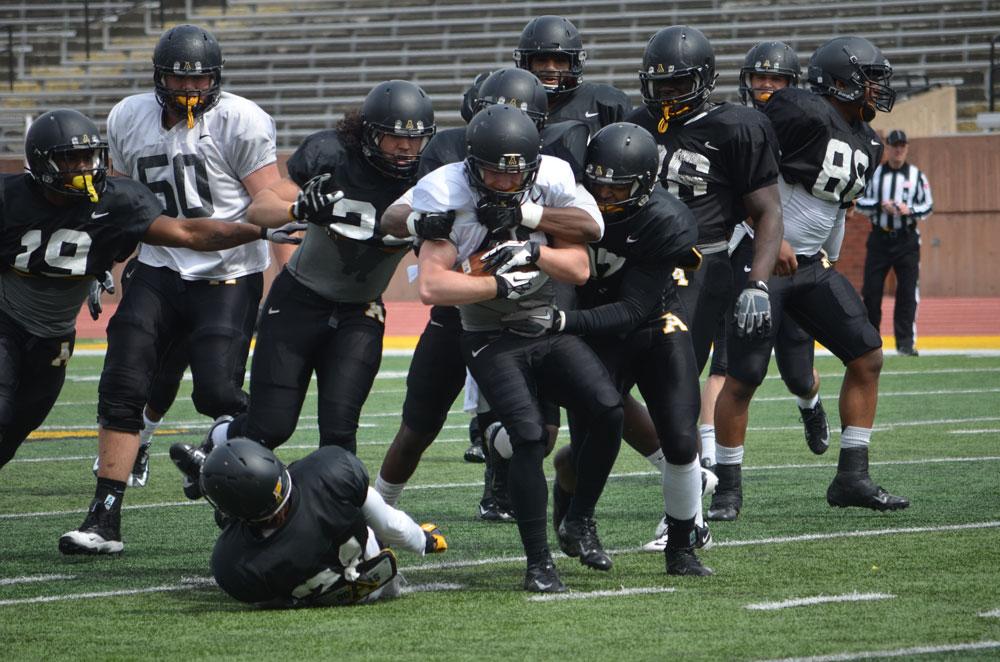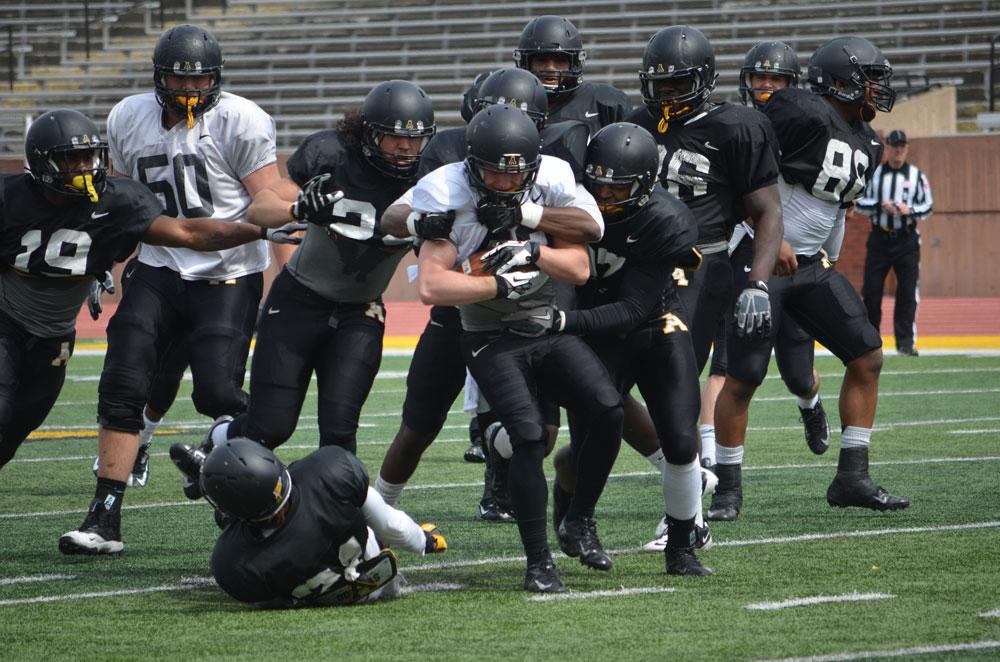 Senior leaders Andrew Peacock and Tony Washington are gone, along with former preseason All-American Sean Price, who was dismissed from the team last season.
With all of the departure amongst the group, the wide receiver position was heavily addressed in the 2014 recruiting class. Six freshmen will be arriving this summer to battle for starting spots before App State kicks off their season at Michigan on Aug. 30.
Entering his third season as App State's wide receivers coach, Justin Stepp said he knows replacing all of that experience will be a challenge. As the beginning of the next season approaches, Stepp wants to see some of the older players step up as leaders.
"I told those guys it all starts with them," Stepp said. "These young kids look at their body language and everything they do out here. If they are not setting an example, how do they expect these young kids to come out and play hard?"
Junior wide receiver Malachi Jones took on a much bigger role early into the 2013 campaign once Price was dismissed from the team. Being a leader is something Jones is not shying away from.
"It's something I've looked forward to since my arrival in Boone," Jones said. "I've been waiting for this role since I was a freshman, and I look to take it headstrong and pursue it fully, to be the leader that this receiving group needs."
Another returnee, junior wide receiver Simms McElfresh is adjusting to the life as one of the leaders of the receivers.
"I've sat behind Peacock and Tony and got to learn from them for three years," McElfresh said. "So I have seen how to handle myself and how to approach every situation that comes with being one of the older guys."
Stepp said the younger players will rely on the upperclassmen to guide them next season.
"I've told these kids we've got here now that they need to make sure that they have a good spring and to do everything they can to impress us and show us that they can play," Stepp said.
Although the experience has departed, Jones said the pace in spring practices has picked up.
"We're progressing every day, learning new things and getting adjusted to the game," he said. "We're a lot faster now, a lot more up-tempo. We went from one of the older experienced groups to one of the youngest and most inexperienced."
The Mountaineers will get a chance to showcase the results of their hard work April 4 in the annual Spring Game at Kidd Brewer Stadium.  The game will kick off at 7 p.m.
Story: Nick Joyner, Senior Sports Reporter
Photo: Cory Spiers, Sports Editor