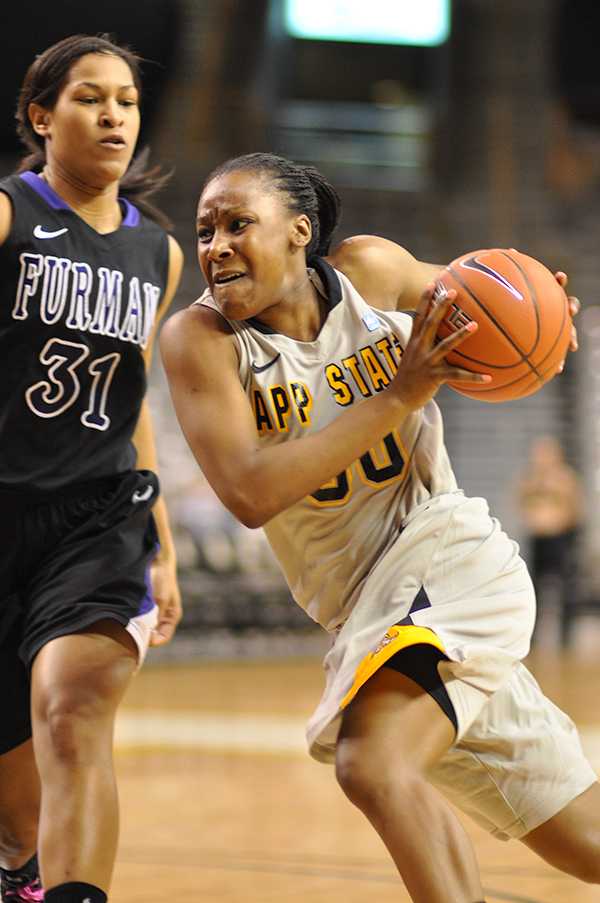 The Appalachian State women's basketball team got back into the swing of things, as they picked up another win at home against Furman Monday night, 68-58.
Appalachian was the first to score but seemed to come out of the gates at a sluggish pace. The Paladins also struggled to put up points and during the first half, both teams went score for score.
Defending against the Paladins proved to be a challenge for the Black and Gold during the first half but that didn't stop the Mountaineers from keeping the score close.
Fresh faces appeared out on the court for the Mountaineers as 12 of 13 players saw time on the hardwood, trying to help its edge over Furman.
"[We] need a rebounding guard, so that was kind of my main goal," said freshman guard LaShawna Gatewood. "Crash boards and just play defense."
Furman wasn't playing at the top of its game but seemed to be a good match for Appalachian during the first half.
"They forced us into some early mistakes, and we're still at that stage where you force us into some tough things early, that we might drop our head," said Furman's head coach Jackie Carson. "We just never overcame those things even though we stuck around the game the whole time."
Appalachian State managed to take a slight 30-28 lead over Furman and carried it into halftime.
Not long into the second half, the Paladins tied the score (30-30). The Mountaineers struggled with rebounding and it seemed that the game would continue to be close.
However, midway through the second half App State came out on fire and dominated Furman in what would be a physical and fast paced last 13 minutes.
"The biggest issue all season long has been how many second chances we give teams, so coming into today's game knowing that we didn't have a lot of prep time, we battled them well today," said Appalachian's head coach Darcie Vincent. "We fought them hard. I'm very happy with that."
With 2:28 left, Raven Gary fouled out of the game but her teammates wouldn't need her help as the Paladins sent Appalachian to the free-throw line down the stretch, securing their victory.
Anna Freeman lead the Mountaineers as she posted 24 points, while Maryah Sydnor and Kelsey Sharkey scored 19 and 10 points, respectively.
Appalachian shot 42.1 percent of field goals and 76 percent for free throws on the night.
Appalachian returns to action for their annual Play 4Kay game at home Saturday, Feb. 16. Tipoff is scheduled for 2 p.m.
Story: KAITLYN THRUSTON, Senior Sports Reporter
Photo: JUSTIN PERRY, Staff Photographer