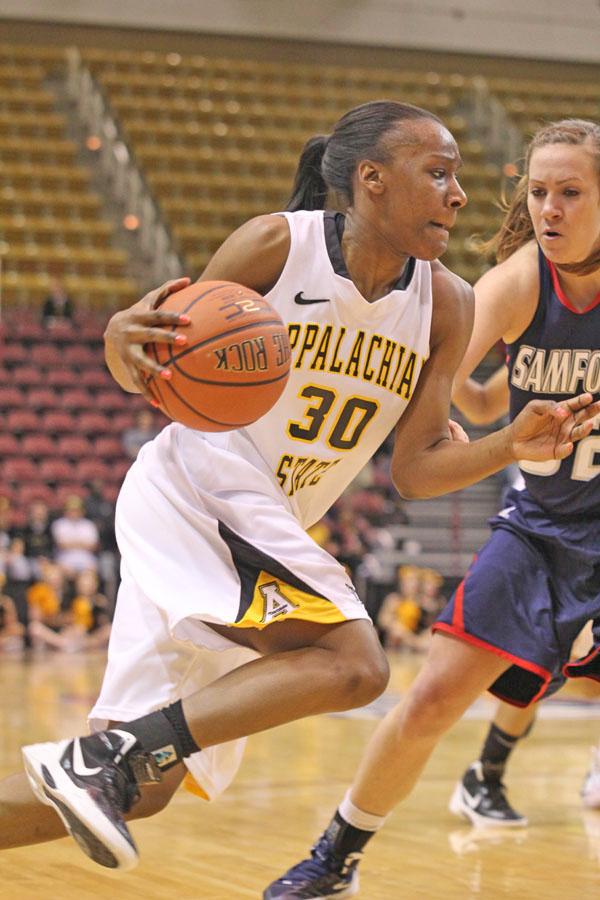 For the third straight year, the women's basketball came up short in the SoCon tournament, falling 54-43 to the Samford Bulldogs in Asheville.
Like last year, the battle for the conference's automatic qualifying bid came down to the rival Mountaineers and Bulldogs.
ASU beat Samford twice in the regular season but came out shooting cold, allowing Samford to build an 18-8 lead – thanks to Jazmine Martin's layup with just over eight minutes to go.
However, ASU battled back to cut the lead to just seven at the half.
"Basically they were being more physical than us," senior guard T.C. Weldon said. "Just like Coach said – I'm not going to sit here and fake it – we got punked and I'm shocked. I know you think I should be up here in tears, but my heart won't let me cry, because deep down I know we were the better team than what we showed here tonight."
Following halftime, Appalachian switched from a man-to-man defense to a 1-3-1 zone and continually attempted to trap the Samford ball handler either right before or immediately after crossing half court.
Appalachian forced a stunning 12 turnovers in the second half to claw its way back. Riding a 15-9 run, ASU grabbed back the lead at 33-32, its first lead since hitting the first shot of the ballgame.
However, costly turnovers cost Appalachian its chance at a SoCon tournament. Despite pressuring Samford into careless plays with the ball, Appalachian could not convert on their turnovers.
After senior T.C. Weldon stole the ball from Ruth Ketcham, Weldon was quickly double-teamed and stripped by Jazmine Powers, who blew past the Mountaineers' defense for an easy transition layup.
Weldon appeared to severely injure her ankle on the play as her leg was trapped between the floor and a falling Samford defender.
However, the senior guard was back into the game just minutes later.
The Martin fast break layup gave Samford a four-point lead.
Despite Courtney Freeman burying a 3-pointer on the next possession, the Bulldogs pulled away an 8-0 run that ended the Mountaineers' SoCon title hopes.
"There's always something special inside of a champion," head coach Darcie Vincent said. "They had it tonight when they walked in. They were more physical than us tonight."
Anna Freeman finished with 10 points, 12 rebounds, two steals and two blocks. However, the SoCon Player of the Year shot just 4-17 and committed three of the 15 Mountaineer turnovers.
Courtney Freeman also finished with 10 points.
Anna Freeman believes this season's championship loss was worse than last year's fall to Samford.
"Things just didn't go our way last year, we got in our own way this year," Anna Freeman said.
The Mountaineers will now hope for a bid to the National Invitational Tournament. The field will be announced in the late evening March 12, with the opening round starting March 14.
The Mountaineers lost 67-54 to South Carolina last season in the opening round of the tournament.
Story: JAKE AMBERG, Sports Editor
Photo: PAUL HECKERT, Intern Photographer