Women's basketball looks to Maryah Sydnor for leadership
Appalachian State's Maryah Sydnor has been blowing up for the women's basketball team this year, and has been named the most recent SoCon player of the week, as well as student-athlete of the week for the week of Jan. 12.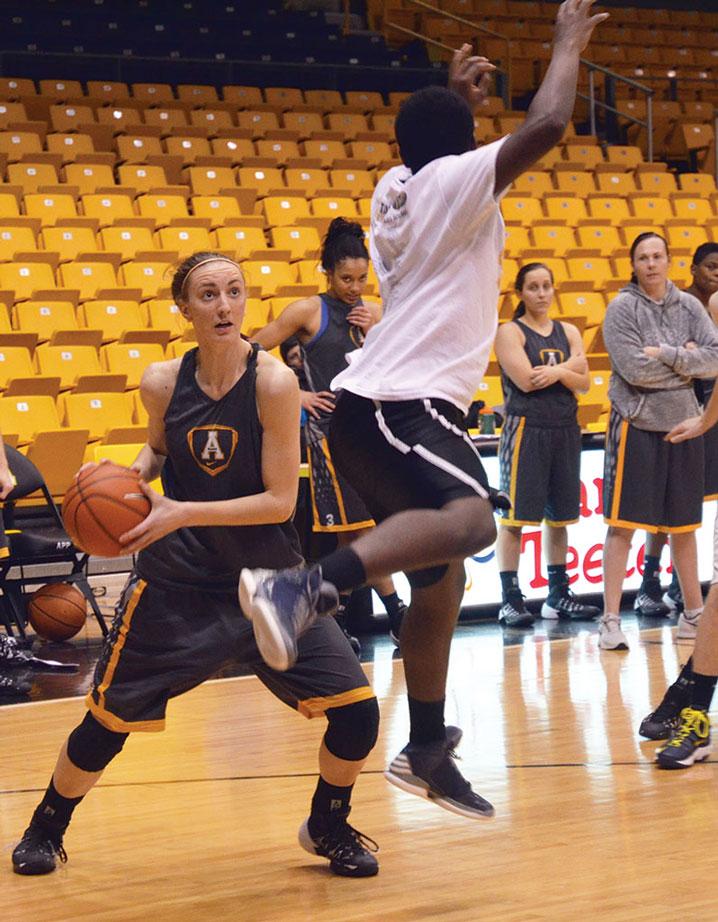 Sydnor is a junior from Radford, Va., and is currently the most-played member of the team with 172 minutes this season.
Not only is Sydnor the most consistently played member of the team, but she has also been the top scorer for the Mountaineers in 14 out of the 17 games played.
Sydnor leads the team in overall points this season with a personal total of 346.
"Maryah is just our leader in every direction possible for us," head coach Darcie Vincent said. "She's so strong academically and she's obviously the best player on our team."
Sydnor has been a powerhouse for the Mountaineers since the start of her career at Appalachian. In Sydnor's freshman year she appeared in all 34 games and started two of them. She was named SoCon freshman of the year and led the Mountaineers in scoring in six games.
In her sophomore year, Sydnor played in all 31 games and started 29 of them. She was awarded multiple SoCon titles and was 13th in the NCAA for free-throws. She also ended as the fifth-highest scorer in the SoCon.
Sydnor has also been named SoCon player of the week during all three seasons she has played at App State, and received the title twice as a sophomore.
"We lost so much to graduation in numbers and leadership that it was basically [Kelsey] Sharkey's, [Anna Freeman's], and [Courtney Freeman's] team for so long and all of a sudden they're just gone, and you can't ever really prepare for that," Vincent said.  "But, I think Maryah is, right now, the strongest she's ever been as a leader and this is her team."
Sydnor has been given the primary leadership role for the Mountaineers this season because of the strengths she possesses on and off the court, Vincent said. She has played in all 17 games this season and has started 16 of them.
Sydnor currently averages 34.7 minutes and 20.4 points per game.
"I pretty much want to do the best I can in whatever the team needs from us at that time whether it be scoring, rebounding or getting a stop," Sydnor said. "I just want to be the go-to player, and that's what really my focus is: doing whatever the team needs at that time."
Sydnor scored 29 total points when the Mountaineers took on Lees-McRae earlier in the season, her single-game season-high.
Along with her position as the top scorer and leader to her coach, Sydnor is also looked up to by many of the younger players on the team.
"She does it all," sophomore guard and forward Bria Huffman said. "Sometimes we don't even recognize what she does at the end of a game because we just expect her to do it, but we really appreciate her. She scores, she gives us steals, she rebounds and she's averaging like a double-double. She got 20 points and 14 rebounds the other night so she just does it all for us and she's a big contributor to this team."
With such a young team behind her, Sydnor has stepped up into a new leadership role that she has filled almost naturally.
Although Sydnor still has another season to play with the Mountaineers, this is the team's last season in the SoCon, and the pressure will be on to lead the team in the last 11 games.
Story: Jess Lyons, Sports reporter
Cory Spiers, Sports editor
Photo: Maggie Cozens, Senior Photographer