The App State women's team underwent a major transition this past fall season with the addition of Blake Mosley as the new head coach and has already started seeing positive results.
According to the players, Mosley brings an intensity and focus to the team, and as the team starts its spring season, the players' faith in their new coach's ability to lead them to success is evident.
"Blake [Mosley] is much more intense at practice and wants us to always be match intensity, which is great because it's what we need to do," sophomore tennis player Heidi Swope said. "It's different, but it's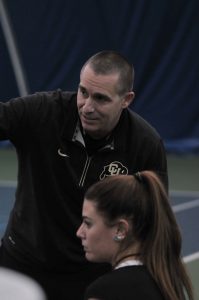 good."
Mosley came to Appalachian from the University of Colorado, where he was assistant coach for three years. He was also assistant coach at Santa Clara and Texas A&M Corpus Christi and head coach at Chaminade University. A 26-year coaching veteran, Mosley is planning on using his experience to help build a strong and lasting women's tennis program at App State.
"I'd like hopefully to build NCAA tournament teams, to get in not just by winning the conference but with our ranking," Mosley said. "And then to graduate everyone in the program."
Mosley took over the head coach job from Colin Crothers, who had coached the Mountaineers for 19 previous seasons. Mosley has already started to do everything that he can to follow in the footsteps of a coach who had been with the team for so long.
The Mountaineers had the entire fall season to get to know their new coach, who prior to the start of the fall season, had only talked to the team through teleconference.
Mosley said the adjustment in the fall "has been great" so far and the players' confidence is already growing.
"I'm pretty much just trying to build confidence with the players, trying to create a culture change from where they've been in the past," Mosley said. "I think they have faith that with my background I know what I'm talking about with tennis and everything. They've really bought into my philosophy of basically just working hard and earning everything that you get because there are no freebies with this game."
Players have had to adjust to the game-like intensity that Mosley brings every day to practice and to matches. However, the adjustment has been much needed and smooth for players like senior Megan Mullen who had been playing under the same coach for the past three years.
"Our old head coach was my coach for the past three years so it's kind of a big change," Mullen said. "I've liked it a lot because I had kind of gotten used to the pattern of how practice was going to go, and now this year, it's almost a new and different kind of team."
With just one fall season and only two spring matches under Mosley's reign, the team has already seen changes in a positive direction including an impressive performance at East Carolina University in the fall, according to junior Melissa Machado.
Success playing ECU this fall is hopefully an indicator of a more successful season for the team, which lost in the first round of conference playoffs last year and finished the spring season with a 7-14 record.
"It's all about starting what we want to do in matches and practice and having that intensity and bringing that every day in practice knowing that maybe we didn't do as well last year," Mullen said. "This year I feel like we've done a lot better job, so I hope we start seeing results from that."
The Mountaineers have grueling schedule ahead of them with many away matches, but with a new coach and a new sense of intensity, the team will be looking to finish better than they have done in the past with an end goal of a .500 season.
"I look forward to looking at how things have changed and how everyone is going into it with a different mindset, so it will definitely be a lot better," senior Melissa Machado said.
The App State women's tennis team will continue to try for a successful season behind the leadership of their new coach at a home match against Western Carolina University on Thursday Feb. 2, at 2 p.m. at Deer Valley Racquet Club.
Story by: Monica Crawford, Sports Reporter