Appalachian State saw the celebration of International Education Week from Nov. 13-17. This annual weeklong event is a joint initiative between the U.S. Department of State and the U.S. Department of Education, and is hosted by universities and K-12 schools across the country. The planning of this event at App State was headed up by the Office of International Education and Development, which worked alongside student clubs and organizations to arrange a variety of activities and workshops throughout the week.
Taste of Asia
International Education week kicked off Nov. 13 in the afternoon with the Taste of Asia, an event co-hosted by the Asian Student Association, Japanese Culture Club, Chinese Culture Club, Hmong Society Club and the Office of International Education and Development. The event had music, dancing and free food for all students.
The food included mochi, a Japanese sweet and sticky rice cake; mooncakes, a Chinese pastry typically eaten during the Mid-Autumn Festival; and green tea. It was all available to students for free, while supplies lasted.
Language Out Loud
In the evening of Nov. 13, students, as well as some staff and faculty members, gathered in a Belk Library lecture hall to participate in Language Out Loud. The event consisted of each performer or group reciting a piece of their chosen readings in a foreign language and then also in English, or at least summarized in English, so the audience could understand the meaning. The selected materials had a wide range; people chose to read poems, excerpts of books and even song lyrics.
Of the students who performed, some were Americans in the process of learning another language, others were exchange students who chose to share their native language and others still were dual citizens of both the U.S. and another country. This was present through the diversity of languages represented at this event, which included Japanese, German, French, Russian, Mandarin and Portuguese. There were also some lesser-known languages presented, such as Yiddish, a Jewish language; Nahuatl, a language spoken by many native Mexicans; and there were even performances in American Sign Language and the language of computer coding.
In all, over 30 people participated in the event, which was brought to a close by Alexandra Hellenbrand, a professor of German and global studies, who led the audience in performing the song Frère Jacques in several different languages at the same time, due to the melody being the same in various languages.
Overcoming ATS: American Tourist Syndrome
On Nov. 14, students gathered in the Three Top Mountain Room in Plemmons Student Union for a workshop entitled "Overcoming ATS: American Tourist Syndrome." This presentation, which was given by J. Spenser Darden, assistant director of the Office of Multicultural Student Development, focused on helping students avoid looking foolish when traveling or studying abroad.
Darden helped students understand this in two ways. First, he invited those in attendance, particularly those who were American, to self reflect on what they are taught in American society and to push back against some of those ideals. For instance, Americans are taught the principle of American Exceptionalism, which claims that Americans are inherently better than citizens of other countries. When we as Americans then take that mindset with us when we travel abroad, it makes it difficult for other cultures to respect Americans when we inherently act like we are better than them. Darden also talked about the inherent "fear of the unfamiliar" among Americans. We are afraid of that which is different, which is evident in how we act when abroad. Darden instead encouraged the audience to ask, "Why am I not more curious about these places?"
Secondly, Darden opened up participation from the audience in order for them to learn how they, not just as Americans but as citizens from any culture, can be good visitors to a place that isn't our own. Maya Meurling, a freshman nursing major and native of Sweden, tried to do her part by informing the audience about her culture.
"Don't speak loud," Meurling said. "For the most part, we are able to understand you." She said that many people in Sweden are able to identify an American tourist because Americans often believe speaking up will somehow help them understand.
"I want to challenge you, that wherever you go, don't just stay on the resort or the campus, go out and explore," Darden said in his closing remarks. He added that we shouldn't learn to be American in another place, that instead we should learn "what it means to not be an American."
Global Perspectives Panel
On Nov. 14, students congregated in a library lecture hall to hear from their peers about their experiences living abroad. Individuals who entered Appalachian as international students were eager to share their diverse experiences on a panel to discuss various global perspectives. The panel was made up of students from Spain, Belgium, Italy, Vietnam, Japan, Chile and Zambia. Many of the students spoke about how welcome they feel in the App State community.
"I never felt homesick even for a moment," Martino Crespan, an Italy native, said.
The panel allowed students to see the truth of life abroad and how best to pursue a global perspective.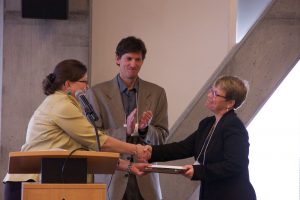 International Photo Contest
Winners of the International Photo Contest had photos on display in the student union all throughout the week to celebrate international education. The theme of the contest was "The World Beyond Boone," and those who entered their works could select one or two of the following categories: Private or Public Spaces; Ceremony, Celebration and Culture; Landmarks; Landscapes and Nature; International at App State or Local to Global.
Global Symposium
On Nov. 15, the Office of International Education hosted hosted their fifth annual Appalachian Global Symposium, which takes place each November. The topics of this year's symposium focused on global learning, sustainability and diversity through research and collaborations between faculty, staff and students.
A session entitled 'Women's Leadership in International Relations" was hosted by Federiga Bindi, a visiting professor and senior fellow at the Center for Transatlantic Relations, and a panel of students. They gave presentations on various women in global positions of leadership and discussed the variables that help women succeed in such roles.
Students gave presentations on a variety of leaders such as Aung San Suu Kyi, Condoleezza Rice and Hillary Clinton. After giving a brief overview of their backgrounds and careers, they discussed each woman's accomplishments.
Bindi explained how important it is to understand the factors that contribute to each woman's career and personal development, as well as the commonalities. With this understanding, other women are able to step into global leadership.
Tunisian Meal and Culture
On Thursday evening, Saloua Bin Zahra, a professor from the Department of Languages, Literatures & Cultures, hosted a traditional Tunisian meal and gave a short presentation on Tunisian culture.
Zahra cooked a Sahūr meal, which is served during Ramadan in the morning, right before the sun rises and fasting begins. The dishes included baklava, couscous, date cookies, mint tea and Turkish coffee. Zahra explained that coffee is a very important part of Turkish culture.
"Turkish girls would be tested on their ability to make coffee," she said. "And there is so much joy surrounding it … it's about enjoying it, taking your time, meditating instead of just consuming. Sharing Turkish coffee is a bond between people."
Before serving the main dishes, Zahra passed around a container of dates, which symbolized welcome. She explained that hospitality is highly valued in Tunisian culture.
"We love to give gifts," she said. "It comes naturally, it's a part of who we are."
Go International Fair
On Friday morning, Walker College of Business hosted a fair for international internships and study abroad opportunities. A panel of former interns and faculty discussed their work and cultural experiences abroad, as well as the process for pursuing internships through AIESEC and semester-long faculty-led trips.
Veronica Lozano-Toub, associate director of the BB&T Student Leadership Center, said that she likes to support study abroad opportunities for students.
"I really believe in the value of this international experience, because I've experienced it myself," she said. "The value goes beyond academic credit."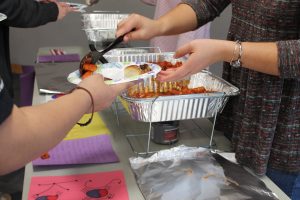 Haley Hansen, Vice President of Outgoing Talent at AIESEC Appalachian, discussed internship opportunities available through AIESEC and the application process.
Students such as Destiny Rider, who recently completed an internship in Argentina, and Larissa Niederer, who interned in Germany, gave advice from their experiences. Their main advice was to be adaptable, be confident and to stay calm when things don't go as planned.
OIED Reception for Campus Partners
On Friday afternoon, App State faculty and staff were invited to the Turchin Center for a wine and cheese reception. This event was held in order to thank the faculty and staff for their commitment to making App State a diverse and international campus. Faculty and staff socialized and enjoyed the free snacks and beverages provided, while a few members from the Office of International Education and Development who were involved with planning International Education Week spoke and thanked the faculty and staff personally. This included Maria Anastasiou, the executive director of the OIED, who wanted to make it clear that the OIED couldn't do what they do without the help and support of all the faculty and staff on campus.
Culture Crawl
International Education Week came to a close on Friday night as students participated in the last event, the Culture Crawl, which was hosted by the student-run organization International Appalachian. The event included food and performances by several different clubs and groups on campus in order to represent and celebrate App State's cultural diversity.
The participating clubs included the Hispanic Students Association, the Mu Omicron chapter of Zeta Phi Beta sorority, the K-Pop Association and the Swing Dance Club, which all used dance as a way to express and share their culture. Other clubs used different forms of performance, such as Gabby Timbrook, who was representing the spoken word poetry club Lyric, who performed a poem titled "Braids." The improv comedy club NouN also performed.
In all, students spent two hours eating, laughing and socializing. They got to know about the cultures of the different clubs on campus and of the cultures of various foreign exchange students, many of whom were in attendance. Culture Crawl ended a week of learning about and celebrating cultures around the world.
Story By: Macon Atkinson, A&E Reporter; Caroline Comer, Intern A&E Reporter; and Cristian McLaughlin, Opinion Writer
Photos By: Hunter Koch and Veronica Hayes, Intern Photographers
Featured photo: The Asian Student Association serving food at Taste of Asia, an event in the Plemmons Student Union on Nov. 13.