Wounding the Warhawks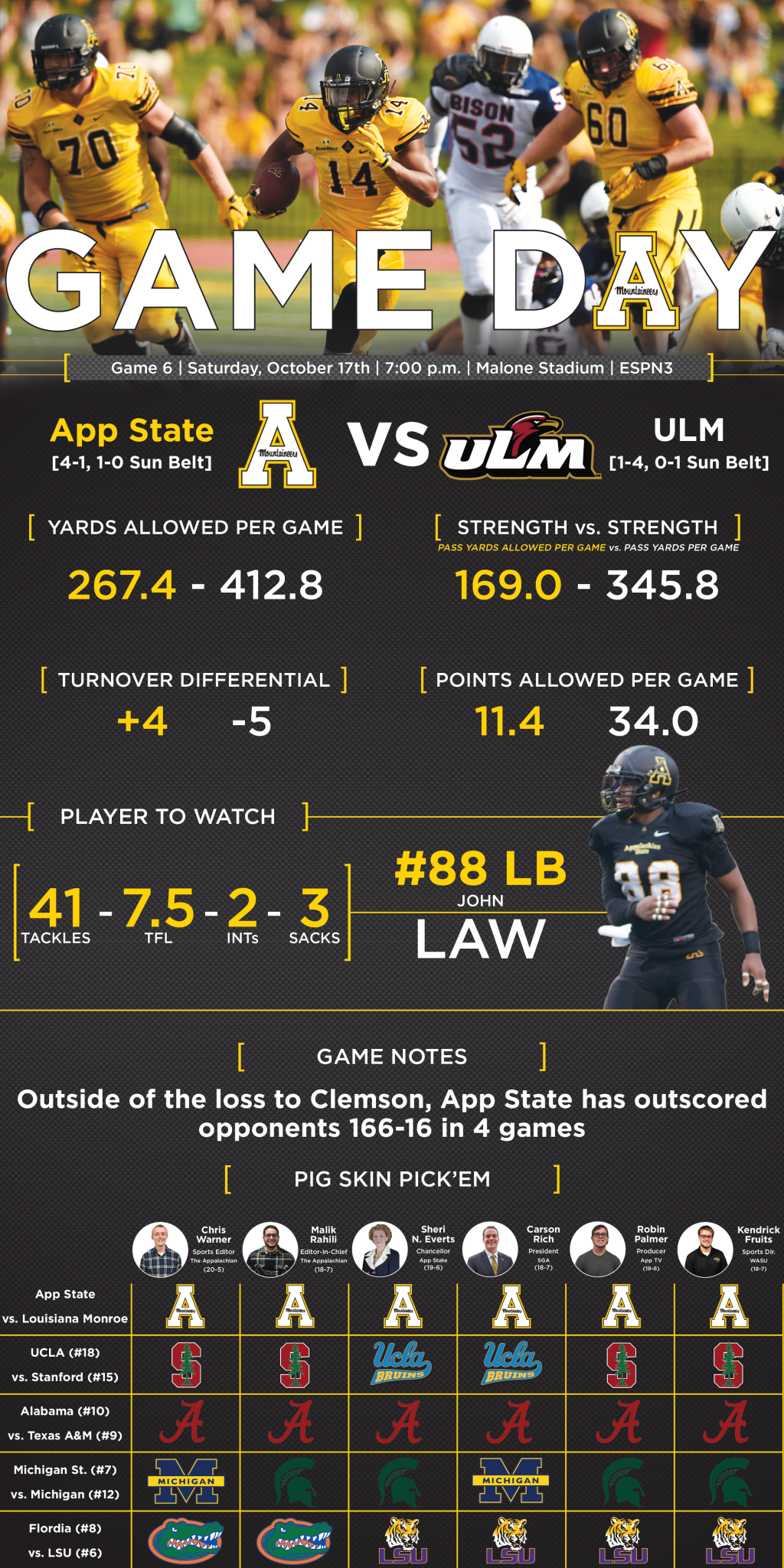 Leave 'em stranded
UL Monroe, like Georgia State last week, is an offense heavily reliant on the passing game.
Led by quarterback Garrett Smith, the Warhawks rank fifth in the conference in passing, averaging almost 230 yards per game through the air, while ranking dead last in the Sun Belt in rushing.
Receivers Ajalen Holley and Rashon Caeser average over 90 yards receiving apiece per game, and have caught five of Smith's nine passing touchdowns this season.
App State cornerback Latrell Gibbs, who's averaging an interception per game this season, will be tasked with putting Holley on an island. Safety Doug Middleton, cornerback Mondo Williams and company must step up to shut down the rest of the receiving core.
Motivated Marcus
Last week Georgia State's defense managed to do something even Clemson's could not: Stop running back Marcus Cox from surpassing the 100-yard mark. This snapped his streak at seven games, two shy of the school record held by John Settle.
The Warhawks' defense present the perfect opportunity for a bounce-back performance by Cox. Two weeks ago, ULM surrendered 455 yards and six touchdowns in a loss to conference foe Georgia Southern, who ranks first in the Sun Belt in rushing.
App State ranks second, averaging 262.8 yards per game, meaning the offensive line should have no trouble controlling the trenches. We can expect a big day from Cox.
Capitalize on opportunity
The Sun Belt's No. 1 defense, App State, has scored a defensive touchdown in three straight games.
While that's a streak that likely won't hold for much longer, Warhawks quarterback Smith is notorious for being a gunslinger. While he's thrown nine touchdowns this season, he's also thrown seven interceptions.
If App State forces ULM to be one-dimensional, Smith will have to take chances with some risky throws. The Mountaineer defense, which has forced 12 total turnovers this season, must be ready to capitalize.
Story by: Chris Warner, Sports Editor