"Writing Trauma: A Workshop for Veterans and their Families"
On Sep. 28, from 4 p.m. to 7 p.m., poet Bruce Weigl led a workshop titled "Writing Trauma: A Workshop for Veterans and their Families." The event was held by the Appalachian Veterans Arts and Humanities Collective, run by Joseph Bathanti, North Carolina Poet Laureate and recipient of the North Carolina Award.
The workshop, held in the Parkway Ballroom of the Plemmons Student Union, was a free event open to veterans and their family members. Weigl described the workshop as a powerful tool that can be restorative and even life saving.
"We'll all participate in an exercise designed to put you in the position to take charge of your traumatic memories so that they no longer have control over you. We'll also focus on making the writing of these traumas a literary and artistic problem rather than an emotional problem."
Bruce Weigl, named the 2016-17 Rachel Rivers-Coffey Distinguished Professor of Creative Writing at ASU, served as a combat veteran in Vietnam at the start of December 1976. During his time serving, Weigl was awarded the Bronze Star. Years later, Weigl continues his work as a poet, having received multiple awards, among them the Peace Medal from the Vietnamese Writers Association, the Poet's Prize from the Academy of American Poets and nominations for the Pulitzer Prize in poetry.
Amongst his personal experiences of Vietnam, Weigl attributes this trauma to "giving him a voice."
For 25 years, Weigl has been working with veterans through writing workshops. In the past, Weigl has held workshops alongside other Vietnam veterans and writers, such as poet W.D. Ehrhart and Tim O'Brien, author of "The Things They Carried."
Throughout the workshop, Weigl guided veterans and their family members through exercises that allowed them to examine painful events and then recreate them analyze them in a different format.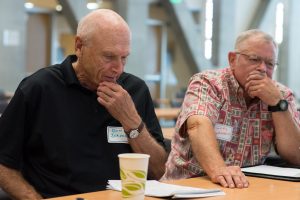 After returning from war, many veterans suffer from Post-Traumatic Stress Disorder. Some of the most common symptoms of PTSD involve flashbacks, nightmares, and hyperarousal. Approximately seven or eight out of every 100 people experience PTSD during their lifetime, according to the U.S. Department of Veteran Affairs. In relation to recent wars, approximately 30 percent of Vietnam veterans, 12 percent of Gulf War veterans and 11 to 20 percent of Operation Iraqi Freedom and Enduring Freedom experience PTSD within a given year.
PTSD stems from specific moments of trauma called stressors or triggers. Weigl described them as a moment when one's life "changed in a way that you didn't understand," and from which one since has "never been the same." Triggers can result from a variety of stimulations that transports one back to a moment of trauma. Different sights, sounds or smells can become triggers, in addition to witnessing other traumatic situations, such as car accidents, news reports or sudden sensory overloads.
In the future, Weigl hopes that more and more resources will become accessible for returned veterans. In particular, he noted that as different conflicts begin to end, more and more vets will be returning home and needing support.
Weigl additionally noted that President Barack Obama's speech on Sept. 28 was geared to address veteran affairs. Within his speech, Obama expressed gratitude to veterans and the importance of providing continual support for the troops.
In regards to supporting veterans within the community that most veterans are not looking for much, Weigl said. One of the best ways to reach out to veterans is through friendship, love and kindness. Weigl said even though it might seem cliché, veterans prize these gestures all the more because of what they've seen.
He said it is respectful to thank veterans for their service.
"You don't have to believe in war to say that," Weigl said.
In 2016, Appalachian State was named a military-friendly school, which means that the university, along with other military-friendly schools, aims to provide specific services and support for veterans and their family members. This title has been awarded to Appalachian annually since 2010, according to the 'military services' link on their website.
Among the services that ASU offers for veterans, students have the opportunity for priority registration, assistance with transferring credits and specific assistance with financial aid and scholarships, along with several others. ASU also offers programs in military science and Reserve Officers' Training Corps.
Bathanti said this workshop was the second held by the Veterans Collective and that the Collective will be holding another workshop on  Nov. 2 from 1 p.m. to 4 p.m. in Linville Falls in the student union, lead by graphic novelist Carol Tyler. Tyler will guide veterans through the process of forming a visual narrative and presenting the veteran's personal story.
Additionally,Weigl will lead a craft talk and poetry reading as part of the the Hughlene Bostian Frank Visiting Writers Series on Oct. 6. from 2 p.m. to 3:15 p.m. Weigl will hold the craft talk titled, "Finding Poetry at the Juncture of Memory and Imagination" in Table Rock of the student union. There will be a reception from 6 p.m. to 7:15 p.m. in Price Lake, followed by Weigl's poetry reading in Table Rock at 7:30 p.m.
Story by: Mary Elizabeth Myrick, A&E Reporter
Photos by: Dallas Linger, Photo Editor