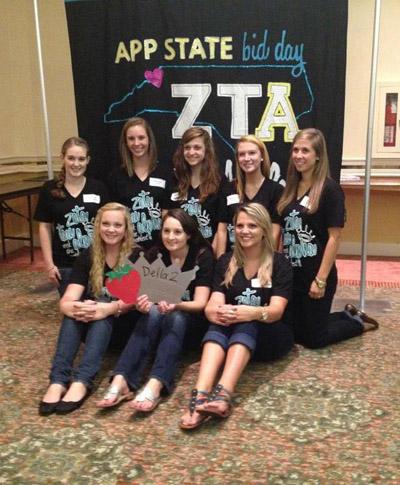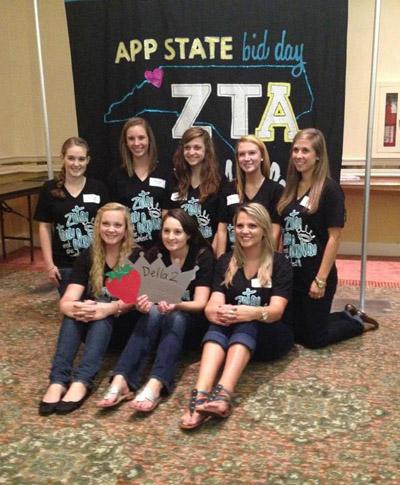 Sorority Zeta Tau Alpha came to Appalachian's campus last fall, recruiting 115 members during the semester, said Kelly Krebs, a junior accounting major and president of the sorority.
"Our mission is to make a difference in the lives of our members by developing the potential of each individual through leadership development, a commitment to friendship and service to others," Krebs said.
Zeta Tau Alpha's Director of Philanthropy Meaghan Johnson said she joined Zeta because she wanted to be a part of something new and make history at Appalachian.
"I could see there was a really great group of girls that could possibly become my sisters," Johnson said. "Because we're new, none of the girls really knew what being a part of Zeta would entail, therefore girls all across the board rushed."
Krebs said Zeta helps benefit the community through their efforts to promote breast cancer education and awareness.
"Almost everyone knows someone affected by breast cancer," Krebs said, "Zeta provides an opportunity for the community to get involved in the fight."
Lauren Osborne, junior journalism major and vice president of the coordinator committee for Zeta, said the sorority has attracted women from all over campus.
They have more than just the "cookie cutter sorority girls," she said.
"We don't want our girls to just be in Zeta, we want them to have other identities other than Zeta," Osborne said.
Frances Ramos, a senior international economics major and Zeta Tau Alpha's judicial chair, said that the diversity of the women sets Zeta apart.
"We really do have a representation of every women of every type of personality that's out there," Ramos said.
"We really just strive to be well-rounded girls," Krebs said. "Having a good GPA, remaining classy at all times and learning to appreciate the good things in life are all very important to us."
Zeta's national philanthropy is Breast Cancer Education and Awareness, which partners with Susan G. Komen, Yoplait and the National Football League, Johnson said.
Story: Logan Huff, Intern News Reporter and JOSHUA FARMER, News Editor
Photo Courtesy: MEAGHAN JOHNSON