Pinning down the season
After a long and hard fought preseason, the Mountaineer wrestling team is entering the season with confidence and high hopes of another SoCon championship for the second straight year.
With the preseason coming to an end, the Mountaineers have now had a Black and Gold exhibition and an invitational at Virginia Tech to prepare for what hopes to be another championship season.
As in most college sports, the transition from high school to college is a tough adjustment to make. That's why the preseason is crucial for getting younger guys ready physically and mentally by the time the season rolls around.
Late this preseason, head coach JohnMark Bentley is more impressed than ever with the senior leadership from Denzel Dejournette, a senior All-American who wrestles in the heavyweight division.
"We've got great senior leadership," Bentley said. "Denzel works his tail off and does the right thing on and off the mat, which isn't common to find."
With three years of college wrestling experience under his belt, Dejournette has embraced the role as leader. He calls himself an "overwhelming presence" on the team and is taking responsibility of the freshmen, making sure he encourages them to do the right thing.
"I do a lot of yelling, I feel like when I yell they listen," Dejournette said. "I'm not trying to intimidate them, I've just always liked people like Ray Lewis and Eric Thomas who are inspirational vocal leaders."
Sophomore Matt Zovistoski, who finished fourth place in the SoCon last season, gives all of the credit to where they are at now to the senior class.
"We've had a very good mindset this preseason," Zovistoski said. "Senior leadership has been a huge factor, we have great upperclassmen that push us all the time and make us get better."
This season's team consists of only six juniors and seniors, making the other 14 members sophomores and freshmen. The presence of a senior leader like Dejournette is crucial in getting the lower classmen up to par on where they need to be when the season starts.
One youngster that has impressed Bentley throughout the preseason is freshman Colby Smith, a three-time state champion and senior high school All-American out of Missouri.
"I think Colby [Smith] can compete right away," Bentley said. "He's good enough to go deep in the national tournament and I don't think it's out of the possibility that he can be an all American as a true freshman. He's very mat-savvy and has skills that you can't teach so I'm expecting big things from him."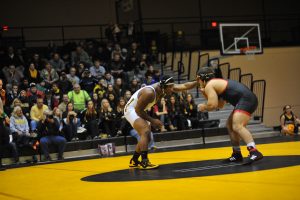 Smith acknowledges the giant leap of competition from high school to college, but it isn't keeping him from having any confidence heading into the season.
"I have been busting my butt since I was a freshman in high school," Smith said. "But it definitely a lot harder to break the lineup and there is a lot more competition."
In preparing for the season, the Mountaineers went head to head in their annual Black and Gold intrasquad exhibition match on Nov. 2.
This exhibition match gives the coaches and players an idea as to where they are at physically and mentally before the season starts. Even though these guys wrestle each other daily, it is nice for them to get in a match-like atmosphere where there are fans, a referee and the score is kept.
"This is just one part of the steps to get to competition, we learned a lot about ourselves today," Bentley said. "For the most part, I was very impressed with our freshmen, we've got some that I really think are going to help us this year."
With nearly every match going down to the wire, it gives Bentley a sense of comfort knowing that whoever he runs out on the mat at each weight division, the Mountaineers have a chance to win.
"We have a lot of competition in every weight class," Bentley said. "Most of our weight classes it is very competitive to see who is going to start. I think that competition in the room will help because the guy can't relax."
Sophomore Logan Durham and senior Vito Pasone duked it out at the 125-pound weight class. In a back and forth battle, Durham scored a late two points to win the match 8-7 over Pasone who was first team All-SoCon in 2016
"It feels good to get back on the mat but I'm ready to start wrestling other people," Durham said. "Vito and I have been wrestling nonstop for the last two years. Last season when I was a freshman he beat me pretty bad all year, but this preseason we've pretty much been going back and forth."
Freshman Colby Smith earned the only pin of the entire night when he put freshman Thyree Washington in a cradle during the second period.
"It was pretty exciting to be back out there," Smith said. "I'm looking forward to the season, it's going to be a good one."
Officially opening up the season, four wrestlers were placed in the top four of their weight classes when they traveled to Blacksburg, Virginia on Nov. 6 to wrestle in the Hokie invitational.
The tournament consisted of two different brackets, an open division and a freshman and sophomore division.
Smith took home first place in the 133 pound division, winning the first collegiate tournament that he competed in. Zovistoski took second place at the 149 pound division of the freshman and sophomore bracket.
Pasone finished third at the 125 pound division, and senior Forrest Pryzbysz took home fourth in the open division at 165 pounds.
Dejournette flew to South Dakota to represent the Mountaineers at the heavyweight division at the Daktronics Open, hosted by South Dakota State University. Dejournette took home third place in the tournament where he won 4-0 in a major decision against Collin Jensen from Nebraska-Lincoln.
The Mountaineers are more than ready to enter the season full swing and will be back home Nov. 12 when they host Belmont Abbey and Oregon State in Varsity Gym.
Story by: John Robertson, Sports Reporter