AHO Women's Rugby marked for success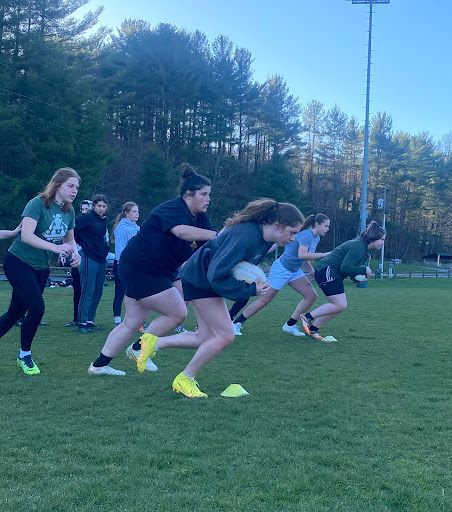 The AHO Women's Rugby team gathers on State Farm Field every Monday, Wednesday and Thursday night as the sun sets and the evening chill descends. However, the temperature is hardly the most striking aspect of the evening scene. 
The field is filled with raucous laughter. Pure joy and camaraderie drown out the routine sound of cleats being put on and warm-up drills being performed. Rugby is not the only drive for gathering on these nights. On this field, a community comes together. 
Many readers don't know what rugby is. That is a function of rugby not being a very popular sport in America. In this country, the desire to see two teams run, tackle and flatten their opponents for possession of a slightly oblong ball is fulfilled by one sport: football. However, football and rugby are not so different. 
Despite rugby's relative obscurity in this country, there is a thriving, fast-growing relevance to the collegiate rugby community. Boone is no exception; this is best evidenced by the two club rugby teams finding success at App State: AHO Women's and Men's Rugby. 
Rugby at App State as a club sport is not new, not by any stretch of the imagination. However, rugby is becoming newly relevant. 
This relevance can be seen in the performance of the AHO Women's Rugby team, who are having a particularly intriguing 2022-23 season. Women's rugby at the collegiate level, while currently growing, took a significant hit during and after the COVID-19 pandemic. So much so that many collegiate women's rugby teams ceased to exist.
AHO Women's Rugby is one of the notable exceptions. App State's very own AHO women's club rugby team decreased from almost 40 members to six when the COVID-19 pandemic hit. However, AHO Women's Rugby is back and stronger than ever. 
Over the past year, their ranks have risen to 36 strong and counting. Of the six players and one coaching staff member, all seven of them attribute this rise in numbers to the recruiting done by the team at App State's Club Expo meeting. 
The growing popularity of rugby as a sport at the university is not the most notable part of the story; it is the near beyond-belief success this club has seen over the past two seasons. 
AHO Women's Rugby is in the Carolina's Rugby Geographical Union division. Over the course of their season, AHO Women's Rugby plays about four or five teams in their division. These matches are a mixture of formal and friendly matches. However, if one team cannot provide 15 eligible players, the match is considered a friendly.
AHO has had a nearly undefeated championship season thus far, despite falling short of victory against UNC Chapel Hill Women's rugby in a friendly match March 4, and are looking to continue their success in their championship matches in the coming weeks. 
Not many current team members of AHO Women's Rugby can remember the team before the COVID-19 pandemic, but since returning, the club has had two incredibly successful seasons. 
Over the course of six interviews, each player had a different perspective on the reasons for the success of this team. Reasoning included the increased number of players and rookies who had previous experience playing rugby, more players with knowledge of the game, the athleticism of the team, mental and physical toughness and passion.
Interestingly enough, every single player, whether deliberately or not, highlighted the community and environment built at AHO Rugby as one of the primary reasons for the team's success. 
The closeness in this community of athletes on and off the pitch undoubtedly contributes to their on field success. The trust and rapport they build as friends gives them the ability to find success as teammates. 
"When I play games, for that 80 minutes, I forget about everything else," senior backs captain Anna Bevilacqua said. "I'm just out there with my friends; we're strategizing, playing and being physical." 
It is not just that these athletes get to play rugby. The decisive aspect of their team mentality is that they have the privilege of playing rugby with each other. Their friends. Their mentors. They get to play with those who share their love of the game and experience the camaraderie that is integral to the sport. 
"It's just the best feeling in the world, and I know every single one of them out there is feeling the same thing too," Bevilacqua said.
The community of trust and safety built off the pitch helps AHO Women's rugby find cohesion on the pitch. Additionally, junior forwards captain Corinn Harrington attributed some of the team's success to the passion and expertise of head coach Paige Bramblett. 
"It is because of how much they love us that we are able to be a team and able to be undefeated this semester," Harrington said. "They always know what to say before or after a game, and I feel like we would be nothing without them."
Both the team and coach Bramblett felt optimistic about AHO Women's Rugby's chances of success in the championship match. The team is focusing on preparing mentally, physically and not underestimating their opponent. 
Bramblett said the mentality going into the match is to give their opponent the choice to "rise to our level or crumble under the pressure." 
AHO Women's Rugby took on Charlotte in a championship playoff match on Saturday at Northeast Park in Gibsonville; they won 17-0. After championship play, AHO Women's Rugby will move on to a regional championship hosted April 22-23 in Gastonia. They will face Eckerd University in their regional championship match. 
If AHO wins their regional match, they will move to compete at the national championship in Houston for the second consecutive year. AHO Rugby played their way to the national championship in the 2021-22 season, but lost to San Diego State University in the semifinals. 
AHO Women's Rugby embodies the dedication, hard work and passion exemplified by the numerous club and intramural sports teams at App State. The best way to support AHO Rugby is by showing up to their matches, spreading the word and donating to ensure collegiate rugby can continue to grow.