Along for the ride
As the final game of each season concludes, the stat sheet can reveal why a team meets or falls short of expectations. However, most will overlook a stat that is unmeasurable: the leadership that brings a team together.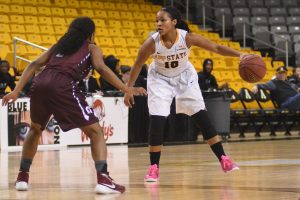 Following a loss during her junior season, App State women's basketball senior point guard Joi Jones made an unexpected visit into head coach Angel Elderkin's office. Instead of voicing her frustration, Jones took on a larger role, demanding to become a team captain.
"One moment that stands out to me pretty vividly is after we lost last season, she came into my office and said, 'Coach, I want to be a captain,' and I thought that was her stepping out of her shell," Elderkin said. "My end of the season meeting with her this year was one that was so informative from a place of love, and now she wants to see App State basketball be at the best place it can be."
While Jones is seeing her time at Appalachian come to an end, she is determined to continue the game she loves to play. Growing up in a family close to the game, Jones understood she needed to make herself stand out.
Making a name for herself, the point guard participated in the Pro Hoops Combine and the Women's Basketball Coaches Association 'So You Want To Be a Coach' program in Dallas, Texas, the same weekend as the women's Final Four.
When her senior year started, Jones had intentions after college to work as a graduate assistant or to play basketball overseas. Helping her along the way, Elderkin took time to check off the necessary boxes.
Starting with the coaching program, Elderkin wanted to make sure her starting point guard beat the October deadline. During her first year on staff, Elderkin saw current graduate assistant and former guard Katie Mallow narrowly miss the deadline.
Putting together a resume, a personal statement, a 30 second video and getting a letter of recommendation from her head coach, Jones was accepted months later.
"When Joi talked about wanting to be a graduate assistant and pursue a career in coaching, I asked her about doing this program," Elderkin said. "She worked really hard on her application, and when I got the email that she got accepted, I called her and it was a big moment."
The Pro Hoops Combine came about in a different way, but Jones' head coach was still heavily involved. In January of this season, Elderkin received an email inviting Jones to the Pro Hoops Combine that hosts various WNBA coaches, general managers, agents and coaches from overseas.
Understanding the opportunities that both presented, Jones decided to split her time in Dallas, participating in both programs. Along the way, her ability to motivate herself and others around her yielded a positive experience.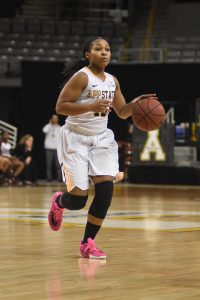 "I went in and didn't know anybody in the program, so I had to make friends myself," Jones said. "Going in, you don't really know what to expect, and when you get there you have to branch out and network yourself to players and coaches."
Networking became a common theme that Jones learned about during her time battling in the Pro Hoops Combine. Branching out to new players, she now has new friends and competitors to help her improve her game.
Bringing different styles to the court, Jones excelled with players she may never play with again. Making connections, however, also applied to her potential career in coaching.
Staying proactive, Jones befriended Dianne Murphy, the head of the entire 'So You Want To Be a Coach' program. Sending emails back and forth, Jones gained tips on her resume and how to effectively network herself into the coaching world.
Offering more than a rigorous schedule, the coaching program also gave players the opportunity to attend the Final Four games. Watching Geno Auriemma's UConn Huskies from the bleachers, Jones saw one of the biggest upsets in women's basketball history, seeing Mississippi State nail a buzzer-beater to knock the Huskies out of the tournament and end their lofty 111-game win streak.
"It was great. I was able to participate in one of the most record-breaking Final Fours," Jones said. "It reminded me of how much I loved basketball so much because anything can happen."
Returning home after her hectic weekend, Jones realized both programs offered her chances to pursue a career in basketball. Getting to where she is now, Jones attributes major parts of her success to the foundation the Mountaineer program has given her.
Different schools from the Big South and the Sun Belt recruited the Duluth, Georgia standout, but recent commitments to App State from local players made her aware of the school. Enjoying her visit, Jones soon signed on to bring her basketball talents to Boone.
Playing sparingly in her first few seasons, a new style proved to be a game changer for Jones. Instead of the conventional, slow-paced approach in her first season, Elderkin's system was focused on driving the ball up and down the court.
"For her, a challenge is always a good thing," App State assistant coach Kate Dempsey said. "She likes it, and her growth that way has been tremendous."
Leading her team in scoring her junior season, Jones set career highs in points, assists, and rebounds per game. A strong start early in the season kept her in the starting rotation throughout the entirety of the season.
Finishing her time as an upperclassman, Jones started in all 61 games, played in her final two seasons and picked up third-team all-Sun-Belt honors her senior year. Her strong senior campaign left her one assist short of breaking 300, placing her sixth all-time in program history.
"Looking back to freshman year, it's everybody's dream to leave their mark and be in the record books," Jones said. "Finally seeing all the hard work pay off, and you become that record holder, it's always good to see. It was a really proud moment of mine, and I can always relive it and think about it later in life."
Graduating in May, the decision to choose between coaching and playing abroad is not an issue for Jones.
Pulling from experience, Dempsey was also put in a similar position. While not looking to coach directly after her college career at Wofford College, Dempsey lived through the uncertainty that overseas basketball warrants.
Gaining tryouts from teams in Iran and Israel, Dempsey's agent was finally able to land her in Portugal. Injuring her ankle in her first season, she returned home to continue her life in basketball, taking an assistant coaching job at Presbyterian College.
As Jones assesses her own situation, factors overlap, but the most important one is keep her time on the basketball court going as long as possible.
"I really do want to go overseas to play basketball, but I also want to be a coach," Jones said. "Whichever presents the best opportunity is the one I'm going to take. As far as basketball, I want to push it and stretch it as long as I can."
Story By: Tyler Hotz, Senior Sports Reporter 
Photos By: Lindsay Vaughn, Senior Photographer and file photos