Boone Community Network, a non-profit organization and web resource dedicated to connecting local community members and businesses, held a fundraiser at the Appalachian Mountain Brewery Wednesday night for the seventh annual Howard Street Exchange Fair.
The amount raised has not been calculated as of press time.
The fundraiser featured bingo prize giveaways, games, a musical performance from local artist Brooks Forsyth and an open mic jam session.
"This fundraiser will pay for the fees and insurance that comes with closing down the streets we need for the fair and for compensating our visiting artists," said Michelle Dineen, a senior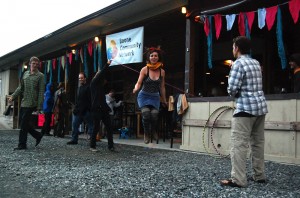 philosophy major and director of the Boone Community Sharing Economy Committee.
Dineen said seven contributors donated prizes for the fundraiser, including two $25 dollar gift cards from Red Onion Cafe, two electronic cigarettes from Mile High Vapory, a $15 dollar gift card from Espresso News and two massages from Spectrum Massage that were donated by Christina Bailey, the director of Boone Community Network Outreach Festivals Committee.
Despite the fundraiser being located at a brewery, Dineen said the event welcomed all community members. A main goal of this year is to have fundraisers and events connect Appalachian State University students and the rest of the Boone community, Dineen said.
"We are really trying to invite students to participate," Dineen said. "Students are a huge aspect and demographic here in Boone. We want to bridge the gap between the campus and the community. [Students] have so much to offer each other, including our enthusiasm, knowledge, curiosity and talent."
Benjamin Loomis, a 2013 graduate of the sustainability program at Appalachian, leads the Boone Community Network Committee for the Howard Street Exchange Fair. He said he encourages anyone interested in volunteering to reach out or come to a meeting.
"We're just here to allow anyone with initiative to come out and promote what that they love," Loomis said. "We want to connect people that have an interest in community-based art and projects and businesses that focus on sustainability."
Bailey said the Boone Community Network's mission statement is still in the works and the organization has a lot of diverse interests and causes.
"The structure of the network currently consists of four main directors," Bailey said. "We also have five voting officer positions that keep track of how we spend our funds and make sure that we stick to our vision."
The Howard Street Exchange Fair will take place October 26 and will run from Howard Street to Water Street, Dineen said. The fair attracts over 1,000 people every year. This year's exchange will feature a Halloween theme with costume contests, a "best booth" couch competition and other autumn activities.
To keep up with the Boone Community Network calendar and events, visit their website at boonecommunitynetwork.com.
Story: Kelsey Hamm, Intern A&E Reporter