"America's favorite sideshow couple" returns to Boone
Crowds laughed with excitement and screamed with shock Saturday night as sideshow performers Captain Steele and Madame Maybelle, nicknamed "America's Favorite Sideshow Couple," performed at Boone Saloon.
The duo, who has performed as a couple for 20 years, showed off their unusual skills with a set that included walking on glass, increasingly challenging sword swallowing feats and an impressive weight lifting regime, lifting bricks and cinder blocks with Captain's eyelids and tongue piercing and with Maybelle's septum piercing.
When Captain Steele and Madame Maybelle aren't performing, they are Chris and Elaina Steele, married 13 years and parents to two daughters and a basset hound.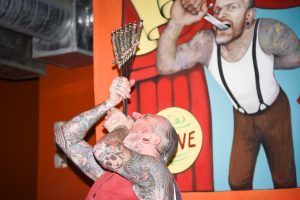 Chris and Elaina Steele are working to revive a waning art form, sideshow entertainment. As circuses have lost popularity, so have the sideshow communities surrounding them. Now, the couple adds contemporary elements like humor and storytelling to keep their show alive.
"We travel all over the country performing classic sideshow entertainment with a contemporary twist," Elaina Steele said. "We are performing those classic sideshow stunts like sword swallowing and the human blockhead, but we're presenting them in a very contemporary way with humor and delivery."
"All over the country" wasn't an overstatement. Last year, the Steeles had 411 shows from coast to coast, driving 51,000 miles in the course of the year. Chris Steele estimated that they took a total of four days off the entire year. This year, Elaina Steele has even started counting the number of swords her husband swallows. After their first show Saturday night, Chris Steele had swallowed a whopping 1,254 swords so far this year.
Luckily for the Steeles, they love their work. Chris Steele knew he wanted to be a sideshow performer at the age of 12. He earned a degree in graphic design and printing technologies after promising his mother he would get a college degree to fall back on. After college, Chris Steele soon began working as a professional body piercer, a profession he has held for 23 years. In 1999 he began his career in sideshow, and soon after met Madame Maybelle and started the sideshow duo that has landed them countless gigs and record-breaking titles.
Today, Chris Steele holds records for the heaviest sword swallowed at 84.2 pounds; longest sword swallowed, a title reclaimed in September in Louisville, Kentucky; and most swords swallowed underwater. At Ripley's Aquarium of the Smokies in February 2016, Steele swallowed five swords, adding up to 12.5 feet of solid steel, all while underwater in the aquarium's shark tank.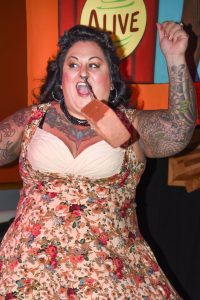 When not breaking records, the Steeles are on tour, performing unusual and sometimes death-defying stunts for the public. With numerous acts that each persona has perfected, Elaina and Chris Steele each have favorite stunts– and acts that always make them a little nervous. Elaina Steele's favorite act is Madame Electra, a performance involving 50,000 volts of electricity, fire and neons.
The act, which the couple performed at their 11 p.m. "adults only" show, complete with crude humor and even more daunting stunts, is Elaina Steele's favorite primarily because of the storytelling it involves.
"Presenting these classic sideshow elements, you really have to build stories about each act," Elaina Steele said.
Both of the Steeles agree on their show's most stressful act: Chris Steele's underwater sword swallowing.
"I could not watch him practice that until he got in the tank that day to do it," Elaina Steele said and joked that she was glad he had life insurance.
Though Chris Steele is also known for his ability to breathe fire and his act as the "human blockhead," hammering a nail through his nostril in one of his most unsettling acts, he said that both his most stressful and most enjoyable acts involve swords. Chris Steele said he especially loves his sword swallowing routine because it allows him to connect with other people.
Chris Steele uses the opportunity to tell the story of the sideshow and why he fell in love with it: its acceptance. Historically, the sideshow has given a home and a family to those who would otherwise be social outcasts, the world's "freaks, geeks and human oddities." Before swallowing a total of eleven swords over the course of their first show, Chris gave an emotionally charged speech embracing people for their differences.
"If you can leave here with anything tonight," Chris Steele said to the crowd, "it's this one thing: not only love one another for our differences, but don't be ashamed of the things that do make you different."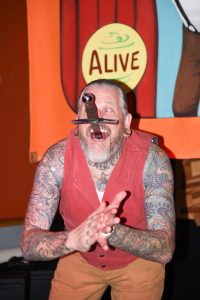 As the Doors' "People are Strange" began, Chris Steele dedicated his performance to those unashamed to be different, as if giving a toast before downing a glass of cold, hard steel.
"This is for all the strange folks," Chris Steele cheered, swallowing the first of the many swords he swallowed that night.
For many, it is the accepting, personable nature of the Steeles and their performance that keep people coming back.
Christopher and Jessica Toliver went to a Captain and Maybelle sideshow performance on their first date. They then came back every year the Steeles came to town, developing a repertoire with the Steeles and talking with the performers after each show.
Today, the Tolivers have been married for four years. Though the Steeles had not been to Boone in a few years, the Tolivers jumped on the opportunity to see their favorite sideshow performers on stage again once they heard the show were coming back to Boone Saloon. The Steeles' performance celebrated the Tolivers' fourth wedding anniversary.
"Our weirdness integrated at that moment," Christopher Toliver said, fondly remembering their first date.
After years away from Boone, the Steeles remembered the Tolivers and greeted them as old friends. This human connection is what makes Captain and Maybelle's performances so meaningful to the Tolivers.
It also helps, Jessica Toliver said, that their show seems to get better every year they go.
"It's like every time we see him, he has another sword," she said.
For the Steeles, their Boone performance was a happy return. Although the Steeles live in Douglasville, Georgia, the couple visited Boone every year for about five years to perform at Speakeasy Tattoo's annual Tattoos for Schools event, held every St. Patrick's Day to raise money for local elementary schools' art programs.
Speakeasy Tattoo is not currently continuing its Tattoos for Schools program, but the Steeles missed their Boone friends and wanted to return to the little college town. Greg Kinnamon, owner of Speakeasy Tattoo, used to work with Chris Steele at Psycho Tattoo, which is Chris Steele's tattoo shop just outside Atlanta, Georgia.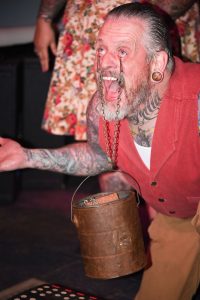 It was not just old friends that brought the couple back to Boone, however, but the warm, friendly atmosphere of the college town.
"We love this place, how supportive everybody is here, how kind everybody is. And the people here just eat it up, they love this entertainment," Elaina Steele said.
The couple's stop in Boone is one of the last spots Elaina and Chris Steele will travel to before returning home to Douglasville, Georgia for a few months. Though they will still be working, performing around town and working at Psycho Tattoo, the couple values the time they will get to spend with their children.
Also important to the Steeles is maintaining an incredibly normal home life despite their unusual and time-consuming careers. Their daughters have always had bedtimes and rules, and the family sits down for dinner together every night they are home. Elaina Steele is a member of the local school's PTA and often has fresh cookies and milk ready when the girls come home from school.
Captain and Maybelle will continue touring at the start of next year, with big goals in mind. The couple will be scrapping much of their routine, coming back with new costumes, writing and even stunts as the duo strives to put their skills to the test.
When they are not on tour, the couple's stunts can be found on their website and social media. Steele and his tricks have also appeared in movies including "Hunger Games: Catching Fire," "Fireball Run," and the newly released "Houses October Built 2," and will appear in the "Jumanji" remake in December.
Story By: Ashley Goodman, Associate A&E Editor
Photos By: Halle Keighton, Photo Editor
Featured photo: Elaina Steele ("Maybelle") attempts to pull out the nail that Chris Steele ("Captain") has through his nose at Boone Saloon on Saturday night. This famous sideshow couple is from Atlanta, Georgia, and they travel around entertaining audiences and breaking records.