Angel Elderkin named women's head basketball coach
Former LSU assistant women's basketball coach Angel Elderkin has been named the eighth head coach in Appalachian State University women's basketball history, interim director of athletics Rick Beasley announced Wednesday.
The search for a new head coach began immediately after former head coach Darcie Vincent resigned Sept. 5.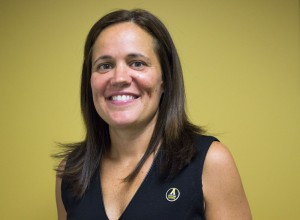 "Right after we had the resignation, we had about 40 applicants," Beasley said. "We were looking for who was the right fit. We were also looking for a leader to develop our student athletes. Angel's resume speaks for itself."
Elderkin has been coaching since 1999, when she served as a special assistant to the head coach at East Tennessee State before taking an assistant coaching job at Siena in 2001.
Elderkin also worked at Tennessee, Virginia and St. John's in various capacities including director of video operations before taking her most recent job as an assistant coach at LSU.
Last season, Elderkin's LSU team went 21-13 overall and ranked No. 24 nationally in the final USA Today women's basketball poll.
Throughout Elderkin's 12 seasons as an assistant coach, video coordinator and graduate assistant, Elderkin's teams have advanced to postseason play 10 times and won five conference championships. She has also coached two all-American players and four student athletes who went on to play in the WNBA.
Elderkin also served as a recruiting coordinator for four recruiting classes ranked in the top 20 nationally.
Elderkin has worked with Women's Basketball Hall of Famers Debbie Ryan and Pat Summit at Virginia and Tennessee, respectively.
However, Elderkin credited LSU head coach Nikki Caldwell the most for the things she has learned.
"I've had the opportunity to work beside unbelievable coaches and people," Elderkin said. "Caldwell has been my mentor. She has guided me and made me the coach I am today."
Caldwell said Elderkin is prepared for success at App State.
"Elderkin is going to be a great head coach for Appalachian State," Caldwell said in a statement. "She  understands how to motivate people while maintaining a positive relationship with her players. Angel has a love and passion to grow the game and fully understands the importance of giving back to the community."
Elderkin said she already feels a connection with the team and community.
"When I left the meeting, my heart told me App State was home," Elderkin said. "I'm so excited to be a part of this Appalachian State family."
Elderkin said she plans on being active in the community. As for the mindset she brings to the team, she said to expect the Mountaineers to put on a show for fans.
"We are going to play hard, smart and together," Elderkin said. "That is going to be App State basketball. I promise you'll have a product you're proud of on and off the court."
Elderkin's introduction to the team was emotional. The team attended the introductory press conference for Elderkin Wednesday, sitting in the front rows.
"I met my new family and they greeted me with a hug," Elderkin said. "It was one of the greatest welcomes I've had in my coaching career. I am really excited and grateful. I can't even express it."
The Mountaineers will practice for the first time under Elderkin on Sunday at the Holmes Convocation Center.
The practice will be open to the public. Elderkin said that all of the team's practices will be open throughout the season.
Story: Cory Spiers, Sports Editor
Photo: Dallas Linger, Intern Photographer