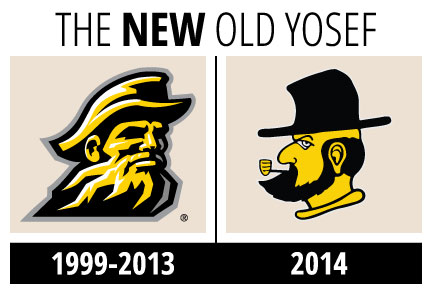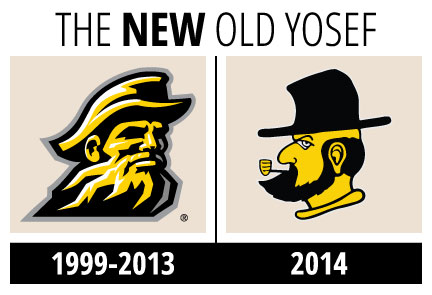 Changes to the logo for Appalachian State University Athletics went into effect Dec. 1.
The changes revolve mostly around introducing the "Vintage Yosef" logo as the university's official secondary logo, according to a press release from the Athletics Department. The university's primary logo will remain as the Block A.
Appalachian announced changes to its athletic logos Nov. 27 in a press release via appstatesports.com.
The "Vintage Yosef" logo, which was reintroduced in 2012 as a throwback logo, has received strong support from Appalachian students, alumni and fans and offers an important historical meaning.
It will be renamed "Victory Yosef" going forward and will be featured on Appalachian merchandise in regional outlets, as well as the University Bookstore as early as the holiday season, according to the press release.
"The support of 'Victory Yosef' has been overwhelming since bringing it back, so it just made sense to make it an official logo moving forward," said Mike Flynn, assistant athletic director.
The "Victory Yosef" logo had a two-year licensing agreement when it was reintroduced in 2012. Appalachian had the choice of letting the license run out at the end of this year, or to add the logo to the university's logo library as a permanent logo and chose the latter.
In addition to "Victory Yosef" being added to Appalachian's logo library, subtle changes were made to the university's primary logo – the Block A – that will create consistency in its usage, according to the press release.
Story: GERRIT VAN GENDEREN, News Reporter
Graphic: ASHLEY SPENCER, Senior Photographer